Project Description
The Austin Public Works Urban Trails Program has partnered with the Capital Area Metropolitan Planning Organization (CAMPO) to complete a study on the Bergstrom Spur, an abandoned rail corridor stretching from Vinson Dr. in southwest Austin to US-183 near Austin Bergstrom International Airport. The Bergstrom Spur Corridor Study identifies options to redevelop the 6-mile corridor into a well-utilized, safe, and interconnected east-west multimodal corridor.  
Project Map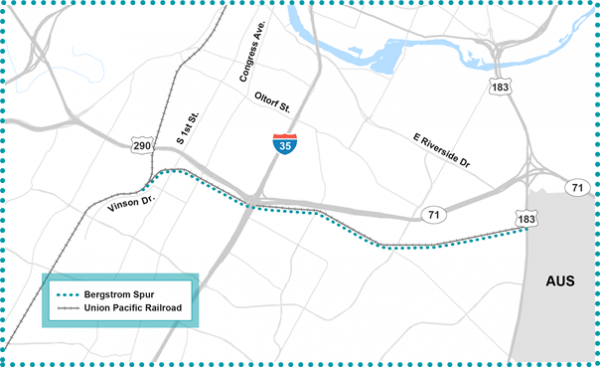 Bergstrom Spur Corridor Study 
In partnership with CAMPO, the Urban Trails program has released the Bergstrom Spur Corridor Study. This study recommends a phased approach for the redevelopment of the corridor, identifying near-term urban trail improvements and a long-term vision for possible transit development.
Project Background
The 2014 Urban Trail Plan identified the Bergstrom Spur (previously known as the "East Ben White Blvd. Rail Corridor") as a high priority trail. The trail was recommended for its potential to greatly enhance urban trail access in southwest Austin, to improve connectivity, and to provide a viable route to the airport.  
In Fall 2019, the Urban Trail Program and CAMPO partnered to develop the Bergstrom Spur Corridor Study. The Study examines options for redevelopment of the corridor and recommends options for an urban trail where people can walk, bike, or roll, as well as potential for transit options along sections of the corridor. The study also considers how transportation planning impacts several factors, such as equity, housing, the environment, economic development, and the historical and cultural character of the location.
As the corridor is six-miles in length, the Bergstrom Spur trail will likely be developed in separate phases.  
Anticipated Timeline
Planning Phase: September 2019 - November 2020 

Design and Construction Phase: A timeline will be provided once funding is identified. 
Project Process
Public Survey: A survey accepted public comments on the Bergstrom Spur Final Report from December 9 - January 6. Click the link below to view common themes from public input and read frequently asked questions.
In addition to presenting to neighborhood associations and stakeholder groups, the project team hosted two public meetings. 
Public Meeting: November 20, 2019: CAMPO and the Urban Trails Program hosted an in-person open house to share proposed concepts for the urban trail and potential future transit. The comment period for the study closed December 13. 
Virtual Open House: July 21 – August 14, 2020: CAMPO and the Urban Trails Program hosted a virtual open house with an open comment period.  Videos from this open house are listed below: 
Project Funding
The Bergstrom Spur Corridor Study was funded by: 
Get Involved
Share your feedback on the Bergstrom Spur project! 
Contact us 
Email: Katie.Wettick@AustinTexas.gov to: 
Submit questions and comments about these projects 
Request a presentation for your group or organization  
Stay Updated
Sign up for email updates on the Bergstrom Spur and other Urban Trails projects here!