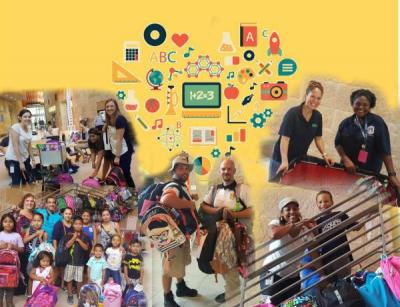 Who can donate to the Build a Backpack Campaign?  This is a campaign created by and for City of Austin employees to give back to our community.  At this time, we are only able to accept donations from City of Austin employees. 
I am not a City of Austin employee.  How can I donate?  Please contact the 2017 Committee Chair:  Edith Murry at Edith.Murry@austintexas.gov  for more information. 
Where can I get a 2017 School Supplies List?  Download this PDF file for a bookmark to take with you while you shop or scan this QR code to download the list directly to your smartphone. 
Can I include items NOT on the school supplies list?  We ask that only items on the school supplies list are included in the donations.  We DO encourage employees to include inspirational notes, but please no food, toys, gift cards, or money. 
Do I have to donate a full backpack?  No.  We welcome any and all school supply donations.  City employees can donate a full backpack, a partially filled backpack, or just individual supplies. 
Can I donate money instead of supplies?  No.  The Build a Backpack Campaign does not have accounting resources and are unable to accept money in lieu of donations on drop-off day. 
I am on a budget but I would still like to donate.  Do you have any ideas on how I can?  City employees are encouraged to team up with fellow co-workers.  Employees can pool resources and buy school supplies as a team rather than as individuals—saving both time and money for the individual employee.  Many employees look for sales at discount, grocery, and dollar-themed stores while others choose to buy items in bulk quantity.  We also encourage employees to volunteer on drop-off day as an alternative way to donate to the campaign.
I would love to volunteer on drop-off day.  What would I be doing?  Ten-twelve volunteers are needed every hour on drop-off day.  The majority of our volunteers help with sorting school supplies and hanging backpacks.  Check out this time lapse video of the 2012 drop-off day at https://www.youtube.com/watch?v=krNSS38B-_U .
Where do I sign up to volunteer on drop-off day?  Please contact the committee chair for information on registering as a volunteer.   We welcome City employees and their families (age 13 and older) as volunteers.  Volunteers are needed from 8am-4pm and may sign up for 1 or 2 hour shifts (or longer if you can!). 
Where do the donations go?  The donated backpacks and school supplies will stay on display at City Hall through mid-August.  City employees will then gather the donations and distribute them to selected schools during in-service week in late August.  The schools then distribute the backpacks directly to the students.
What schools do the donations go to?  The 2017 Build a Backpack Campaign is donating backpacks to the following schools:
Elementary Schools:  Allison, Andrews, Houston, Widen, Winn, Dobie Pre-K
Middle Schools:  Martin, Peredes
High Schools: Gardner-Betts, Eastside, Reagan
My child needs a backpack.  How do I sign up to get one?  Our drive donates directly to the schools chosen by the committee.  Schools then decide how to distribute the donated backpacks and supplies to students.  We do not donate to individuals.  We recommend speaking with your school first (usually in August) and then calling 2-1-1 for information on getting school supplies for your child. 
I would like to join the Build a Backpack Planning Committee for next year.  How do I join?  Please contact the 2017 Committee Chair:  Edith Murry at Edith.Murry@austintexas.gov for more information.