"Girls! Girls!" Sam Stone called, stooping and spreading chicken feed across the grass in his yard. His "girls," four chickens and a Guinea cock, hastened to his side to consume the offering.
Stone, 12, is his neighborhood's chicken aficionado. His family supports his pets and he provides his family and half his neighborhood with fresh eggs from his free-range, organically-fed fowl. 
"Everybody wants the eggs," Stone said. "They're very rich. You can definitely tell the difference."

Eggs from poultry raised on pasture are not just tastier – they are healthier. These eggs have 10 percent less fat, 40 percent more vitamin A and 400 percent more Omega-3's, according to "Pastured Poultry Products," a research report available on the Sustainable Agriculture Research and Education website.
The birds that lay these eggs tend to get a more varied and natural diet and are free of hormones, antibiotics and other unnatural feed additives, according to Jake Stewart, who manages the City's Sustainable Urban Agriculture and Community Garden Program.
"Raising chickens in your backyard is one piece of a broader sustainable local food movement that is alive and well in Austin," Stewart said.
Chickens are fairly popular in certain parts of the city, said Robert Wright, Sanitarian Supervisor for Austin Travis County Health and Human Services. Sanitarians inspect urban chicken habitats when they receive complaints from neighbors, Wright said. To avoid possible complaints and stay within City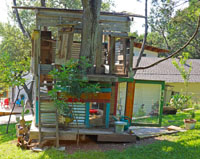 laws, chicken owners should:
Keep chickens enclosed somehow – a fence works, but only if the birds are unable to fly over the fence or leave the yard and are maintained at least 50 feet from neighbors' homes. 
Maintain a coop distance of 50 feet from neighbors' homes if you have two or more chickens.
Clean the coop regularly and have a coop large enough to house all the fowl.
Keep only birds that are quiet or, if you do keep roosters or other loud birds, make sure they are not disturbing the neighbors.
Avoid running "afowl" of homeowners associations' rules and restrictions. Assure that chickens are permitted under homeowners' association rules.
Caring for chickens is easy, Stone said. During the day, his birds eat bugs and grubs from the yard, table scraps and organic chicken food.
They have a clean, dry and spacious coop where they're kept at night to stay safe from hungry local predators. The coop is equipped with everything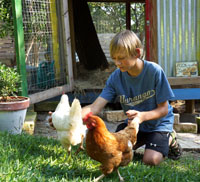 chickens could want – straw to soak up waste and cozy shelves for roosting and nesting.
The coop needs to be cleaned out about once a week. Aside from feeding and cleaning after the birds, there's little else to do but collect the eggs and enjoy the birds' companionship.
The birds follow family members around the yard, make unique individual clucking sounds, and stoop over when family members bend over to pet them, said Robin Stone, Sam's mom.
"They're my pets, and I feel like they love you," Sam Stone said.
For more details about urban livestock rules, view Title 3 of the Austin City Code.