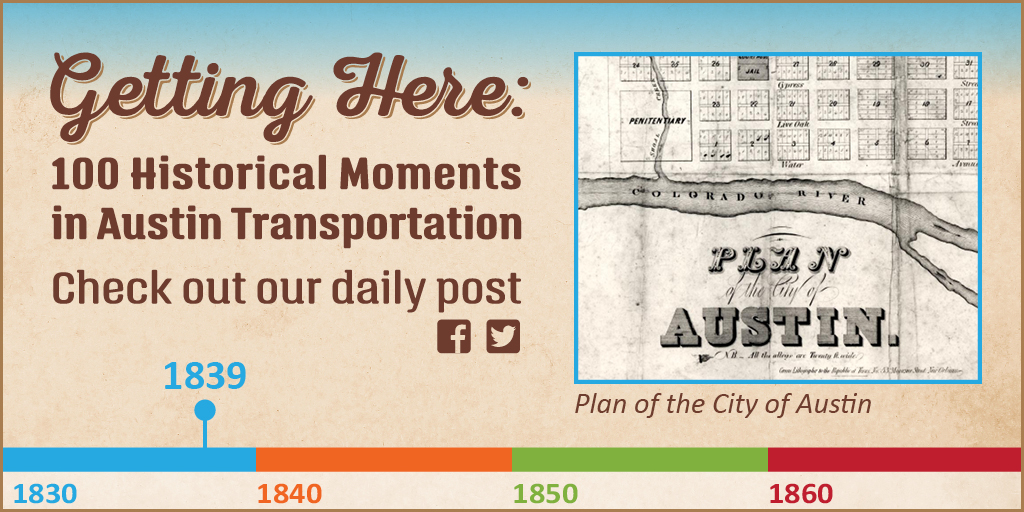 Sparked by necessity and innovation throughout the years, the City of Austin has been a hub of transportation-related progress since the initial street grid system was laid out in 1839. When it comes to an issue as vital as transportation, recognizing past accomplishments and challenges will help us to shape the future. From the first mass transit system in Austin, in the form of mule-drawn carriages, to the passage of the 2016 Mobility Bond, things have changed a lot when it comes to how we get around and the implications of transportation on our lives. As the first Moonlight Towers, lighting the streets of Austin since 1895, aided past Austinites navigating in the darkness of night, knowing our transportation history will only light our way as we develop the Austin Strategic Mobility Plan (ASMP), the update to the City's transportation plan.
With assistance from the Austin History Center, among other sources, the Austin Transportation Department has been able to create "Getting Here: 100 Historical Moments in Austin Transportation," a campaign to showcase the transportation-related actions and events of our past that have helped get us to where we are today. The timing of the campaign will act as a countdown to the next phase of the ASMP in early 2018, during which there will be tons of opportunities for the public to weigh in and get involved. The ASMP will impact all modes of transportation and shape how we invest in mobility going forward.
One Historical Moment will be posted daily, beginning October 23. To follow along with the campaign, check out the Transportation Department on Social Media (Twitter and Facebook). Starting November 1st, you'll also be able to find a link to all the previously-published moments at AustinTexas.gov/ASMP. For other historical topics and events, check out the Austin History Center website.