Thousands of Residents and Visitors Participated in Temporary Art Project
From February 12 to April 27, 2015, residents and visitors to Austin began sending text messages to lamp posts, bus stops, and other objects around the city. It was all part of Hello Lamp Post: Austin, a unique public art project which combines art and technology to encourage people to look at the city in a new way and engage with the everyday objects that often go unnoticed. The City of Austin's Economic Development Department / Cultural Arts Division and nonprofit partner Art Alliance Austin commissioned London-based PAN Studio to bring the award-winning Hello Lamp Post project to Austin as a special commission to celebrate the 30th anniversary of the Art in Public Places program. 
Using a playful approach that brought humor to the city streets, players were asked to respond to questions from street furniture to get them to reflect upon where they live and the other inhabitants of the city. Over the 10-week run of Hello Lamp Post: Austin 2,975 individual players sent over 21,000 text messages to over 2,000 unique objects around town.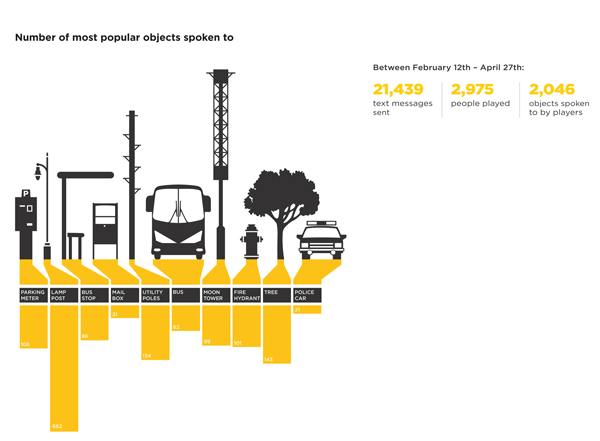 Taken together, the conversations create a snapshot of Austin in the spring of 2015 – what gets talked about, what language is used, and how we feel about these ordinary, but important, pieces of our built environment. Trees were among the most popular objects "woken up" during the project, including the Treaty Oak downtown and the Battle Oaks on the UT campus. The interactions with these trees reflect fond feelings for Austin's urban forest.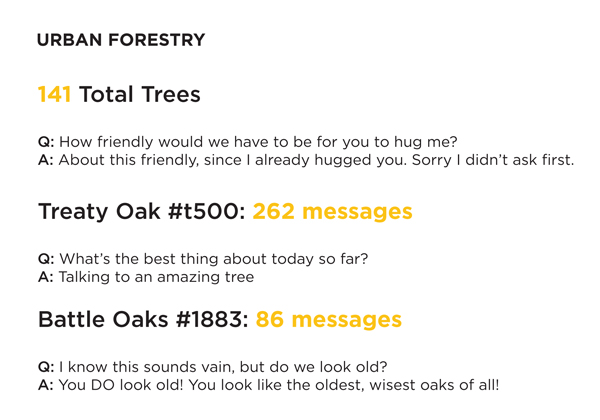 One goal of Hello Lamp Post: Austin was to ignite participation in all 10 Council Districts. Because players could interact with any object in any part of the city, this was an opportunity to bring public art into every neighborhood. An analysis of messages sent to Austin bus stops indicates that there was a significant spread of play.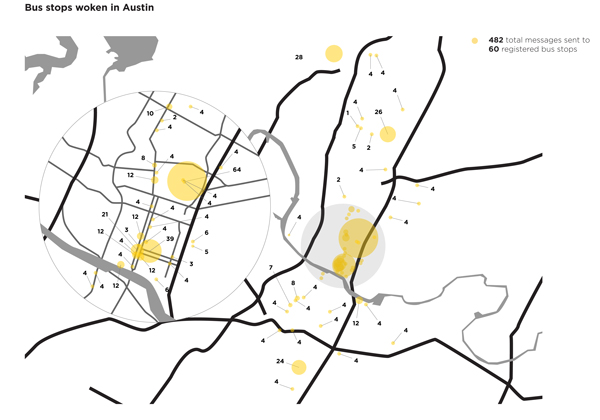 Hello Lamp Post was originally developed for Watershed's Playable City Award in 2013 in Bristol, UK and the Austin project is the first time the platform has been launched in the United States. In the spring of 2015, the project went to Tokyo, Japan, commissioned by the British Council. Comparisons of data from the three cities reveals interesting similarities and differences.
For example, Austin players preferred the superpowers of teleportation and flight, in a tie for most frequent answer, while Bristol players picked time control and invisibility over teleportation. Could this reflect frustrations with Austin traffic?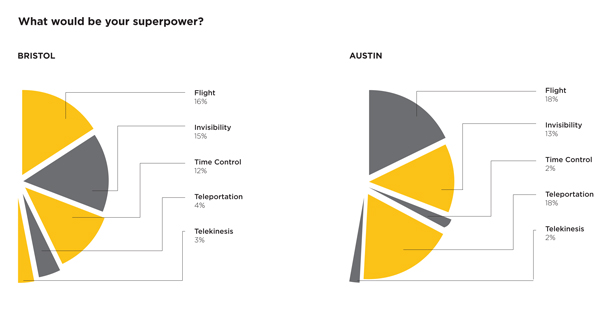 When players were asked "What did you have for breakfast?" the answers again diverged along city lines. Austin players preferred protein in the morning with eggs and tacos taking the top two spots, while Bristol's favorite breakfast by far was cereal, followed by toast. Further proof that the breakfast taco is firmly ingrained in Austin's culture!
One thing players from Austin, Bristol, and Tokyo can agree on – we all enjoy ice cream. However, favorite flavor is still up for debate.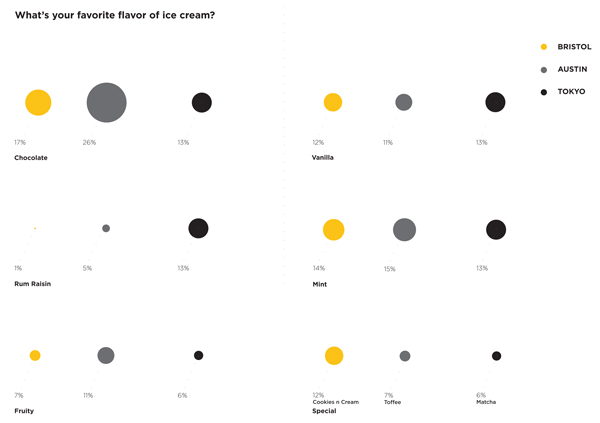 About Hello Lamp Post:
Hello Lamp Post was developed by PAN Studio and was the winner of the inaugural 2013 Playable City Award, launched by Watershed. The Playable City is a new term, imagined as a counterpoint to 'A Smart City'. A Playable City is a city where people, hospitality and openness are key, enabling its residents and visitors to reconfigure and rewrite its services, places and stories. It is a place where there is permission to be playful in public. In 2014, Hello Lamp Post was exhibited as part of Designs of the Year at London's Design Museum. The first iteration of the project received press in The Guardian, The Huffington Post, and Fast Company Magazine among others.
Hello Lamp Post: Austin is commissioned by the City of Austin Art in Public Places Program in partnership with Art Alliance Austin. The project is sponsored by the Downtown Austin Alliance and Capital Metro and is an official art project of SXSW 2015. www.hellolamppostaustin.com
About PAN Studio:
PAN Studio is a London-based design practice with a specific interest in developing enriching experiences that in some way impart intellectual, sensory, or emotional value. As well as city wide playful systems, PAN creates interactive objects for installations and immersive theatre and experimental objects designed to find new ways of enriching everyday living.
PAN is a team of designers, developers, and engineers who look to form new types of collaboration and work across disciplines. In addition to Hello Lamp Post, they are the designers of Run an Empire, a location based strategy game, and Alpha-Beaters, a set of connected objects to turn the home into a musical instrument. www.panstudio.co.uk
About City of Austin Cultural Arts Division:
The Cultural Arts Division of the Economic Development Department provides leadership and management for the City's cultural arts programs and for the development of arts and cultural industries. The Cultural Arts Division is responsible for the Cultural Arts Funding Programs, Art in Public Places Program, community-based arts development, and programs to assist the development of film and creative industries in Austin.
Founded in 1985, the Art in Public Places (AIPP) program acquires and maintains works of art for City facilities and parks through commissions, donations, and loans for the cultural enrichment of Austin's community.  By City ordinance, AIPP allocates 2% of eligible capital improvement project funding to the acquisition of site-specific public artwork. 2015 marks the 30th Anniversary of the AIPP program in Austin, the first municipality in Texas to make a commitment to include works of art in construction projects. For more information, visit www.austincreates.com.  
About Art Alliance Austin:
Art Alliance Austin exists to broaden and strengthen Austin's art community by producing a diverse series of cultural experiences that bring together artists, art buyers, collectors, and the public. Since 1956, the community-focused nonprofit has cultivated opportunities that directly support the region's most promising visual artists, curators, and arts organizations. Art Alliance Austin programs and partnerships now engage more than 100,000 people annually and produce an estimated $2.5 million in annual economic impact. In addition to Hello Lamp Post, Art Alliance Austin produces or underwrites several events during the year such as Art City Austin, the Art Night series, PechaKucha Nights, and the Downtown Holiday Stroll in partnership with the Downtown Austin Alliance. For more information, please see www.artallianceaustin.org.