The Austin Code Department is committed to working with the public to help us gain a better understanding of the community's perspective on code issues and processes that affect Austin.
We are constantly seeking feedback from our stakeholders and the general community on issues that affect them. We seek feedback through online surveys, through focus groups, social media outlets, and more.
---
Insect Screen Requirements
The City of Austin Code Department is asking for public input about a proposed City ordinance that could require some property owners to install insect screens on windows or exterior doors. All input received will be submitted to the Austin City Council on or before June 30, 2018, to inform the Council's decision about an insect screens ordinance in Austin. 
The proposed ordinance will be based on the current language found in the International Property Maintenance Code, but Austin can adopt our own local amendment of the international model code concerning insect screens: 
From [date] to [date], every door, window and other outside opening required for ventilation of habitable rooms, food preparation areas, food service areas or any areas where products to be included or utilized in food for human consumption are processed, manufactured, packaged or stored shall be supplied with approved tightly fitting screens of minimum 16 mesh per inch (16 mesh per 25 mm), and every screen door used for insect control shall have a self-closing device in good working condition.
Exception: Screens shall not be required where other approved means, such as air curtains or insect repellent fans, are employed.
The above text is bolded because the International Property Maintenance Code (IPMC) standards apply only for homes that do not have mechanical ventilation (such as air conditioning). In other words, the "required for ventilation" language refers to openings that serve as the building's primary source of ventilation. A home with an air conditioning system would not be required to install insect screens under the IPMC language. 
Austin Health Department enforces screens for food service areas and Austin has had insect screen requirements in the past, but presently there are no codes in place to enforce insect screens in homes and apartment buildings. The Austin Code Department wants to hear from you so that public input helps to shape the local amendment of this ordinance that will be proposed to Council.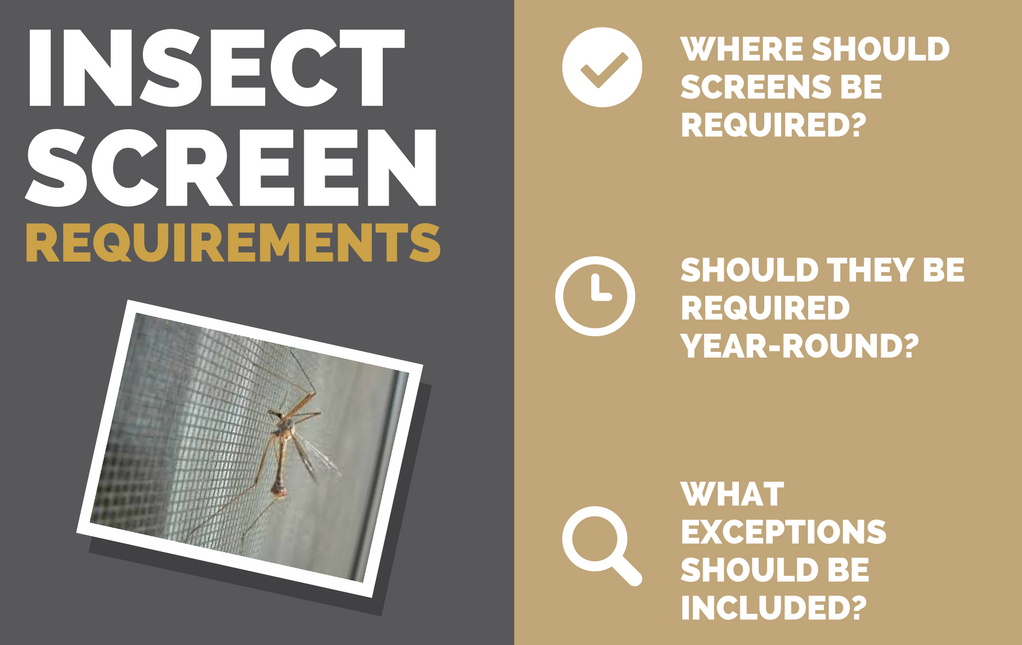 Here are two easy ways that you can provide your feedback: 
Host a meeting
---
Previous Outreach Feedback