More easily get around Austin during the busy festival season.
More people, same Austin - more mobility options!
Spring festival season, which includes SXSW, is around the corner, and there are more options to get there than ever! Starting March 8, hundreds of thousands of people will be attending events downtown and throughout Austin, increasing demand on the transportation network. This year, get where you need to go faster than ever by choosing a new transportation option and leaving your car at home!
Getting there, getting around, and getting to work
Spring festival season will take place March 8-17, 2019. The map below is your all-inclusive guide to getting to and around the main footprint of the festival, whether you're walking, biking, scooting, taking transit or sharing a ride.
For traffic information, you can check this map of street closures in downtown.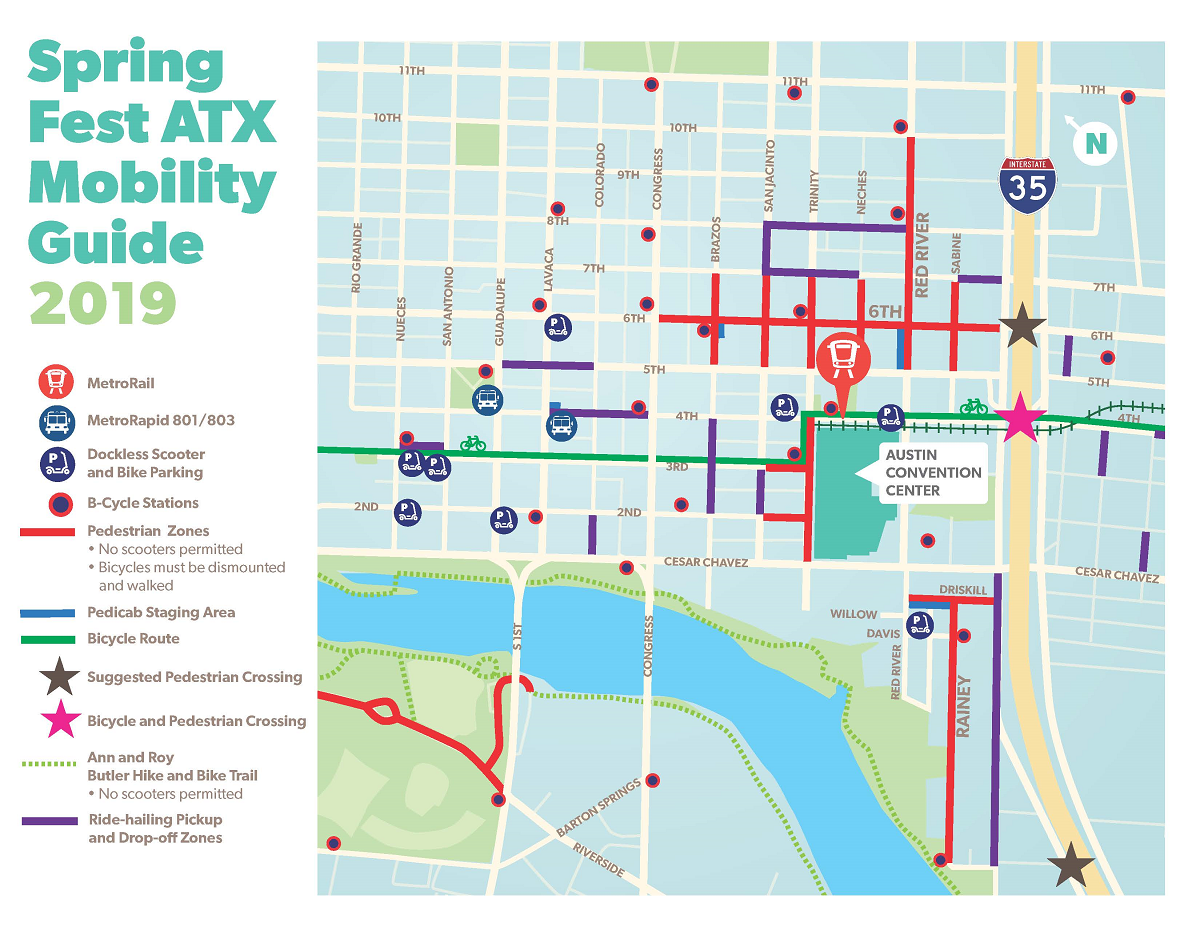 Click the map above for a full-size, printable document.
Note: The map was updated March 5 to include new and additional information.
Getting to the fest
Transit

Prep for the festivities while taking the MetroRail (known as the Red Line) directly to the Convention Center, or hop on one of the MetroRapid routes (801 and 803) that'll take you to Republic Square.
Late-night service for these options is extending to 12:30am and 2:30am on many nights of the festival.
Special for SXSW this year, Route 985 will operate during the same hours as MetroRail, offering you another quick and sustainable route.
Visit the Capital Metro Special Events page or download the CapMetro App for more details.

Park & Ride

Find a park, recreational area, or designated Capital Metro Park & Ride, stop, then leave your car there and bike or bus your way Downtown.

Bike

Check out the Austin Bike Map to find the most comfortable route guiding you right to the fest. Bicycles are allowed on urban trails, but must be dismounted when entering Pedestrian Zones.
Don't have a bike? Check out a B-Cycle or a dockless bike. You could even find one that's electric!

Scooters

If you still haven't tried it, now could be the time to test out a dockless scooter.
Remember to follow all traffic laws and operate the scooter as you would a bicycle. This includes riding in bicycle lanes (not downtown sidewalks) and yielding to pedestrians in crosswalks.
When you've reached your destination, make sure your scooter is not blocking the right of way. Try to park your scooter in one of the dockless parking boxes marked on the map above.
Scooters are not allowed in the Pedestrian Zones.

Ride-hailing, car-sharing and carpooling

If your only option involves a car, carpool as a way to decrease congestion.
Head with your friends to the designated pickup/drop-off zones highlighted in purple on the map above to hail an app-based ride or hop into a taxicab. A list of providers, including ride-hailing and taxicab companies, is available on our Get Home Safe page.
See a full list of ride-share resources.
Getting around the fest
Walk

Downtown is about one square mile and easily accessible by foot. You'll want to move at a walker's pace so you don't miss any action.

Bike

Austin's best bike infrastructure is downtown. Ride your way across town on the Third Street protected bike lane or the Ann and Roy Butler Hike and Bike Trail along Lady Bird Lake.
Cyclists will be required to dismount their bikes in Pedestrian Zones as a safety precaution.

Scooters

As outlined in the map above, we've placed several special parking boxes around the area, where you can park dockless scooters and bikes to prevent congestion and improve safety.
See the rules and guidelines for operating scooters in the "Getting to the fest" section above.
Remember, do not bring scooters into Pedestrian Zones.

Pedicabs

Hail a pedicab at one of the pedicab staging areas in the map above to get to your destination in style.

Festival shuttle

If you have a SXSW badge you can access the SXSW Festival Shuttle, which will depart from the west side of the Convention Center on Trinity Street and take you to a festival destination.
Check out the SXSW "Getting Around" guide for more information tailored to festival-goers.
Getting to work
We know it can be tough when thousands of people are out exploring the area where you work. On the bright side, it is a great time to try out new commuting alternatives, such as teleworking or flex hours, that could work for you throughout the year.
Telework

Talk to your employer about working from home when appropriate. The commute time saved can equal production time earned.

Flexible work hours

See if you can flex the time you arrive to work so you don't have to compete with peak commute hours. For example, avoid the morning and evening rush hours by coming in early or later, or squeeze a 40-hour week into four 10-hour days and spend Fridays however you'd like.

Hoteling

It's like a staycation, but for work! If your company or organization has an office that's not downtown, consider working from there, if that is an option.

Carpool and vanpool

MetroRideshare provides a quick and convenient way for you and your coworkers to go straight from home to office.
Worried about your carpool buddy leaving you stuck Downtown? Capital Metro offers a Guaranteed Ride Home program and Commute Solutions offers an Emergency Ride Home program, so you're covered no matter what happens.