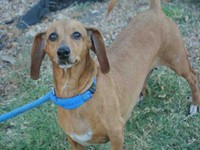 Apollo is a male, brown tabby Manx mix and is estimated to be 8 years old. He is a rough-and-tough tomcat that was rescued to the animal shelter. He is a mellow and loving cat and is looking for a forever home where he can spend his retirement days off the streets.
View Apollo's Pet of the Week spot, here.
Animal ID #A646244
For additional information, visit www.austinanimalcenter.org. The Austin Animal Center is open daily from 11 a.m. to 7 p.m. at 7201 Levander Loop.