Austin Parks & Recreation hosts its 54th FREE summer musical at Zilker Hillside Theater.
Zilker Theater Productions and Austin Parks and Recreation Department are excited about the 2012 production of our Zilker Summer Musical.

"The Sound of Music" the 2012 production.
This well-known storyline is based on the memoir of Maria von Trapp. This is a true story about the musically gifted von Trapp family. This musical, with its award winning music by Richard Rogers and lyrics by Oscar Hammerstein has produced many songs which have become universally loved and life affirming, inspirational tunes for several generations.
This is a great production. It's the largest cast that has ever performed in a Zilker summer production. The party scene at the von Trapp villa, with dozens of extras, really showed the effort put into this year's musical.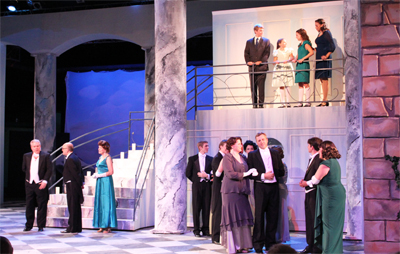 The director's notes (printed in a beautifully produced program), states that he attempted to capture those memories most of us have from watching the movie version of the show. "I've bolstered these memories through performances of one of the most talented cast I've ever seen grace the Zilker stage" says director M. Scott Tatum. The differences between this production and the film he feels, represent the actual original intentions of the creators of the show.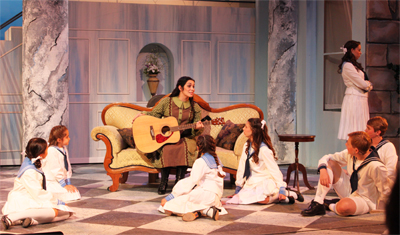 Only adding to the cast's chemistry, are the many connections they have with each other (several sets of family members are on stage together) and multiple people have been worked together on these shows for over a decade.
This year's cast included several sets of family members are on stage together
Michelle Haché, plays Maria von Trapp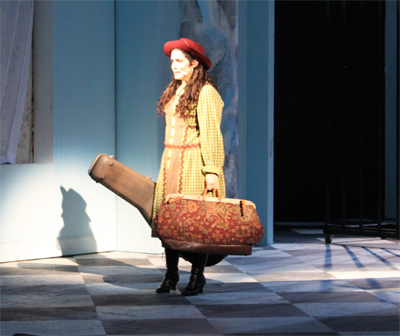 The leading female character, Maria, is expertly played by Michelle Haché. Michelle moved to Austin in 2009 after graduating from Juilliard School in New York City. Since arriving here, she has appeared in numerous productions and received many accolades and several awards. She completed her master of music degree from Oklahoma City University.
Joshua Denning, plays Captain von Trapp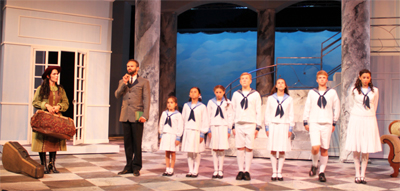 The leading male role, Captain von Trapp, is played by Joshua Denning who regularly appears in many Austin productions such as the ZACH Theater. Internationally, he has appeared in Germany, Switzerland and Austria (great practice for this role.) Joshua holds a B.F.A. in Musical Theater from Wright State University and is the current Director of Performance Theater at McCallum Fine Arts Academy here in Austin.
Admission has always been FREE!
A little Zilker Hillside Theater history
Originally created as a project of the Austin's Parks and Recreation Department (PARD) in 1959, the Zilker Summer Musical continues to provide high-quality musical theater entertainment to Central Texans and visitors from around the world.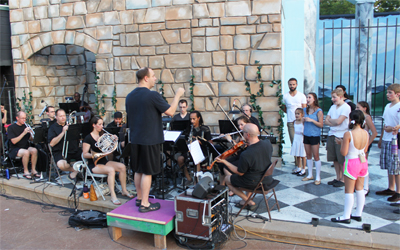 The orchestra at the show.
Good friends enjoying the evening out at the Zilker Hillside Theater musical.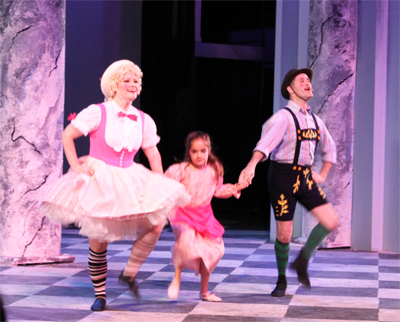 PARD and its History Arts & Nature Division together with the Zilker Theater Productions are dedicated to the celebration and preservation of that unique American art form, the Broadway musical. We will endeavor to continue our tradition, by mounting during the summers, large-scale, Broadway style, musical productions at the Beverly S. Sheffield Hillside Theater in Austin's beautiful Zilker Park.
For FREE visitor and resident attractions year round from Austin Parks & Recreation Department visit:
http://www.austintexas.gov/blog/enjoy-free-visitor-resident-attractions-austin-parks-recreation-department
For FREE Family friendly events and activities to enjoy all year like us on Facebook:
http://www.facebook.com/artsandparks