The Austin Young Men's Business League (YMBL) Sunshine Camp in Zilker Park is excited to announce that their new facility has been completed!  The new facility will increase capacity by 50%, expanding the number of camper bunk rooms from 8 to 12.  This will allow the programs to serve over 1,000 Austin area youth at no cost to them or their families during the summer months.*  This facility also includes a computer lab, library, multiple programming rooms, an expanded kitchen and office space for the staff.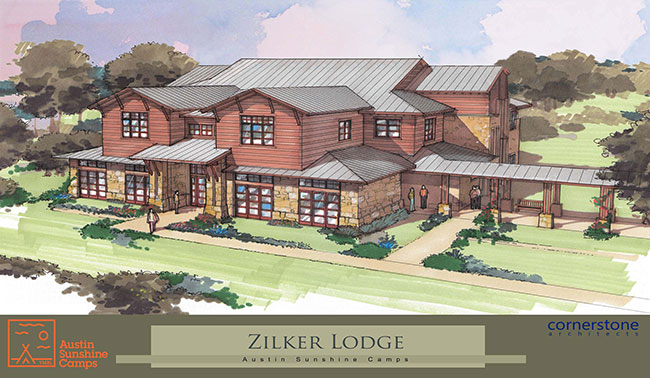 Since the Austin Sunshine Camp welcomed their first campers in 1928, the YMBL Sunshine Camps has opened a world of possibilities to the youth of Central Texas by providing free week long summer camps to low-income families and providing year-round academic programs that help the youth develop the tools necessary to overcome the variety of difficulties they face in their day-to-day lives. Since its inception, the Austin Sunshine Camps have served more than 46,000 children.
The Zilker Park Sunshine Camp is located inside Zilker Park near Barton Springs Pool and serves campers from ages 7 to 11 years old. The camp program, under the supervision of experienced counselors, offers activities such as swimming in Barton Springs or Deep Eddy pool, fishing, canoeing, handcrafting, nature study, hikes, games, and a ropes course with a variety of elements including a team wall, and trust fall. Transportation to camp and three meals a day is included.
Campers take home increased confidence and leadership abilities, better problem-solving skills, and friendships that will last a lifetime. They learn to resolve conflicts, value diversity, and to share in the success of the group. Fun becomes the foundation on which courage, self-respect, cooperation, and leadership are built.
* Note that campers must qualify for the Texas public school free and reduced lunch program to be eligible to attend summer camp.