You are here
Jan 04, 2018 - 01:22 pm CST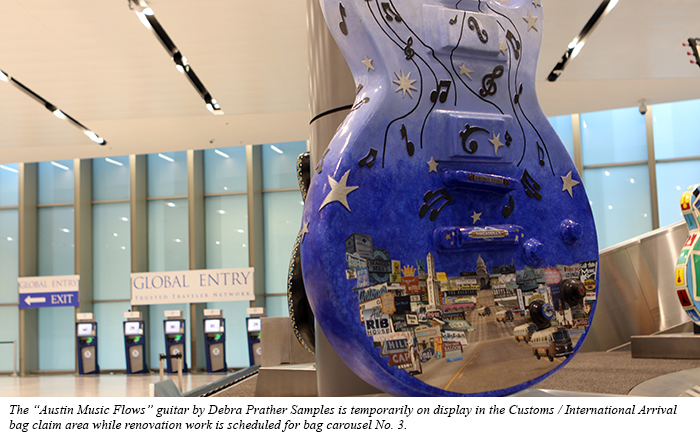 Find out where the eight iconic Austin airport guitars formally on bag carousel No. 3 are now. Zigzagging entries save energy at airport vestibules.  
Airport guitars temporarily moved to Customs for carousel renovation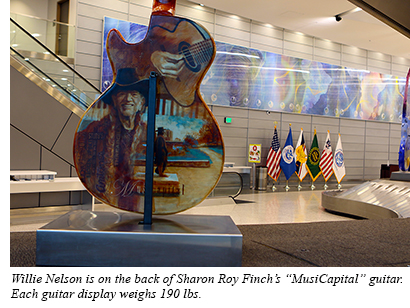 The eight iconic airport Gibson Guitars, that greeted visitors in bag claim to the "Live Music Capital of the World," have temporarily moved to the Customs / International arrival area. The change of scenery for the guitars was made in preparation for renovation to carousel No. 3. The guitars now provide a visual of the musical heritage of Austin to arriving international passengers.
The guitars were previously displayed on carousel No. 3, behind the True Patriot: Barbara Jordan Memorial Statue. Decorated by local artists, the fiberglass Austin themed guitars are nearly 11 feet tall, and 4 feet wide at the base. Each guitar weighs 75 lbs. and is mounted on a 75 lbs. stand, each with a stainless steel shroud with a plaque that weighs 40 lbs. This makes each piece a total of 190 lbs.
Now temporarily located inside Customs, the oversized guitar sculptures will return to carousel No. 3 a year after construction is completed. Carousel No. 2 bag claim is currently closed undergoing replacement.
The guitar collection is part the Austin Art in Public Places (AIPP) program that showcases community and cultural landmarks to highlight the identity of Austin, Texas. The guitars were made in 2006 and then loaned to the City of Austin. In 2009, Austin resident and businessman Milton J. Verret donated the guitars to the City and they were assigned to the airport.
Why zigzag at terminal entrance?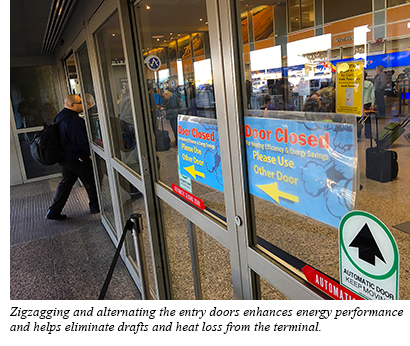 At times, do you wonder why the glass-sliding doors are staggered and passengers zigzag while entering and exiting the Barbara Jordan Terminal? This is purposely done, especially on cold days, to enhance energy performance of the heating system by eliminating drafts and lessening the loss of heat from the terminal.
As part of the overall airport improvement project, the airport is currently replacing the 13 vestibules, the main glass entry/exit ways to the Barbara Jordan Terminal.
The construction of four vestibules has been completed, two in upper-level ticketing and two in the lower-level bag claim area. The completed vestibules include the entry/exit nearest Checkpoints 1 and 2, and in front of bag claim No. 3 and the entry/exit nearest Customs. Each renovated vestibule has an additional 10 feet of entry space between the sliding-glass doors, which act as airlocks between outside and inside environments. 
Did you know?  
GreenChoice electricity, generated by wind power, has been the sole source of power for the Barbara Jordan Terminal since 2011.
Archives
2019
November
September
August
June
May
April
March
February
January
---