Celebrate The Benefits of Leisure Programs at our Free MUSIC IN THE PARKS Concerts Series
March 3rd Concert, A Perfect Line-Up of Talent for Teens, Tots and the rest of us!
What a day for a concert! The latest concert in our series took place Saturday, March 3rd at D. Nichols Park. Under blue Texan skies, and cool breezes, it was probably one the best attended to date. Our Music in the Parks concert series helps us to promote the many benefits of Austin Parks & Recreation Department's "leisure programming". Austin's Park Department was recently voted number one in the country in a national poll of residents of similarly sized cities. We are naturally very proud of our distinction.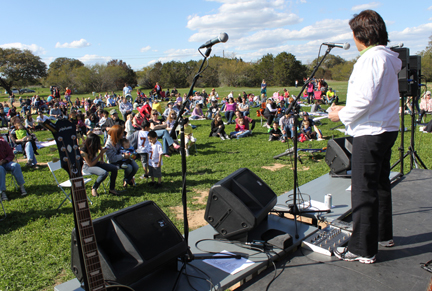 Laura Esparza, manager of the History, Arts & Nature Division, has spearheaded the promotion of our department's efforts. At every concert she explains different benefits that our park system offers, ranging from health and social to economic and environmental awareness. A complete listing is available on our website at: http://www.austintexas.gov/department/benefits-leisure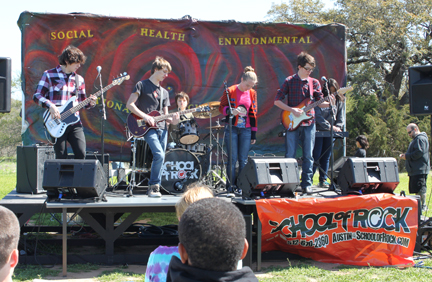 Our first band was The School of Rock, a teen favorite. The School of Rock is a national phenomenon. This organization helps local youth learn how to become accomplished rock musicians. No better  place than Austin for a branch! Family & friends as well as the public really enjoyed this enthusiastic young group playing well-known rock favorites.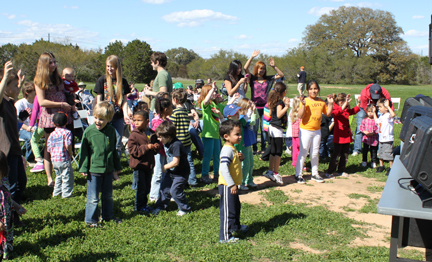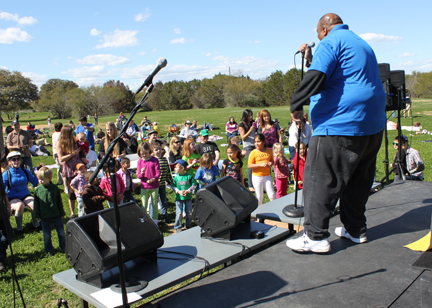 The second group was Big Don and his DJ accompanist. Big Don has established quite a following among local tots. His musical score recently appeared in one the "Spy Kids" movie series. Known as the "Rapper for Kids", his up-lifting lyrics speak about good manners, teach the alphabet and encourage group participation. He was really a hit with the kids and their parents.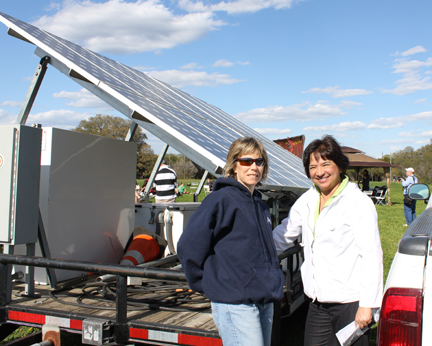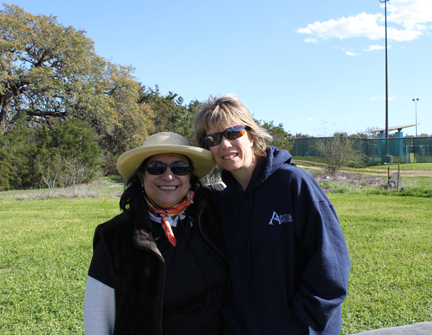 Along with Laura, Kimberly McNeeley, Austin Parks & Recreation Assistant Director admired Austin Energy's Solar Power Trailer. This green technology wonder provides all our electrical supply while affording us an environmentally beneficial reduced carbon footprint. Kim also had an opportunity to thank Melba Martinez, our concert series coordinator and producer for her exemplary good work and extraordinary effort. Together with the City of Austin's sound crew and a staff of four (including, Laura Esparza, visiting intern Rebecca Kilpatrick and myself) we have been able to provide Austin with this marvelous concert series.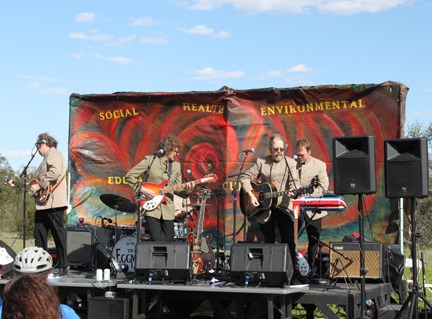 Our last act, The Eggmen, is one the nation's better-known Beatles cover band. Their renditions of the Beatles' best songs were both nostalgic and emotional. All of us have vivid memories of when we first heard and enjoyed these well-appreciated songs. This band takes us back decades. By this time the audience had really grown, drawn by the great reputation that The Eggmen have here in Austin.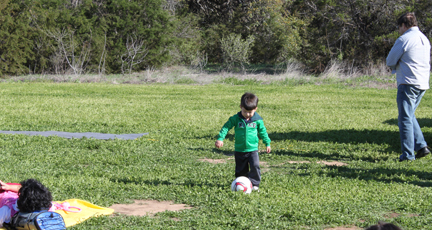 Certainly not your regular concert, our Music in the Park' series is laid back and casual, just what you would expect at your neighborhood park on a beautiful spring day. Obviously, from the attached photo, not everyone had music on his or her mind.
It was a great concert and enjoyable afternoon and everyone had a great time. See you at our next concert. View the up coming schedule.