Did You Know? || We're Hiring Edition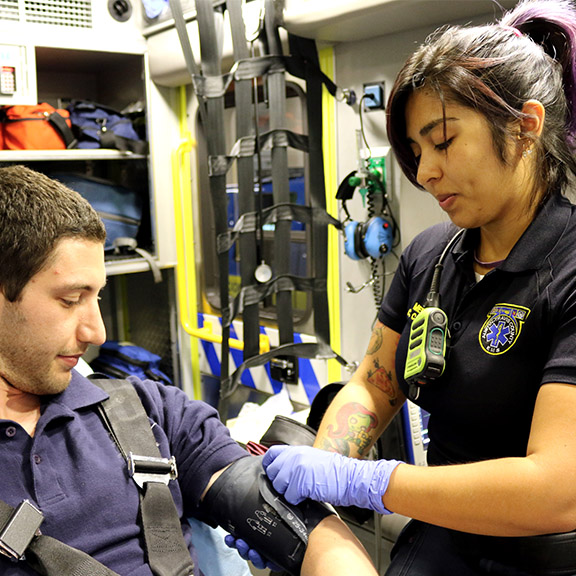 Did You Know? ||  We're Hiring Edition
We're hiring!  ATCEMS has opened up 3 hiring processes for medics to come and join our team.  Keep reading for a few tips and tricks as you fill out your application, walk through the hiring process phases, and learn why ATCEMS should be your employer of choice.
We are currently hiring for Medic I-Field, Medic I-Communications, and Modified Paramedic Process, all of which require an EMT B or higher certification.  For full hiring process details, including minimum qualifications and eligibility requirements, visit www.emsrecruiting.org.
Tips for filling out the application:
Take your time - it can be a lengthy process and it's important to pay attention to each question, instructions, and notes
You will need to provide 10 years of employment history (when applicable)

Need accurate month and year of employment
Reason for leaving: needs to be honest explanation (we do employment verifications)

Answer the questions honestly

We verify information (certifications, driving records, employment history)
Applicants may be disqualified if they leave off information on the application

Once an application is submitted, you CANNOT edit any information
Once an application is submitted through the City of Austin website, Recruiting usually processes them within 1-2 business days

If you haven't received communication from Recruiting right away, it's most likely because we haven't processed your application yet or we are waiting on verification of information provided in the application

Once Recruiting has reviewed your application and established your eligibility, a detailed confirmation email is sent to the candidate from EMSRecruiting@austintexas.gov with next steps and documents required details
The faster you submit required documents to Recruiting (after receiving application confirmation email), the sooner we can schedule you for an Structured Oral Interview
Hiring Process Elements Tips:
Structured Oral Interview (SOI) -- all hiring processes

You will receive a confirmation appointment email.  Read this very carefully!  Important details, dates, times, and next steps are included
Know the location of your interview - they can vary from process to process, and day-to-day
Be early.  Account for traffic.  Account for parking and making it to check-in prior to your scheduled time

There are no exceptions for being even 1 minute late.  Late means disqualified

Dress for success - This is a professional interview
Be professional in your conduct
Be prepared by practicing

We provide the below guide to all applicants to help you be successful

After the interview, you are given your pass/fail results

You must score a 70 or higher to move forward
If you unsuccessful, you are eligible to reapply during our next scheduled hiring process

If you pass, you move on to the Background phase
 

Medic I-Communications Only: (Additional testing elements for Communications)

Criticall testing

A computer-based assessment of your decision making skills, multi-tasking abilities, data entry skills, typing skills, language arts skills and the ability to listen and understand information
We offer practice session for you prior to the testing
There are websites you can visit to practice multitasking skills:
Hiring Process Dates:
April 19th -- Medic I-Communications application closes
April 23rd -- Medic I-Field app closes
June 19th -- Modified Paramedic app closes
April 27th -- CRITICALL testing for Medic I-Communications ONLY
April 30th-May 3rd -- Structured Oral Interviews for Field and Communications
May 3rd -- Written psych evaluation for anyone that passes the Structured Oral Interview phase
May 21st - June 14th-- Psychological and medical evaluation (dates will be assigned to candidates that pass background/reference phase)
June 25th-June 27th -- MODIFIED PARAMEDIC PROCESS ONLY Structured Oral Interviews
July 31st-August 7th -- MODIFIED PARAMEDIC PROCESS ONLY psychological and medical evaluation (dates will be assigned to candidates that pass background/reference phase)
October 1st -- Tentative start date for Academy for ALL hiring process
We look forward to receiving your application!  If you have any questions, please visit www.emsrecruiting.org for full hiring process details. 
EMS Recruiting can be contacted at: EMSRecruiting@austintexas.gov or 512-974-1098