As the Soul-y Austin program continues to develop, participating districts are offered new tools and resources that will contribute to their activation, beautification, and stabilization.  In an effort to assist the newly formed merchants associations, Soul-y Austin will launch its first round of placemaking projects in the Red River Cultural District and the Manor Road District. Placemaking within the Soul-y districts will serve as an opportunity to demonstrate how powerful the district merchants association's vision can be.
Placemaking focuses on capitalizing local community assets with the goal of creating public spaces that promote a healthy community, happiness, and well-being. Through the integration of art and culture into a community, placemaking intends to strengthen the district's identity. Successful placemaking projects are a collaboration between stakeholders in a community that seek to activate a space in order to attract patrons, increase the economic vitality of the area, and transform the physical environment.
The newest member of the Soul-y Austin team, Public City, will be leading the efforts and engaging the businesses and stakeholders in each district. Public City will develop and execute district engagement strategies that will focus on collaboration among stakeholders to select the placemaking projects that best fit each districts' character. The selection process is intended to build on placemaking ideas previously mentioned by stakeholders.
A number of cities in the United States have successfully activated their districts through placemaking implementation. Read about successful placemaking projects below: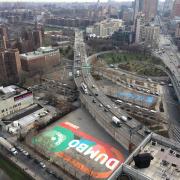 Source: Dumbo BID
New York's DUMBO Improvement District has created the DUMBO Fitness Loop, a pop-up one mile outdoor fitness loop that beautifies and activates the neighborhood's underutilized parks and public spaces below and around the Brooklyn-Queens Expressway. The area has been brought to life with a series of fitness-themed, eye-popping, super graphic interventions, supporting the projects overall goal: to promote local public health, inspire long-term investment in NYC parks, and raise the visibility of DUMBO as a critical juncture of the Tech Triangle and downtown Brooklyn.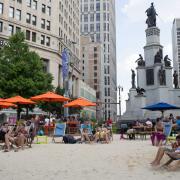 Source: Project for Public Spaces
Detroit's Beach at Campus Martius launched in 2013 with the support of a Southwest Airlines Heart of the Community grant. The project, located in Downtown Detroit, embraces the spirit of lighter, quicker, cheaper as Detroit experiments on how to make downtown more pedestrian friendly. For the fourth year in a row, there is a seasonal beach in downtown Detroit complete with sand, colorful umbrellas, seating, a beach bar, and a custom deck. The Beach at Campus Martius has created a summer destination where residents and visitors can eat, drink, play, relax, and mingle – activating Detroit's downtown.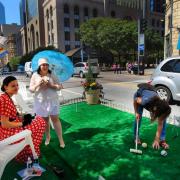 Source: Park(ing) Day Dallas
On the third Friday of September each year, Dallas joins other cities around the world in temporarily transforming parking spaces into parks for the well-known Park(ing) Day event. Park(ing) Day Dallas is known for promoting social interaction, civic engagement, and creativity through individual generosity and play. During Park(ing) Day, local community members, organizations, and additional stakeholders transform downtown Dallas' metered parking spaces into temporary parklets. Park(ing) day activities have transformed parking spaces into: gathering areas, yoga practicing spaces, areas for urban games, areas for music and public art, and others.   
The first round of Soul-y Austin placemaking projects are expected to be completed by summer 2017.