The Dougherty Arts Center's Julia C. Butridge Gallery is hosting another great exhibit, Hidden Places, by photographer and collage artist Stephanie Reid. The DAC has taken pride in offering Austin's artists an opportunity to display their work in an elegant gallery setting. This provocative solo show is another perfect example.

Stephanie Reid's photography and handmade paper show combines the world of digital photo-illustration and the traditional Asian art of  scroll painting. The images are mysterious, serene, and dynamic all at the same time. This work enriches the vocabulary of modern photography through an exploration of the visual haiku of Chinese and Japanese scrolls.

Stephanie's studio is called "Haiku Flash", apropos to the format of her work. A unique convergence of traditional arts and 21st century imagery, Reid's work resources the years she spent living abroad, first in Bangkok, Thailand and then on Jeju Island off the coast of South Korea. She also visited Japan.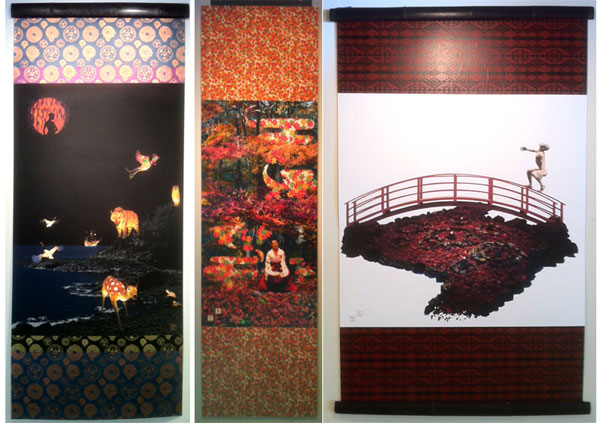 This exhibit consists of collage, installation, handmade paper and hi-resolution digital prints.

Her artistic contribution is an important addition to our Austin lexicon of modern painting and photography.
The show runs through June 23, 2012 at the Dougherty Arts Center, located at 1110 Barton Springs Rd in Austin, TX.
For more information on hours of operation and telephone number, please see our blog