EMS and Parks Departments Raise Awareness for Drowning Prevention and Water Safety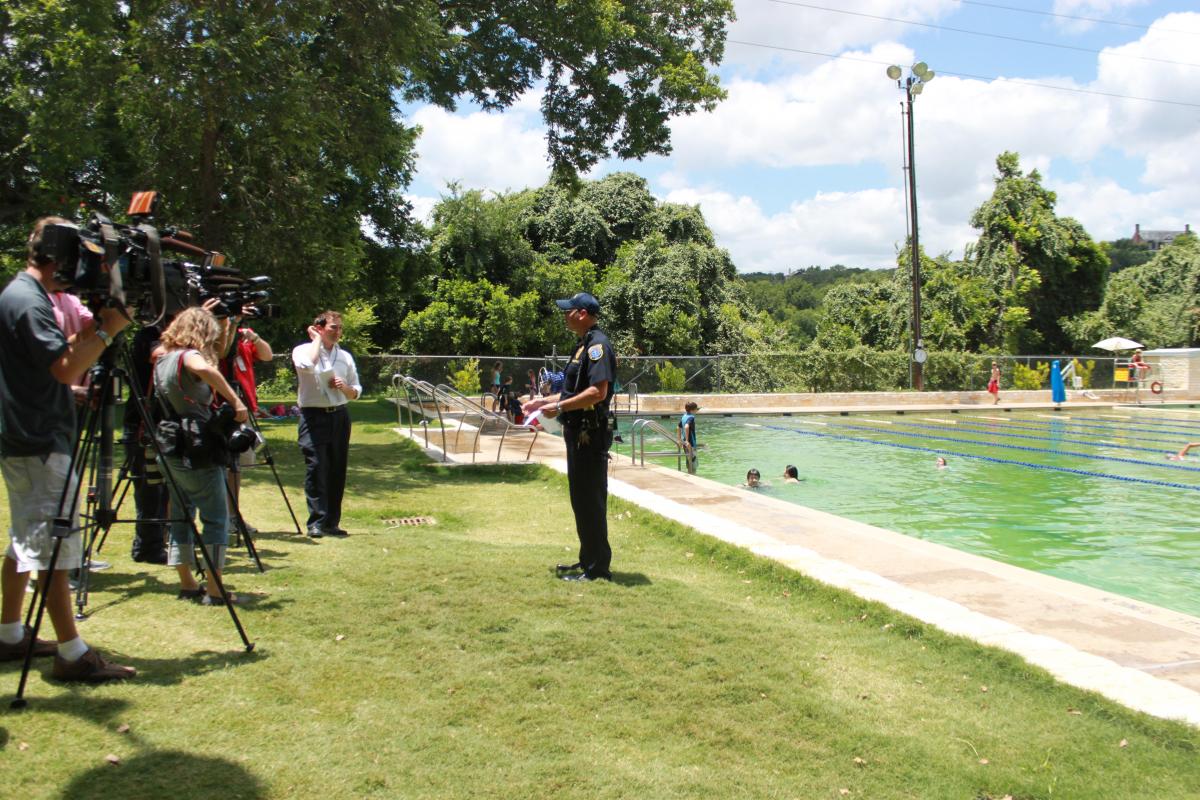 ATCEMS Commander Michael Broadwater spoke to press about water safety today at Deep Eddy Pool
Summer is officially here and school has been released until fall. Thoughts turn to vacations and summer activities including swimming and water sports. The Central Texas region enjoys an abundance of water in our lakes, rivers and many public pools. With that attraction, the inevitable risk of water-related injuries is always present. 
On Monday, Austin had five near-drowning incidents that included one fatality and two serious injuries:
1. Just after noon, EMS responded to the Dottie Jordan Park and Playground at 2803 Loyola Lane, for 7 and 10 year old victim. The younger victim clutched the older victim, they both went under and were immediately pulled from the water by a City of Austin Parks lifeguard.
2. At 2:08 p.m. paramedics were called to the Red Roof Inn at 8210 N I-35. Bystanders pulled a 7 year old from the water and started CPR until help arrived.  EMS continued CPR on the scene for more than 30 minutes and transported the patient to Dell Children's Hospital where she was pronounced shortly after 3 p.m.
3. Shortly after 7 p.m., EMS was called to 9345 E Hwy 290, the Rosemont at Hidden Creek Apartments. Bystanders pulled a 7 year old from the apartment pool and started CPR until fire and EMS arrived. Paramedics transported an unresponsive patient Code-3 to Dell Children's Hospital.
4. At 9:30 p.m., medics responded to the Keystone Apartments pool at 5230 Thunder Creek Rd in northwest Austin, for a 22 year old female pulled from the water after "being submerged for 30-45 seconds". A nurse on the scene performed CPR for two minutes. EMS arrived minutes later and transported an unresponsive patient to St David's Round Rock Hospital.
Remember, drowning is almost always a deceptively quiet event. The waving, splashing and yelling that movies and television prepares us to look for is rarely seen in real life. The Instinctive Drowning Response is what people do to avoid suffocation in the water. Know what to watch for:
1. Except in rare circumstances, drowning people are physiologically unable to call out for help. The respiratory system was designed for breathing. Speech is the secondary or overlaid function. Breathing must be fulfilled before speech occurs.
2. Drowning people's mouths alternately sink below and reappear above the surface of the water. The mouths of drowning people are not above the surface of the water long enough for them to exhale, inhale, and call out for help.
3. Drowning people cannot wave for help. Nature instinctively forces them to extend their arms laterally and press down on the water's surface.
4. Throughout the Instinctive Drowning Response, drowning people cannot voluntarily control their arm movements. Physiologically, drowning people who are struggling on the surface of the water cannot stop drowning and perform voluntary movements such as waving for help.
5. From beginning to end of the Instinctive Drowning Response people's bodies remain upright in the water, with no evidence of a supporting kick. Unless rescued, drowning people can only struggle on the surface of the water from 20 to 60 seconds before submersion occurs.
6. Sometimes the most common indication that someone is drowning is that they don't look like they're drowning. They may just look like they are treading water. One way to be sure? Ask them, "Are you all right?" If they can answer at all—they probably are. If they return a blank stare, you may have less than 30 seconds to get to them.
And parents—children playing in the water make noise. When they get quiet, you get to them and find out why.