Gettin' Crafty: Reusing Old Materials to Beautify Your Garden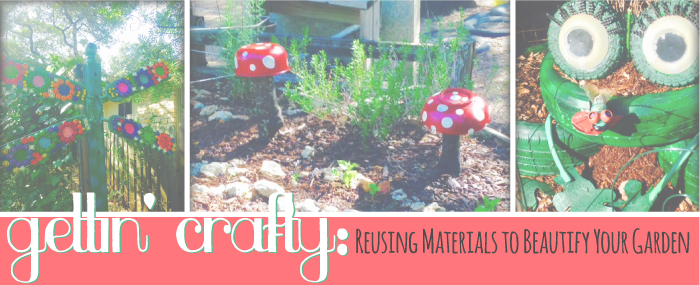 Right now, your garden may not be at its best appearance nor is it a good time to plant more seeds. Thankfully, there are a myriad of other ways to polish things up a bit and manage your garden. Some Austinites have turned to ReUse to keep their outdoor sanctuaries looking beautiful.  Local gardener, teacher and artist Becky Nolan has the answer—homemade yard art!
Yard art is a wonderful way to spruce up your home garden and add your own personal style. Upcycling items that other people are planning to throw away also makes this a completely affordable endeavor.
There has never been a better time to start a "do it yourself" Spring project to beautify your garden the Zero Waste way!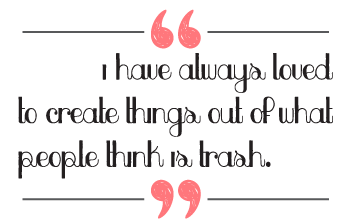 Nolan is a big fan of Zero Waste via recycling and reuse and has found alternative ways to curate her unique pieces from what other people throw away.
"I have always loved to create things out of what people think is trash," Nolan said. "I love to recycle, and making unique art from discarded materials is one of my favorite things to do."
She loves to attend antique and art fairs or go exploring to get ideas for her next creations. Becky, an art teacher, taught her students about reuse by asking them to donate unused items from around their households to use them as art supplies.
"I'm also addicted to Pinterest. I look through Pinterest and see what other people are doing with their yard art projects," Nolan said. "I love to draw from items in nature that I see while walking and exploring."
Becky is always on the hunt to save money on art materials by using goods discarded by other people.
"One of my favorite ways to find materials is scouring the curbs during bulk pick up week in our neighborhood," Nolan said. The interesting pieces of wood left behind from a storm are her favorite finds.
Below are 5 tips Becky shared for beautifying your garden when it's too hot to plant:
| | |
| --- | --- |
| | Look at the spots in your yard where you might need a focal point or a pop of color to make it fun and whimsical. If you have large spaces, old fan blades can become magical giant dragon flies. |
| | Add some color with hand painted garden markers. Use tree limbs or large wooden spoons to make colorful signs for every patch of veggies. |
| | Scavenge your garage and kitchen for items you no longer use. Overturned bowls can be painted to look like mushrooms or ladybugs; old tires can be painted and made into turtles or frogs. |
| | Check Recycle & Reuse Drop Off Center for free art supplies.  The team there collects and separates donated brushes, paint, chalks and other artist supplies. For larger projects, they also provide free Re-blend paint |
| | Visit the Shop Zero directory for a variety of stores that sell reused items, art supplies and school supplies at low costs. |
Start creating your own unique yard art by visiting some of the current bulk pick up curbs near you. Locate the nearest bulk collection schedule to find your next yard art project today.