How Land Use Can Support Mobility
Transportation affects our lives in many ways. Ask an Austinite about transportation, and you'll usually hear a groan, a sigh, or a story of being stressed out from being stuck in traffic. When a transportation system works well, it is effective at moving people, goods, and services. But it also helps people access jobs and education, be safe and healthy, and create places people want to be. It also provides options for getting around in ways that are affordable, flexible, and match people's different lifestyle choices.
The Imagine Austin Comprehensive Plan looked closely at the importance of aligning land use – what we build and where we build it – with the variety of policies, projects, and programs to improve mobility for everyone. Central to the vision for a livable Austin is are compact, connected, and complete communities, where people can more easily walk, bike, and take transit, and where services and amenities are accessible to nearby neighborhoods. While the Land Development Code can't solve Austin's transportation challenges on its own, it's an important tool to shape development and foster more opportunities for mobility choices.
The first thing to consider is that we all start our trips as pedestrians. For some, that may mean going from the front door to the car in our driveway, or walking to a bus stop. Making it easier, safer, and more comfortable to move around our communities -- especially for children, seniors, and people with disabilities -- is essential to a better quality of life. CodeNEXT offers improvements to the way new developments support walkability by requiring sidewalks on both sides of the street, as well as encouraging links to urban trails. In addition, the new draft of the code has added street tree requirements for new roadways and sites, which will require the placement of trees between the road and the sidewalk along both sides of the road. This will provide shade and a safety buffer for pedestrians.
The new code also makes it safer and more comfortable to walk along roads with stores and other commercial services. CodeNEXT strengthens driveway closing and curb reconstruction guidelines, so  redeveloped sites must improve safety by limiting the number of driveways and curb cuts when there is an adverse impact on pedestrian safety and traffic.
To make new develop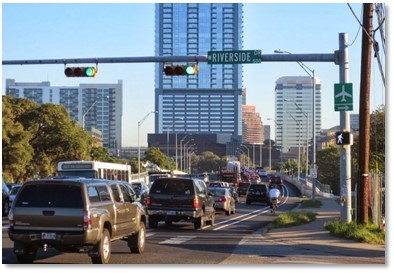 ments more walkable and connected, block lengths and street layouts will be context-sensitive, rather than the one-size-fits-all approach currently used in the code. This will apply not just to major subdivisions, but also to site plans for projects like commercial developments and apartment buildings. Dead end streets will be limited, and subdivisions will be required to have points of access onto at least two different streets. This will help stop every vehicle from funneling out to just one major road, which increases congestion.
 
Another meaningful change in the new code is capturing more opportunities to mitigate strains on our transportation system caused by new developments. Unlike the current code, which only requires mitigation measures from new developments that generate 2,000 trips per day, the new code lowers that number to 1,000 trips per day. This will help offset the transportation impacts of more new developments by requiring transportation enhancements, like new sidewalks, upgraded infrastructure to connect to nearby transit stops, additional signals, restriping of roadways, etc. The improvement and mitigation requirements in CodeNEXT support other modes of transportation, which will help improve safety and reliability of these alternatives and increase people's options in getting around.
In addition to the new requirements and regulations outlined above, CodeNEXT will update the zoning maps across the city. Draft 2 allows certain areas that were formerly commercial-only to build residential units as well. These new Mixed-Use zones were former commercial zones that allowed residential only if the property obtained a mixed-use overlay through a City process. This change can help increase accessibility to transit and create housing in close proximity to places where people can meet their daily needs without needing a car for every trip.
Beyond the specific changes to the land development code, there are numerous interconnected efforts underway at the City to improve mobility. The Austin Strategic Mobility Plan is being developed, and it will provide the policies, projects, and programs that will guide Austin's transportation investments for the next 10+ years. It will be an integrated transportation plan that incorporates existing plans and policies, such as the Sidewalk Master Plan and Vision Zero Action Plan. It also will bring attention to new programs that can help spread the heavier rush-hour demand out throughout the day. In addition, the City's Transportation Criteria Manual, Roadway Table and Street Design Guidelines will be upd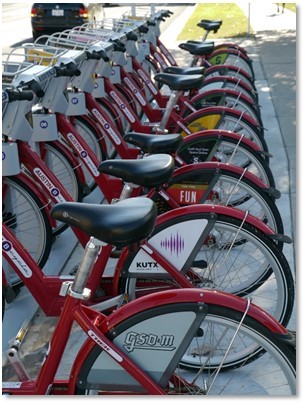 ated and modernized with a multi-modal and context-sensitive approach.
CodeNEXT addresses the demand on our roadway system by focusing growth along corridors and fine-tuning parking requirements. Austin's current approach to parking is out-of-date, because it sets different parking standards for individual uses and contradicts Imagine Austin and other City policy objectives. The new code cleaned up and consolidated the use table, presenting an opportunity to also reexamine the parking standards for individual uses and see where parking standards could be made more consistent across various land uses.
In addition, the parking standards and reductions were reviewed to see where standards could be brought into alignment with what other cities are doing in the region with similar connectivity and transportation challenges. This led to recommendations on generally lowering parking minimums and providing parking reductions based on proximity to transit corridors or based on specific features or amenities provided on site that support other modes of transportation. These lower minimums can allow for new housing and retail uses that emphasize the use of transit and other active modes. This also reduces the required area dedicated to parking that can result in lower impervious cover and decrease the cost to build, a cost that is passed on to end users.
Austin's transportation challenges have been years in the making, and there is no single effort, policy, or strategy that will solve them. But through a wide range of efforts, we can shift the course we're on and create more choices for people to get around Austin while making it safer, healthier, and more about people's everyday lives. CodeNEXT provides an updated set of tools to help align how transportation and land use work together to create a more livable Austin.