January's Park of the Month - The Ann and Roy Butler Hike and Bike Trail
They come for the satisfying crunch of granite gravel under the wheel of a bike. They come for the fresh air, flora and fauna – and for the sweeping views of Lady Bird Lake and the Austin skyline.
The motives vary, but the outcome is always the same. Austinites flock from miles away to January's Park of the Month – The Ann and Roy Butler Hike and Bike Trail.
The trail, which surrounds Lady Bird Lake in a 10-mile loop, is an instant attraction for Austin residents who love fitness, nature, scenic views and space for their pets to roam.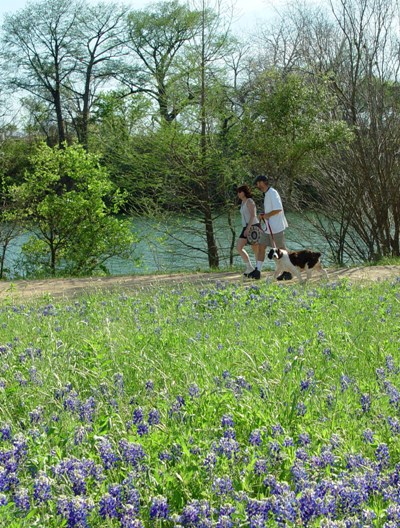 Although many locals already know and love this trail, it's now receiving national recognition. This month, the trail was listed in Women's Health magazine as one of the "Top 10 Nature Runs in the United States."
The magazine article states that the trail's diversity of activities lends itself to triathlon training.
"From running around the town lake to biking around Zilker Park to even going for a swim in the waters of Barton Springs, this is the place to train. You'll get 10 miles of working out!" the article states.
The trail also offers a unique perspective of Austin. Patrons are surrounded by nature yet still feel a part of that urban setting, said D'Anne Williams, Trails Coordinator for the City's Parks and Recreation Department.
"That is really appealing to people," Williams said. "Seeing the wildlife around in the water and in the surrounding trees and the vegetation – it kind of has a softness to it."
The trail's functionality and beauty have been greatly bolstered by a public-private partnership between the City and The Trail Foundation – a nonprofit that raises private funds for improvements to the trail.
"We work together as far as what the needs are for the citizens, and they are able to find funding that's outside of our bond process," Williams said. "So it's improvements to the park and the system with funding that we [at Parks and Recreation] just do not have. They've been an incredible asset for us."
Right now, the Foundation is working to build the final piece of the loop, said Executive Director Susan Rankin. There is a 1.1-mile gap along the south side of the trail which requires trail users to re-route to a sidewalk along Riverside Drive.
Once that missing section is built, the trail will become even more popular as East Austin residents have easier access to it, Rankin said.
Rankin described the trail as Austin's gym, and likened it to New York's Central Park.
"The natural beauty of the dammed up Colorado River is unsurpassed," Rankin said. "It's really beautiful. And it's really the reason why so many people in Austin are fit."