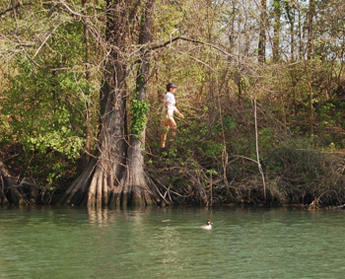 Winding through downtown Austin, Lady Bird Lake and its wooded shoreline provide an amazing 'get away' from the bustle of city life for both people and a wide array of wildlife. The lakeshore hosts activities as diverse as outdoor concerts at Auditorium Shores and moments of quiet reflection at Redbud Isle.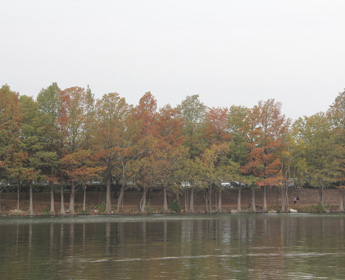 While the lake's riparian (lake edge) vegetation is left to grow naturally in some areas, many stretches have been routinely mowed from the lake edge up to and well beyond the Hike and Bike Trail, preventing the development of native grasses, shrubs and mature canopy trees that make up a healthy riparian zone.
A joint effort between Parks and Recreation and Watershed Protection departments offers a simple solution: establish a Grow Zone along the lake by limiting shoreline mowing so plants can re-grow or re-seed naturally. Integrating some maintenance to allow shoreline access, the Grow Zone currently stretches from Austin High downstream to Longhorn Dam.
As plants increase in diversity and cover, they will help reduce lakeshore erosion, filter pollutants from stormwater, increase food and habitat for a wide variety of animals, and shade the water's edge- helping Lady Bird Lake fulfill its potential as "the crown jewel" of Austin's park system.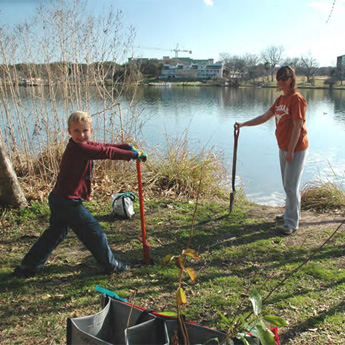 November 2012 Planting tree seedlings with Austin Parks Foundation volunteers.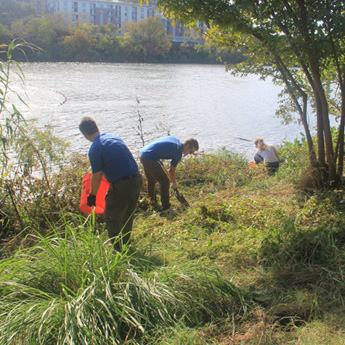 February 2013 Planting tree seedlings with Austin Parks Foundation volunteers.
PAST EFFORTS
2011-2012
Controlling the invasive giant cane, Arundo - these plants create dense monocultures along the lakeshore, limiting native habitat needed for wide variety of organisms. Native trees are planted after giant cane is removed.