Livability, Lovability, and CodeNEXT
With the number of people who move here every day, it's pretty clear that a lot of people want to live in Austin. We have a fantastic city and there are many great things about living here- the sunny weather, frequent festivals, an outdoor lifestyle, unique local businesses, a vibrant music scene, and friendly people, just to name a few. While each of us thinks different things make Austin great, almost all of these attributes come from living in a place we love. One of the goals of our land development code re-write, known as CodeNEXT, is to help keep many of the things we love and improve the things we don't.
Much of what we love and respect about Austin is captured in the Imagine Austin Comprehensive Plan. Imagine Austin's goals include creating a livable place where all people can access daily needs through a short walking, biking, transit, or driving trip; where diversity and creativity are celebrated; and where sustainability, social equity, and economic opportunity are valued.  CodeNEXT is one of the most critical ways we can realize our community vision, as it is one of the primary tools that will shape everything from the kinds of places we live, work, and hangout to influencing the design of our streets and public spaces.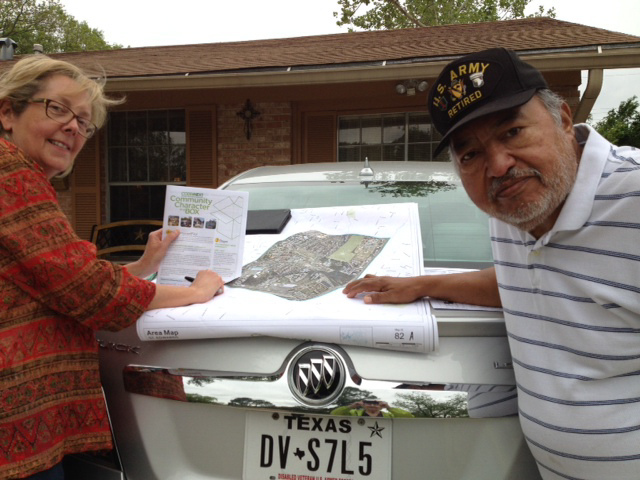 During 2013 and 2014, the CodeNEXT team gathered input on neighborhood character, identifying the kinds of places people value and enjoy, as well as learning more about what's not working well and needs to be improved. Other results of this listening phase include a Community Character Manual, which takes a look at the patterns, form, and character of Austin neighborhoods, a Code Diagnosis that summarizes the major issues in our Land Development Code, and a Listening to the Community Report, which highlights feedback from the community.
Equipped with this information, the CodeNEXT team has begun Phase II of the project. During this phase, staff from multiple departments will work with a consultant team from Opticos Design to create an administrative draft of the code. One of the major goals of the administrative draft will be to create a code with people-focused design standards that enhance the Austin we love. These people-focused design standards will impact how we experience Austin, and include things such as the location of a building relative to parking and the sidewalk, outdoor patios, street trees, building diversity, accommodating nature and stormwater, and creating gathering spaces.
By emphasizing good design that creates places for people, the new land development code can deliver a variety of benefits to Austin, including:
Increasing the variety of allowable housing types, contributing to greater diversity in housing, which can help affordability
Reducing transportation costs and pollution by encouraging design that reduces the number and length of driving trips
Promoting physical activity and health by permitting design that encourages walkable, bikeable development
Incorporating nature into the city through responsible development patterns and accommodations for trees, green space, and stormwater
This fall, the CodeNEXT team will hold a workshop to test the new code on a variety of focus areas to see how well the new regulations accomplish these (and other) goals, implement Imagine Austin, and to identify opportunities to improve the draft regulations to achieve intended outcomes. While the number and scope of focus areas is limited, by carefully selecting 'template' areas that are representative of common development patterns in Austin, the CodeNEXT team will evaluate the impacts of a new land development code. These areas will be chosen by staff and the Opticos team, based on input from the Code Advisory Group and others, after evaluating potential areas against a list of criteria that emphasize issues of priority, controversy, and complexity in Austin.
As the CodeNEXT process moves closer to the workshop and eventually a public draft, it is important for all Austinites to stay informed of and engaged with the project's progress. Future ways to get involved include attending a CodeWalk, meeting the staff team at a Coffee with CodeNEXT event, or attending a CodeNEXT public meeting.  For the most up-to-date information on events and project updates, or to sign up to receive updates, visit the CodeNEXT webpage; event announcements are also made through the Imagine Austin Facebook page and Twitter feed.