Manor Road Business District
Located near Downtown Austin and the University of Texas, Manor Road stands as one of Austin's most iconic and unique commercial corridors. Manor Road offers its residents and visitors a diverse and unique selection of restaurants, bars, theater venues, outdoor patios, and retail stores; Manor Road businesses and services attract individuals and families for both daytime and nighttime activities. Businesses along Manor Road have been participating in the Soul-y Austin program since mid-2015. With the goal of improving the experience along the Manor Road District, businesses have been meeting monthly to discuss their district's future which includes opportunities for growth and partnerships.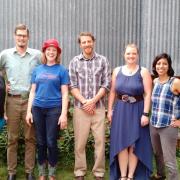 Manor Road Merchants Association Board
After months of on-going discussions, Manor Road businesses have taken the next step in this initiative and formed the Manor Road Merchants Association (MRMA) in March 2016. The group participated in association elections and now have a seven member Board of Directors including: President, Vice President, Secretary/Treasurer, two (2) City Liaisons, and two (2) Members-at-Large. The group has now been linked to a pro bono attorney that will assist them for the next twelve (12) months. The pro bono attorney is part of the services provided to the districts by the Soul-y Austin program.
On May 10th, Manor Road businesses, City of Austin representatives, and additional stakeholders all gathered at Unit-D Pizzeria to participate in the Manor Road District workshop. The workshop focused on identifying implementation activities and discussing policies that will assist in the enhancement and promotion of Manor Road. Activities and implementation projects mentioned in the group discussions include, but are not limited to: inclusion of more community gardens, shared parking agreements, and a street makeover.
Businesses involved in the initiative are focusing all of their efforts on attracting more businesses to join the association. If you are interested in joining the Manor Road Merchants Association, please contact Joshua Blaine, President at joshua@in.gredients.com.
Follow our blog and watch for future posts as we share the highlights of Soul-y Austin and Austin's unique business districts. If you have questions or comments about this exciting opportunity, please contact Nicole Klepadlo, Redevelopment Project Manager at Nicole.klepadlo@austintexas.gov or 512-974-7793.