Meet a Medic: Marco Villaseñor, Captain/Designated Medical Officer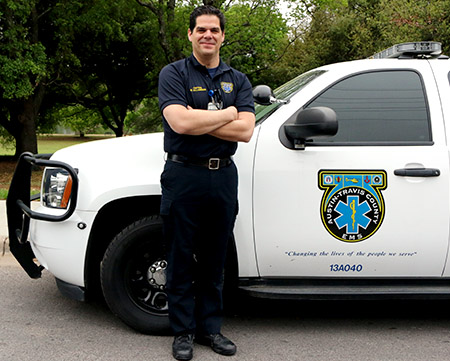 Where are you from originally and what brought you to Austin?
I am from the great west Texas town of El Paso.  When I was offered a job with ATCEMS, I moved to Austin. 
What inspired you to become a medic/What attracted you to this career choice?
I was a lifeguard while in high school and then I took an Emergency Care Attendant class.  That was the summer I got bit by the adrenaline bug.
How long have you been with ATCEMS and what motivated you to work here?
I have been here a little over 18 years.  The prestige of working and learning alongside some of the best paramedics in the nation was motivating to me.
What is your favorite part about working here at ATCEMS?
The ice cream (just kidding)!  I learn something new EVERY DAY.  Sometimes, it's something small that I learn about while reading a medical journal, or talking with a fellow medicc.  Other times, it's me learning something about myself on how I respond to adverse events.  That is so cool to me. 
If you had guests visiting Austin for the weekend, where is the first place you would take them?
Hands down, the Zilker Park area and ride the Zilker Zephyr, walk through the Austin Nature Center and Botanical Gardens. 
What is your favorite taco joint in town?
This is a hard one to answer coming from El Paso but I'll take stab at it… Veracruz All Natural on Cesar Chavez.  Fresh handmade corn tortillas, yum!
What do you do on your days to relax and unwind?
I enjoy listening to audiobooks while taking a walk, or taking the time to go camping. 
Who inspires you?
Definitely my son. Watching him discover the world through his eyes has given me a second wind in my life.
What is the next place you would like to visit?  Why?
I'd love to go to Morelia, Michoacán Mexico to experience and see the world's largest migration of monarch butterflies.
Word of advice for an aspiring medic?
Take your time. There is a time to learn, a time to work, a time to rest, a time for family and a time to take care of yourself (and that is ok).  Ask questions...chances are someone else has already asked, or things have changed, and the answer to your question or the solution to the problem could be different now.