Meet A Medic: Selena Xie, Medic-II Field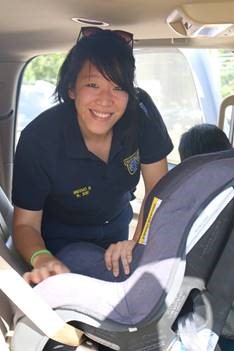 Where are you from originally and what brought you to Austin?
I grew up in Dallas and wanted to try something different. I went to college in New England and wanted to go back to Texas. After college, I moved to Austin for a job tracking disaster relief after Hurricane Ike, and I haven't left since.
What inspired you to become a medic/What attracted you to this career choice?
During my freshman year of college, I went to New Orleans for spring break to do a week of disaster relief. It felt so good being there and doing that kind of work, that I did a summer internship with Habitat for Humanity in New Orleans the next summer. I loved working outside and I loved making a difference to people who had lost everything. After college, I worked in disaster relief on a policy level. I realized I wanted to get back to being more actively involved in helping people and do disaster relief on a local level. I took an EMT-B class and the rest is history!
How long have you been with ATCEMS and what motivated you to work here?
In 2011, I rode out with M8 (shout out to Tim Fuentes and Adam Stevenson!). We responded to a house fire, an extremely sick patient, and crazy car accidents. They tried to tell me that it wasn't always that exciting, but I was hooked. I joined ATCEMS in 2012.
What is your favorite part about working here at ATCEMS?
I worked at a desk for 5 years before joining ATCEMS. I didn't really talk to many people, do much physically, or do meaningful work that I truly connected with. Working for ATCEMS filled all of these desires I had. Each call is different.  We're always on our feet.  And if I can make a patient's day a little brighter, my work is meaningful. On top of that, being a paramedic means always learning. I have learned pathophysiology from my patients, learned how to differentiate types of brain bleeds on CT scans from doctors, pediatric medicine from parents, and so much more.
If you had guests visiting Austin for the weekend, where is the first place you would take them?
The first place I always take guests is outside of Austin.  I loved all the busyness of Austin in my 20s, but now I'm crazy for the peace you find outside of Austin. I usually do a combination of Opie's BBQ and Krause Springs, or Jester King and Pedernales Falls.
What is your favorite taco joint in town?
The best tacos I've had in Austin are usually the ones made for you inside or next to a gas station. The tortillas are usually homemade and everything is cooked a little differently. I love that unique experience where you don't know exactly what to expect… kind of like in EMS.
What do you do on your days to relax and unwind?
I have chickens, a vegetable garden, a local Alamo Drafthouse, and poker nights that keep me plenty busy.
Who inspires you?
My friends inspire me endlessly. My friends are at that special point in their life where their careers and families are really starting to take off. They're taking promotions, having babies, writing books and following unique paths. It's really exciting to watch and reminds me to reflect on how I spend my time.
What is the next place you would like to visit?  Why?
When I was younger, I used to go to China every other year to visit my family. Each time I would go back, it would change so much. I haven't been since I started college. I would love to go back with my family. I know that it will look completely unrecognizable. I would love to feel that feeling when everything is different but somehow very familiar. 
Word of advice for an aspiring medic?
When a question pops up in your mind, ask yourself first to see if you can start connecting the dots, and if you can't or even if you can, ask someone else. Even when you don't have a question, look for one. Ask why the medic did each thing. Ask about the pathophysiology of every patient from your preceptor and from the doctors. Ask them what they would have done, or how they would have run the call differently if they could. Ask commanders about great calls they've run. Ask the doctors what the plan of care will be. Ask nurses what different tests find and do. The best part about being "aspiring" is that you can pick the brain of everyone you meet.
Interested in applying?  Visit www.emsrecruiting.org for hiring process details.
Want to receive notifications when we're hiring?  Complete an interest card here.
Keep up with the daily lives of our medics on Instagram: @atcemsmedics