Mike Wilford is the co-founder of Twisted Pixel Games, an Austin-based studio focused on creating character-driven original games. The Cultural Arts Division's Creative Industries Development Manager, Jim Butler, interviewed Wilford for this blog.
Jim Butler: Please let us know a little about how your company was formed, some milestones of the company, and some of the major projects that you are currently working on.
Mike Wilford: My company is Twisted Pixel, founded by myself and two of my best friends, Frank Wilson and Josh Bear. In November of 2005, we were working together at another game studio outside of Chicago when the Xbox 360 launched. We each got one, took them home, hooked them up, and saw how amazing it was to download games by small, innovative teams directly to our consoles. We were blown away by Xbox LIVE Arcade (XBLA) and knew there was an opportunity to do something cool and memorable with a fraction of the resources needed for conventional retail products.
We founded Twisted Pixel in Josh's home town of Madison, Indiana basically because his mom could feed us. We worked out of a brick dungeon without heat, wearing fingerless gloves, and produced our first game, The Maw, which was at the time an ambitious concept about exploring a fully 3D rendered world featuring lots of characters, animation, and personality but without the use of voice. We released The Maw on XBLA in January of 2009 which has gone on to win awards and exceed our expectations.
Six months later we released our sophomore effort, a completely different type of game called Splosion Man. Despite staying small, we continued working our asses off, releasing five original games in three years and contributing to two others. Our most recently shipped title was The Gunstringer, which was the highest rated game for Kinect.
Our next milestone was being acquired by Microsoft Game Studios, putting an end to their streak of years without game development acquisitions. We were also the pilot program for a new type of "minimally managed" subsidiary where we remain highly independent, operating the way we always have. Thankfully that made it easy for us to insist on staying in Austin. It was just one of those things that made a lot of sense from both sides given that everything we've ever done has been with Microsoft Studios.
Today we are working on finishing up LocoCycle, a day-one launch title for Xbox One due this holiday, and pre-production on our next thing.
JB: When did your company move to Austin, and what made you want to be in Austin?
MW: We always knew Indiana was a temporary setting for us. But after we finished The Maw we knew if we didn't act soon we could get stuck there. So right after we wrapped The Maw, my buddy John and I toured the various typical "hubs" of North American game development.
We considered Seattle for its proximity to Microsoft and Nintendo, California because of Sony and publishers, Canada for its incentives, Chicago, Raleigh, and Austin. After gathering as much information as we could, we put it to a vote in our office and were surprised to see that it wasn't much contest. Austin was the clear winner and we moved our entire staff down here over a weekend, plus a few volunteers that wanted to stay close. We're all still here, now with spouses, dogs, and kids, and we're not going anywhere.
JB: What things would you like to see happen in Austin that would make it a better place for companies like yours?
MW: There's not really a whole lot--we can't imagine being anywhere else. Texas's film and game industry incentives played a role in our decision to move here but other states are gaining traction so that's probably something to watch out for. However, when it comes to quality of life, cost of living, cost of doing business, weather, crime rates, entertainment, and everything else, you can't really beat Austin.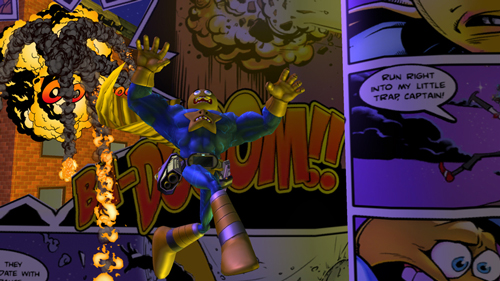 Still from Cosmic Jumper by Twisted Pixel Games