Pedestrian Advisory Council
New! Pedestrian Advisory Council
On October 22, Austinites took a big step toward becoming a walkable city with the inaugural meeting of the City's new Pedestrian Advisory Council. The community group will advise policy makers, City staff, and developers on the needs of people who walk to get around town. It will provide a forum for discussing issues such as improving safety, the sidewalk network, related transit and development-pattern issues, and a comprehensive approach to creating more walkable places in Austin. 
---
Excited to help create a more walkable Austin, 62 diverse Austinites (many of whom walk daily) attended the first Pedestrian Advisory Council (PAC) meeting.
The group is open to all; it will meet the first Monday of every month. It offers a community forum parallel to the Bicycle Advisory Council, which has been effectively advising the City on the needs of transportation cyclists for several years. Why form a new pedestrian group now?  Austin is at a critical juncture. The Imagine Austin comprehensive plan established a vision and a set of policies, priorities, and action steps that prioritize improved walkability. (It's called for in both the Healthy Austin and the Compact & Connected Priority Programs.)  In general, our community has developed an increased awareness of the need for, and advantages of, active transportation. Recent statistics also point to serious concerns with walker safety:
From 2008 to 2012, Austin has experienced a 73% increase in the number of pedestrian fatalities and a 9% increase in the number of pedestrian injuries.[1]
In 2012, fully one-third of the 78 people who died in traffic fatalities were pedestrians.[2]
The aim of the PAC is to provide a community forum to discuss problems and opportunities for walkability in Austin, as well as to build a group of Austinites who are well-versed in best practices for pedestrian policies, infrastructure, and design.  Many community members who attended the first meeting walk regularly as their primary mode of transportation, or walk to take transit, so they understand the needs of walkers. Some specifically referenced the needs of children, elderly, and the disabled, or the perspectives of neighborhood groups and minority organizations. Others were professionals involved in real estate, design and development. Staff representing multiple city departments, and local and state agencies also attended and will participate regularly.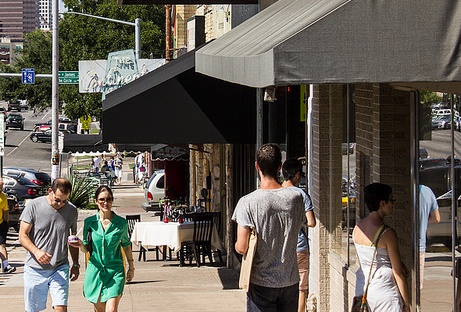 The Imagine Austin Speaker Series Walkability Summit, held in May of this year, led to the formation of the PAC.  Featuring Scott Bricker of America Walks., the one-and-a-half day Summit, and the Summit's Summary Report, recommended the creation of a Pedestrian Advisory Council, among other community goals. 
 Members of WalkAustin, an informal advocacy group that also grew out of the Summit, worked with City Council Member Chris Riley's office throughout the summer, culminating in a Council resolution to provide staff support to the PAC in September.
Get involved!
The next PAC meeting is December 2, at Austin Energy Town Lake Center, 721 Barton Springs Road (First Floor Meeting Room).  All regular meetings will occur at 6 pm on the first Monday of each month. For more information, including future meeting dates and locations, contact City Planner Robert Anderson at robert.anderson2@austintexas.gov or (512) 974-6405 or visit the PAC website.
---
[1] Statistics provided by Nora Evans, Police Planner/Traffic Analyst with the Austin Police Department.