Pocket park packs deep history
For generations, the grounds of Lott Park have been a haven for East Austin neighborhood kids. Colorful plastic and metal playground equipment, a lively splash pad and a shady gazebo are tucked into a neighborhood at 1180 Curve Street.
"It's like a block off of I-35, and if you don't live in the neighborhood and aren't real familiar with Austin, you'll never know it's there," said Jimmy Cone, Parks Grounds Manager for the Parks and Recreation Department.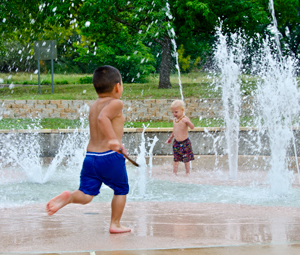 Lott Park is one of the City's 20 pocket parks – its smallest parks which are designed as a little getaway for neighbors rather than citywide attractions.
Lott Park has all the essentials – a playground complete with slides and swings, a basketball court, a grill for cookouts and an uncrowded splash pad for quick relief from the summer heat.
"Most of the pocket parks are like that," Cone said. "They're really cool to just escape for just a little while, and they're quiet and you can relax for a while and get away from the telephone."
But the land that is now Lott Park wasn't always a place to relax. More than a century ago, it was absent a few park benches and instead held benches of students.
From Packed Benches to Park Benches
Early records of Austin indicate that the park land once supported a school for African-American students, which was called by various names throughout the years – first Robertson Hill School then Anderson High School, then, after Anderson High School moved to another location, Olive Street School.
The school was built by 1885 and its conditions were evaluated in an 1887 account in the Austin Daily Statesman. In that account, A.P. Wooldridge, superintendent of Austin Public Schools, stated that it was in good condition, but still had many of the problems typical of the era's segregated schools. For example, during class time children were crowded into rows of uncomfortable backless benches.
"In these rooms the children are rather packed or penned than seated, to the great detriment of health as well as manners," the article states.  By 1896, the school had an enrollment of 84 students, and in 1904, the number rose to 177.
The building was eventually abandoned, and in 1947, the school burned, according to a 2000 report, "Historic Resources Survey of East Austin, Texas."
In 1953, Lott playground was developed on the site. It was named after Harry Lott, one of Austin's first postal carriers. Harry Lott and his wife, Louise, were "prominent within the East Austin African American community," according to the "Historic Resources Survey".
1953 also was the year another prominent community member was born. Dallas Cowboys football star Hollywood Henderson was born in East Austin and remembers visiting the park from an early age. The park featured a shallow wading pool, sandboxes, monkey bars, swings and a merry-go-round, Henderson said in a phone interview.
"It was one of the early Six Flag Over Texas for the kids in East Austin," Henderson recalled. "It was well-attended, well-used, and whoever designed it really designed it for little people…it was a little people park."
At that time, East Austin was a wholly African-American community, Henderson said, and Lott Park was the farthest West he and his family ventured to travel in Austin.
"There was not a wall or a gate or anything, but… it was pretty much a square chalked-out segregated community of East Austin, with the heartbeat being 12th and Chicon," Henderson said. "At that corner you had a cab stand, Ralph's Grocery Store, the barber shop, Harlem Theatre, 2 or 3 barbecue places, 6 or 7 beer joints, a couple of live music venues, many churches, and it was a contained community called East Austin."
A Safety Zone
As Henderson pursued his football career, things in East Austin started to change. Henderson said his was the last class to graduate from Anderson High School before bussing began in 1971 and the school was shut down.
Drastic changes in the community also caused the park to suffer and languish, according to the City of Austin's Lott Park Management Statement. The Parks and Recreation Master Plan in 1980 rated it as the worst neighborhood park in the city.
In 1980, 10-year-old Jerome Muhammad moved with his family from North Austin to East Austin, right next to Lott Park. At the time, the playground consisted of a single slide and a three-seat swing, and the park also featured a wading pool and a basketball "slab.'"
The basketball hoop had no net, Muhammad recalled, and it was so close to the road that the ball would often roll out of the court and down the sloped Catalpa Street.
"Whenever the ball went out of bounds we hated it because we had to run all the way out in the  street," Muhammad said. "It was a long run."
But despite its pitfalls, the park was a pillar in Muhammad's childhood. It had a small barbecue pit and a couple of picnic tables where they would have family gatherings, and during the day when Muhammad would play in the park, it felt like a safety zone from crime that happened in the neighborhoods nearby.
"I never felt any fear," Muhammad said. "I never felt unsafe or anything when I was at the park."
A Sunrise in East Austin
Muhammad still lives near the park to this day, but things have changed since his childhood. In 2006, grant money became available to revitalize Lott Park.
The budget for Lott Park improvements was $582,500. Of that, $20,000 came from Parkland Dedication, $62,500 from a Texas Parks and Wildlife Grant and $500,000 from an Urban Parks and Recreation Recovery Grant, according Sara Behunek, Public Information Specialist Senior for the Capital Improvements Office.
The scope of work included relocation of basketball goals, removal of existing playscapes and installation of two new playscapes, a splash pad, an irrigation system, a retention pond, a shade structure and ADA improvements.
"It's really nice now," Muhammad said. "You can take your kids down, it's still safe…it's improved big-time. They re-did the basketball court. It's larger now, and they have a fence around it."
Lott Park's new façade exemplifies the revitalization that is occurring in the neighborhoods surrounding it. Attractions such as the Carver Museum and Cultural Center and the newly-opened African American Cultural & Heritage Facility celebrate the strength and vitality of the City's African-American population.
The neighborhood is now interspersed with colorful public art, such as the Reflections mural on East 11th Street and local attractions such as the Tiny Park art gallery. And the park itself remains, as it has for generations, a refuge for East Austin kids.