Return and Discover East 12th Street Festival
On Saturday, September 10th, 2016 East 12th Street hosted the Return and Discover East 12th Street festival. In partnership with Soul-y Austin, East 12th Street businesses are exploring the possibility of forming a merchants association to better advocate for their district. In order to attract other businesses to participate in the formation of the East 12th Street merchants association, participating businesses proposed a catalytic event that would bring businesses together, increase pedestrian activity along the district, and promote the unparalleled culture and history that comes along with East 12th Street.
The event kicked off with remarks from Council Member Ora Houston and Austin Police Chief Art Acevedo, who were introduced by members of the community that were heavily involved in the development of the festival. Participating businesses, property owners, and organizations include Big Easy Bar and Grill, Sam's BBQ, House of Elegance, Mission Possible, Full Circle Bar, Dozen Street, King Bee Lounge, Pearlie's Kitchen, Red Wraps, Pakal, Rib Majesty, Ideal Barbershop, and the W.H. Passon Historical Society at the Southgate-Lewis Museum. Additional event supporters and participants included Austin Revitalization Authority, Huston-Tillotson University, Six Square – Austin's Black Cultural District, Spectrum Theatre, and The Spirit of East Austin initiative.
For the rest of the afternoon, the event provided patrons with diverse family-friendly activities including live music at different locations, children's games and face painting, a bounce house, a Bydee Art gallery exhibition at the Urban Co-Lab, historic talks at the famous Southgate-Lewis historic house, snow cones at Big Easy Bar and Grill, and food and drinks in various district restaurants and bars. Additionally, Spectrum Theatre had performances all afternoon ranging from musical acts to poetry readings. East 12th Street was more alive than ever – you could see how individuals and families walking, driving, and biking along the street were curious to see what was happening, forcing them stop and explore the businesses along the district. Some businesses reported record sales that day, expressing how the increased pedestrian activity brought by opening during the daytime and having live music positively impacted their businesses. Furthermore, the festival brought back those people who once called the street home, allowing them to share their stories with others. Ultimately, the festival brought businesses together, increased the pedestrian traffic along the corridor, and brought awareness of East 12th Street's rich and unique history.
Read more about the event here:
http://kxan.com/2016/09/09/crime-drops-dramatically-in-east-austin-festival-highlights-progress/
http://www.austinmonitor.com/stories/2016/09/festival-city-help-hopes-begin-new-chapter-12th-chicon/
EVENT PHOTOS: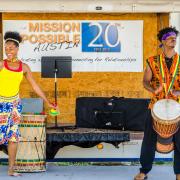 #RD12ATX kicked off with an outstanding West African dance and drumming performance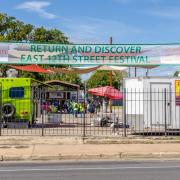 Return and Discover East 12th Street Festival
Patrons enjoying snow cones during #RD12ATX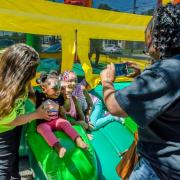 Children enjoyed the bounce house and face painting at #RD12TAX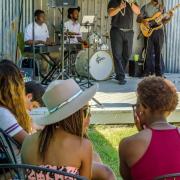 Visitors enjoy the Huston-Tillotson University Jazz Quartet performance at Urban Co-Lab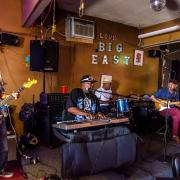 Soulman Sam performing at Big Easy Bar and Grill during #RD12ATX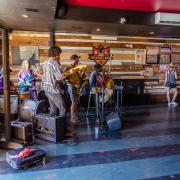 Zounmountchi entertaining the Skeeball players at Full Circle Bar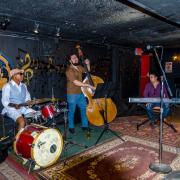 Michael Hale Trio featuring MacMcIntosh performing at King Bee Lounge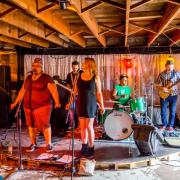 Mojo Queen performing live at Dozen Street during #RD12ATX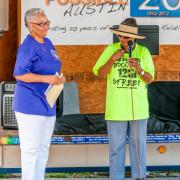 Council Member Ora Houston joins East 12th Street property owner Creola Burns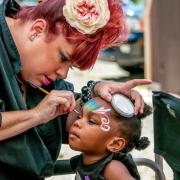 Photo 301_2082: Lady B. Face Painting in action during #RD12ATX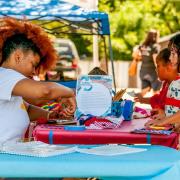 Creative Action joined #RD12ATX and spent the afternoon doing arts and crafts with children