You are here
Jan 23, 2018 - 07:55 am CST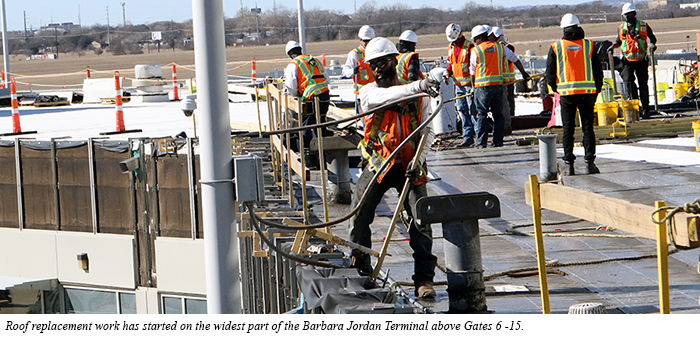 Roof replacement work at the Austin airport has reached the widest part of the Barbara Jordan Terminal. Thirteen new business counters for mobile devices are under construction and temporary walls mark new concessions and stores near Gates 5 and 8.
Ceiling covers in place as center terminal roof replacement begins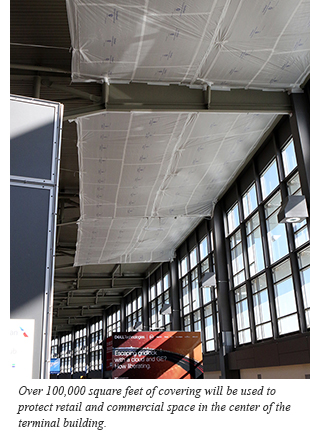 Contractor Hensel Phelps has reached Gates 6 -15, the central and widest part of the Barbara Jordan Terminal that is set for roof work replacement. Passengers will notice plastic sheet covering on the approximately 50-foot high ceiling starting near Gate 14.
It is estimated that over 100,000 square feet of covering will be used to create a suspended barrier to protect retail and commercial space in the center of the terminal building. This will create a separate work environment for roof construction activity and keep a professional appearance during the work.
Back in April 2017, work began to replace the 290,000 square foot roof of the Barbara Jordan Terminal, as part of the overall terminal improvement project. The original roof was built in 1999 and has reached the end of its lifecycle. The replacement work began on the west end, near Gate 23 and is migrating east.
The estimated completion date of the entire Barbara Jordan Terminal roof replacement project, which will end at Gate 2, is late 2018.
Thirteen business counters added throughout terminal
The Austin airport is constructing 13 new business counter locations in the Barbara Jordan Terminal. This will provide passengers more locations for laptop and mobile device operation and increases the number of electrical charging options in the terminal.  
Each counter averages 4 feet in height, with more than 1.5 feet of solid surface counter space. Each counter ranges from 10 to 17 feet in length with electrical and USB outlets and is currently located near Gates 5-8, 10-12, 13-19, and 20-21.
Departure Lounge, Berry Austin construction begins near Gate 8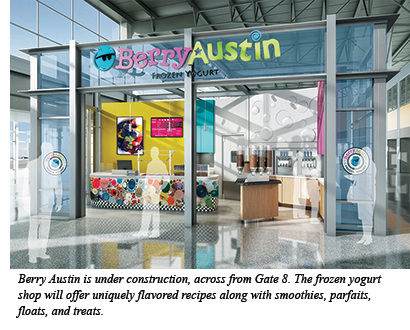 The construction wall near Gate 8 signifies the building of a new Departure Lounge and Berry Austin frozen yogurt at the Austin airport.
An upscale interactive travel discovery location, the 1,230 square foot Departure Lounge will showcase future travel vacations and getaways. The lounge will offer appointments with travel advisors and serve organic coffees, small- batch boutique wines, artisan chocolates, and cheeses.
The new 300 square foot Berry Austin airport location will offer uniquely flavored yogurt recipes from founder Kathy Steele, who opened her flagship location in central Austin in 2009. With 10 flavors of frozen yogurt and 50 available toppings, Berry Austin will also offer smoothies, parfaits, floats and other treats.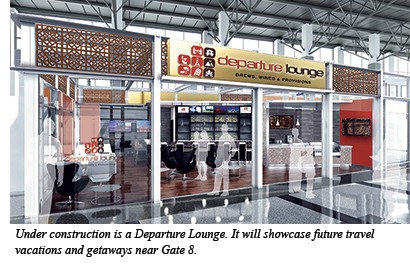 Departure Lounge and Berry Austin will be operated by concessionaire Paradies Lagardere.
Construction begins on second Barton Springs, Ruta Maya locations
A construction wall near Gate 5, at the Austin airport, indicates the beginning of a build for the second locations of a Barton Springs store and Ruta Maya coffee cafe.
Both to be operated out of a 1,431 square foot location by concessionaire Paradies Lagardere. Ruta Maya will offer organic specialty coffees and pastries and the Barton Springs East store will offer western apparel, accessories, salsas, sauces, jewelry, books and magazines. 
The Barton Springs West store is located near Gate 18 and the west Ruta Maya coffee cafe operates with Thundercloud Subs near Gate 19.
Did you know?  
The Austin airports terminal recycling program collects an average of 52 tons of recyclable material monthly. This is about 588 cubic yards of landfill space not used or the equivalent of stacking waste five feet high the length of a football field.
About this blog
Archives
2019
September
August
June
May
April
March
February
January
---