You are here
Feb 17, 2017 - 12:59 pm CST
On Saturday, February 18, 2017, the Rundberg Educational Advancement District (READ) will gather 5 to 6 children, grades 5-6, from Dobie, Guerrero-Thompson, Barrington, Hart, and Harmony schools to talk with city leaders about their ideas and concerns for their neighborhoods from 9 – 10:30 a.m. In attendance will be representatives from Congressman Doggett's Office, Council Members Casar and Pool, the AISD Board of Trustees, Mayor Adler's Office and Chief of Police Brian Manley.
READ Discussion
Saturday, Feb. 18, 2017
9 – 10:30 a.m.
Dr. Guerrero-Thompson Elementary School
102 E. Rundberg Lane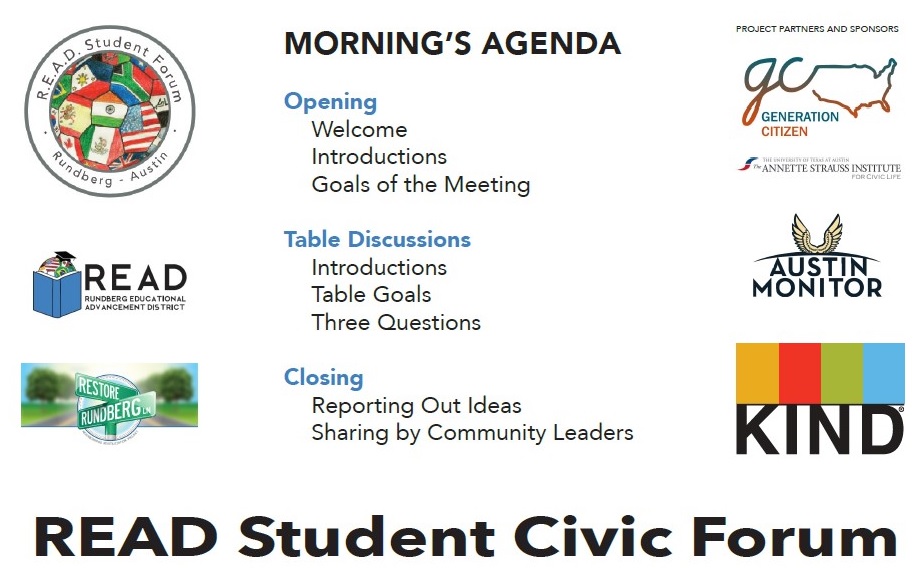 About this blog
Community members are leading Rundberg neighborhood revitalization efforts. This journal highlights the people, partners, and progress of Restore Rundberg. Submit story ideas and photos to restorerundberg@austintexas.gov.
---