Thursday, January 12, 2012
On Wednesday, January 11, 2012, eight members of Austin-Travis County EMS's Special Operations division, who are also members of the Texas Task Force 1 urban sift water strike team, traveled to Brenham, Texas to test a new watercraft. The team was invited by Washington County EMS director Kevin Deramus to evaluate a revolutionary new boat.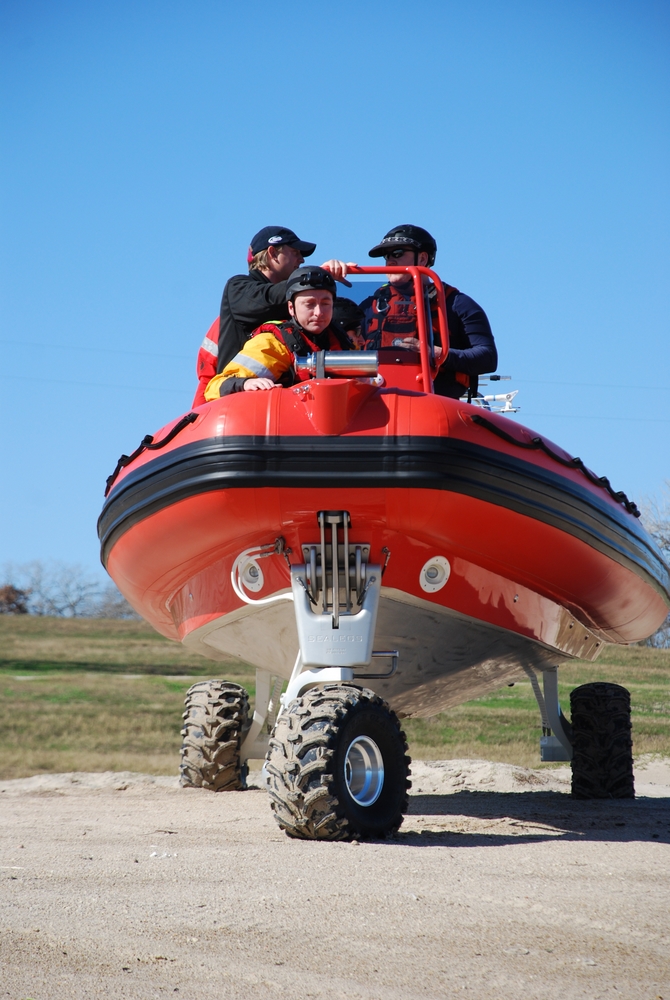 Sealegs, a company that has been building these boats for civilian fisherman and boaters in the past few years, is now exploring the benefits of this craft in the public safety realm. The boat itself is a 6.1 or 7.1 meter, ridged hull design with hypalon air tubes similar to those found on inflatable rescue boats utilized worldwide by rescue and military units. It utilizes a center mounted console, seating for several occupants, and a 150 hp Evinrude outboard motor. The specific features that set this boat apart from all others are its wheels, one at the bow and two at the stern, which allow the craft to be "driven" off of the trailer and into the water. The wheels can then be raised and the boat utilized in the normal configuration. The wheels facilitate crossing low water areas such as sand bars because they can be set at various heights to accommodate multiple scenarios. There are also points built into the boat for the attachment of a patient basket for rescue and evacuation scenarios.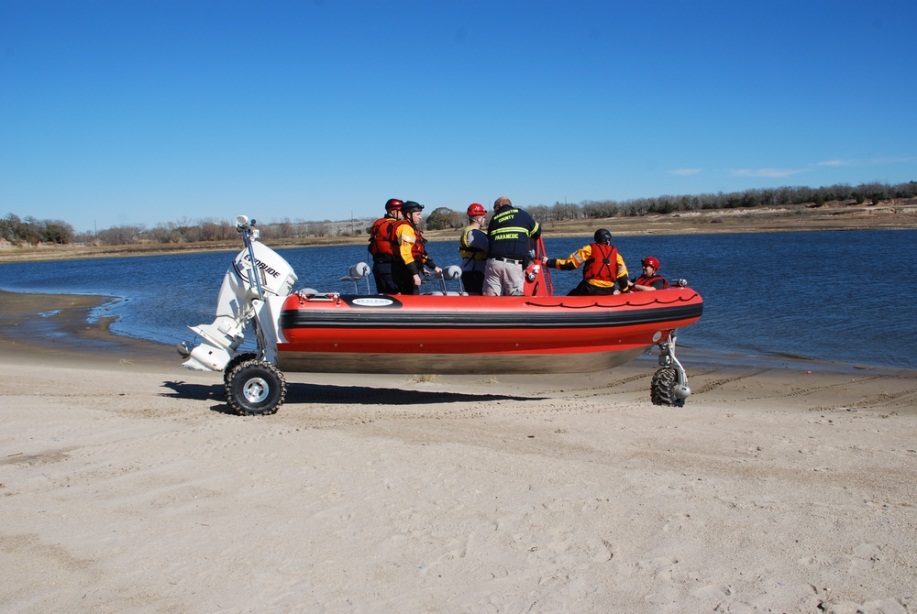 Each team member was given the opportunity to pilot the boat on land and water to fully appreciate the benefits of this type of water craft. Upon completion of the exercise each person was given a form to evaluate the vessels' strengths and weaknesses. This operation was another great example of the strong relationship that has been developed with the Washington County EMS service, and further punctuates our desire and commitment to reach out to our public safety partners in the region in the pursuit of public safety excellence.