September Park of the Month: Roy G. Guerrero Colorado River Metropolitan Park
A small herd of deer gazed warily through the trees at David Stresing as he hiked with a friend down the nearby gravel path, headed for Disc Golf Hole 17.
Stresing, an avid disc golf enthusiast since 2007, was trying his hand in Austin's newest and reputedly hardest disc golf course. The 18-hole course is nestled in the wood at this month's Park of the Month - the Roy G. Guerrero Colorado River Metropolitan Park.
The 400-acre park at 400 Grove Boulevard hosts athletes of all walks on its baseball and softball fields, volleyball courts, fitness stations, playground and two miles of trails. And there's always the option to chill with some friends and toss a few discs on the new disc golf course that opened this summer.

"It's good exercise," Stresing said. "It's good for people who don't want to be super-athletic."
But the disc golf course is challenging in its own right, Stresing said as his small plastic disc hit a tree and rebounded at Hole 17 – the signature spot on the course. The "hole" isn't really a hole at all but a metal basket surrounded by trees that are tough to circumvent with a Frisbee-like disc.
Hole 17 is one of the most challenging pars on the course, Stresing said as he advanced to pick up his disc - and also one of the most beautiful. The metal basket which replaces the hole in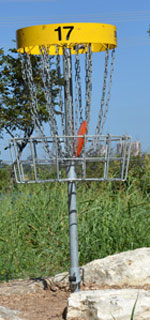 traditional golf stands with the city skyline as a backdrop.
Surrounded by Lady Bird Lake, and next door to the Colorado River Wildlife Sanctuary, the park is a little-known gem in Austin's green belt. And it's relatively young.
Guerrero Park is named after Roy G. Guerrero, affectionately known as Mr. "G". On August 25, 2001, the park was dedicated in honor of his thirty four years of service to the Austin Parks and Recreation Department and those the department serves.