Special Operations Confined Space Training Drill
On April 3, 2013 MR17 paramedics James Arizpe and Walter Finch participated in a combined confined space training day at the Ulrich Water Treatment plant on Forrest View Drive.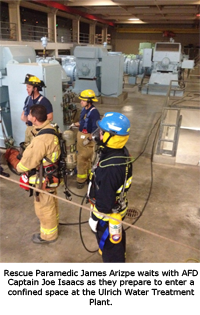 This was yet another venture created through the recent collaboration between the Special Operations training sections of AFD and ATCEMS. The ATCEMS Special Operations training staff was asked by AFD to assist them in the delivery of confined space educational material over a 3 day period. AFD conducts their training in this manner to ensure that each member across their three shifts gets an opportunity to experience the training.
While confined space operations is a discipline both departments are trained to mitigate the specific skills involved in such operations are perishable and need to be refreshed from time to time. These evolutions also gave the crews from each     department a chance to work and learn together in a relaxed environment, thus building trust and relationships that will aid them when they respond to "real life" emergencies together.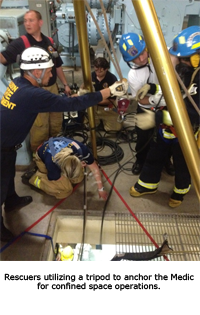 Attendees in the class were shown several different options for rigging a vertical system for confined space access and the safety considerations associated with them. They were also refreshed on the use of the supplied air respirator (SAR) cart that rescue teams utilize to supply breathing air to rescuers and victims.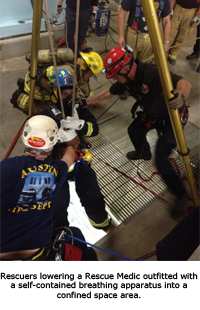 This training is invaluable in ensuring the response readiness of our rescue teams and is an excellent opportunity for us to work with our partner agencies.  ATCEMS will continue to collaborate on the development and delivery of instructional blocks for the respective special operations sections and work to create training opportunities for our providers.
ATCEMS Special Operations Paramedics are trained in a variety of rescue specialties including swift water, high angle, tactical, wilderness and confined space and respond to emergencies locally, regionally, and nationally as needed.  Special Operations supports Texas Task Force 1 with swiftwater boat teams, USAR resources, and deployment through the Texas Intrastate Fire Mutual Aid and are dedicated to the delivery of specialized ALS care whenever and wherever it is required.