Best known for where it flows through Bartholomew Park and the Morris Williams golf course, Tannehill Branch creek is located in east Austin and joins with Boggy Creek which eventually flows to the Colorado River, east of the airport.
The upper portion of Tannehill ranks as having some of the lowest creekside plant cover (riparian vegetation) of any creek system in the City of Austin. Through a joint effort between Parks and Recreation (PARD) and Watershed Protection departments (WPD), a segment of Tannehill Branch Creek that flows through Bartholomew Park has been selected as one of several locations for a new "Grow Zone" initiative.
The new initiative will establish a "Grow Zone" along both banks of the creek for approximately 25 feet on either side to allow for natural plants to re-grow in the area. Increasing the vegetation cover will help improve the overall health of the creek.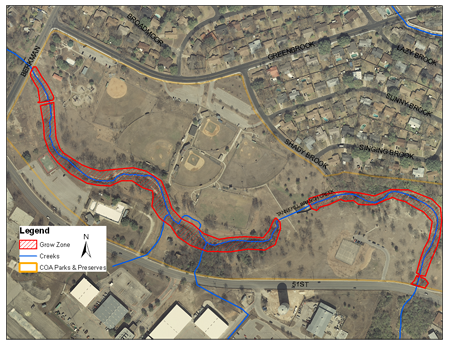 Adopt Tannehill Branch Creek
We need your support to educate neighbors about the benefits of the new plants growing along the creek! The segment of Tannehill Branch Creek in Bartholomew Park is available for adoption. This site is ideal for large groups and includes restrooms, nearby tables, and easy creek access.
Upcoming Projects
Oct 15 & 19 - weed management and seeding
Fall (2012) - educational sign posting.
Winter (2012/2013) - 700 native tree seedling will be planted along the Grow Zone.
To volunteer, please contact Alex Duncan, 974-2215, Alex Duncan
Apply for the Adopt-a-Creek program at https://keepaustinbeautiful.org/programs/adopt-a-creek
It will take time for a fully forested creek to develop, but progress has already started.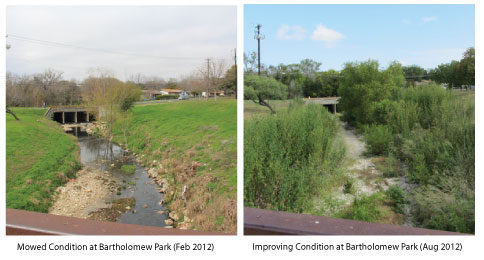 Questions: Please contact Alex Duncan, WPD, 974-2215,  email
Website: www.austintexas.gov/watershed/creekside
Adopt-A-Creek: https://keepaustinbeautiful.org/programs/adopt-a-creek