What a Character (District)!
Think of a memorable place in Austin, or maybe somewhere you've visited. What gave that place character? Was it vibrant streets? Lush plants and shady trees? Distinctive architecture? When planners refer to creating "character districts," they are talking making or enhancing memorable places that have a distinct character. This is a primary goal of the City of Austin's neighborhood planning process, as recently applied to the South Austin Combined Neighborhood Plan.
The Imagine Austin Growth Concept Map provides the 30,000-foot view of how Austin should grow, change, or stay the same over the next 30 years, directing the city to become a place made up of complete communities. Although Imagine Austin defines complete communities as places that have the "amenities, transportation, services, and opportunities that fulfill all Austinite's material, social, and economic needs," there is no one-size-fits-all neighborhood. Instead, the neighborhood planning process encourages neighborhood participants to define what a complete community is to them and create their own sense of place. The development of character districts such as those included in the South Austin Combined Neighborhood Plan is one way to help  achieve this.
A character district is a geographic area with an identifiable sense of place. "Sense of place" is a bit like Justice Potter Stewart's "I know it when I see it;" districts can be defined by elements such as the height and size of buildings, streetscape, landscaping, and predominant land uses. The South Austin Combined Neighborhood Plan uses character districts as a tool for implementing Imagine Austin and the neighborhood's vision. The proposed districts for this neighborhood plan straddle current zoning and desired character, with the intention of preserving aspects of a district that the community currently enjoys, while enhancing aspects that the community feels should be improved.
For instance, the community defined the Residential Core character district as mostly one- and two-story homes on tree-lined streets—a definition describing current conditions that should be preserved. In contrast, the community envisioned the Neighborhood Node character districts—currently older strip malls along busy roads— becoming more walkable destinations with a mix of neighborhood serving shops and restaurants.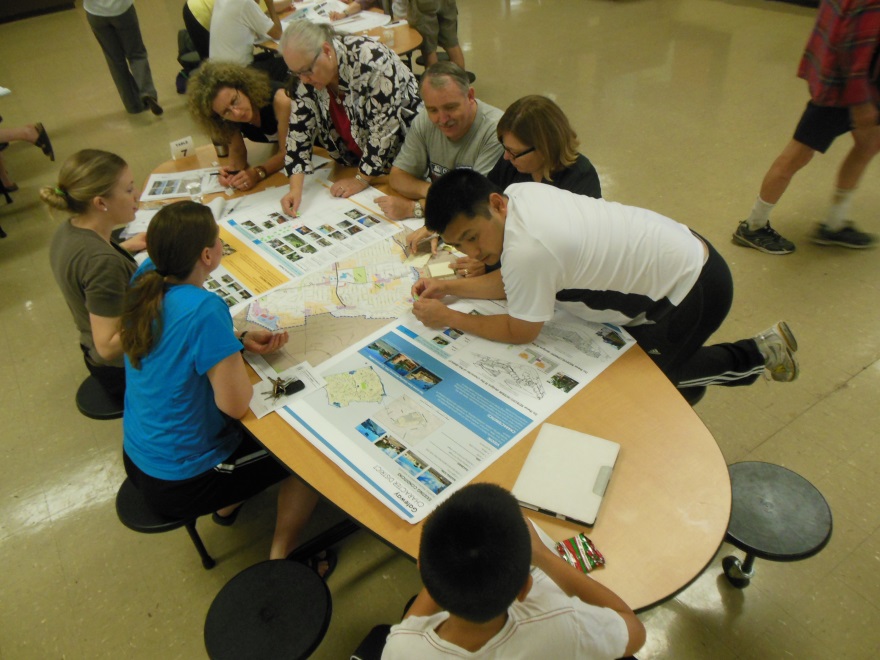 Taken together, the goal of South Austin's character districts is to bolster a unique community and foster the creation of places that meet people's daily needs within walking or biking distance. Unlike conventional Future Land Use Maps, which focus on land use, character districts are more focused on form and the relationship of buildings to each other and the street, which have greater influence on how a place functions and feels. These character districts will inform CodeNEXT's analysis of South Austin, translating the community vision into the land use and building regulations that will shape the area's growth and changes.
In summary:
character district
with a distinct sense of place
one size won't fit all
For more information on the South Austin Combined Neighborhood Plan, please visit: http://www.austintexas.gov/department/south-austin-combined-neighborhood-plan.
You can help define the character of your neighborhood and inform the ongoing process to revise the City's Land Development Code by participating in CodeNEXT: http://austintexas.gov/department/codenext.
Photo credit: Michael Knox