Austin is known to be a weird and eclectic city, clustered and young with a vibrant culture. But recent growth in Austin has surrounded it with traditional single family suburbs. Apartments and houses in the suburbs are usually more affordable than those closer in, but are farther from jobs and other Austin amenities, and often require more driving. But many people are moving to the suburbs to save money on housing - and some are even taking the new Red Line commuter train into Austin to work and play. Sarah Lambert, who works for the City of Austin's Public Information Office on 11th Street near Downtown, is one of those people. She moved with her boyfriend to an apartment in north Austin near the train station, and commutes via train to work most days.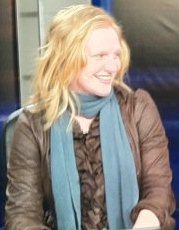 When Sarah moved to Austin a year and a half ago, she lived in a south Austin apartment complex that hiked up the already pricey rates when her lease expired. "They challenged us to find a less expensive place to live! And so we started looking and looked through south Austin, and really everywhere had similar prices, " says Sarah, "I knew I couldn't afford central Austin, so I thought why not north Austin?"
Sarah knew the train ran from Downtown to Leander and wondered, "What if I lived along the train ride?" When she based her search on that, she found much more reasonable prices and options. She found an apartment close to The Domain and a three minute drive to the train station at Kramer. Since moving, she uses three modes of transportation daily – car from home to the Kramer Station, MetroRail from Kramer Station to Saltillo Station, then walks from Saltillo Station to her office.
Capital MetroRail is Austin's first train line - a commuter rail line that connects Downtown Austin to the northern suburbs. Currently the ridership on weekdays is 2,800 passengers daily. The Red Line is a starter line that is part of an expanded comprehensive rail network being planned for Austin and the region. Read more about "Project Connect" here.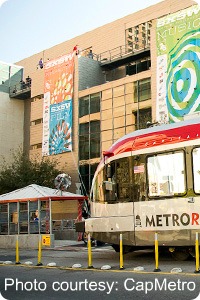 Another benefit of living near transit is that it can not only reduce housing costs, as it did in Sarah's case, but it can also reduce transportation costs by allowing families to have fewer cars or to drive less and save money that they would have otherwise spent on gas and maintenance.
Sarah takes the train daily, "It's really good, because I'm trying to work out and burn calories every day," Sarah says, "It's a 15 minute walk to and from the station, which is basically thirty minutes of walking daily. That's good exercise! Plus, I get to relax instead of just driving through traffic, and it's much quicker to take the train than to drive." And because the train is fast, Sarah gets to sleep in later in the morning.
Others are still catching on to the idea of using the train. "I go to resident events in my apartment complex and network with people, and when I mention that I ride the train, they are like, "Oh yea, there is a train here, isn't there?" They haven't really considered that, but now they know they have another option", says Sarah.
When the couple first made their decision to move farther from central Austin, some friends were skeptical. "That's not the real Austin," they said. But Sarah has found that north Austin is growing and thriving in a way that is distinct from the urban core and appealing in its own way. Certainly, her new area has a more suburban feel than neighborhoods close to Downtown, but with the ease of getting to different destinations on the train and the affordability of living in north Austin, Sarah and her boyfriend can enjoy the best of both worlds.
For more information about Austin's urban rail plans, visit Connect Central Texas.
--Zainab Haider with Sarah Lambert