Time to get the kids, pack a picnic and enjoy a great movie!  You guessed it…Zilker Park Theater's annual summer musical starts this weekend!
The summer Musical 'Hairspray' starts this weekend (July 9th – 12th) at the hillside theater in Zilker Park.  This free show runs Thursday through Sunday nights for the next 6 weeks and is located across from Barton Springs Pool.  The main entrance will be closed on Thursday and Friday from 3pm to 8pm and on Sat and Sun from 8am to 8pm on these dates.
The show starts around 8:15 p.m., with intermission at approximately 10 p.m. It should end at around 11:20 p.m.
Performances:
July 9-12
July 16-19
July 23-26
July 30-Aug 2
Aug 6-9
Aug 13-16
Parking
The City of Austin charges $5.00 per car for parking in Zilker Park during the summer months.  There are a limited number of handicapped parking spaces are available in the lower parking lot near the stage – please ask at the entrance.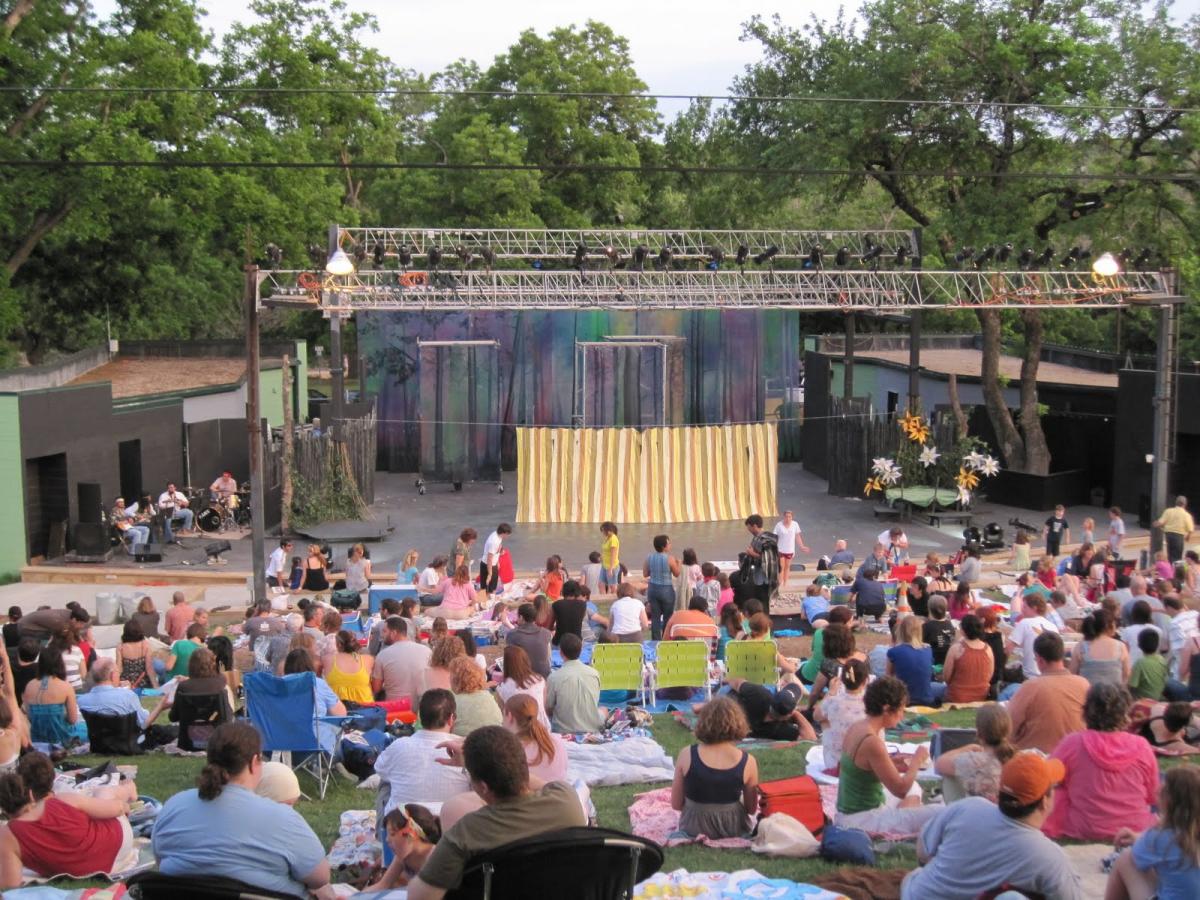 Seating
Blankets may be put down starting at 6 p.m. Unattended blankets placed prior to 6 p.m. will be lovingly folded by City employees and placed on the front wall for pick-up. Please also note that plastic tarps are no longer allowed.
ADA compliant upgrades now allow for designated seating for audience members with special challenges. A portion of the first level will be clearly marked for these patrons. Also, ZTP often needs to block off spaces for our donors and cast members' families. Please respect these marked areas.
Full-height lawn chairs are only allowed along the walls at the top of The Hillside as they block the view of other patrons. Low-height, low-backed "beach chairs" are allowed in the section behind the lighting poles on the second level. A clear walkway on the second level must be maintained at all times.
In order to make the most efficient use of The Hillside, we encourage you to place blankets as close together as possible. And please take up only as much room as you actually need! Austin in known for its friendliness so if you end up having space left over, consider offering to share your blanket with those in less fortunate viewing spots!
Pets
Pets are not allowed! Due to the large number of people in close quarters, as well as distractions for your fellow play-goers and the actors, please leave your pets at home.
Food & Drinks
Feel free to bring a picnic basket and/or cooler. A variety of drinks and snacks can also be purchased from the theater's concession stand (proceeds benefiting the production).
Transportation
ZTP encourages you to consider using pedal power or public transportation to attend the Zilker Summer Musical.
No glass containers are allowed.
Smoking is not allowed in the seating area.
Please help us keep the hillside clean by putting your trash in the available containers.
For information on the status of an evening's performance, call the Zilker Theatre Productions Hotline at 512-479-9491. The hotline message will be updated as quickly as possible to reflect the current status of the performance.
Should it rain…
If the rain stops at Zilker Park by 6 p.m. on the night of a scheduled performance, we will try to dry the stage and go on with the show… if at all possible. In cases where there has been a large amount of rain before a performance, the stage and/or hillside may be too wet to insure the safety of the performers and audience.