Once again, the dedicated staff at the ESB-MACC together with the City of Austin put on another great event.
Approximately 2,500 to 3,000 Austin citizens and visitors came to this year's free celebration. First there was an exhibition by the Association de Charros El Herradero y Escaramuza El Rosario (the original Texan Cowboys).  Our fiesta's musical entertainment started with Mariachi Tamazula , plus singer Ernesto Cadena Segovia (also Saltillo). The Folklorico Dance Troop from South Texas College in McAllen is an ESB-MACC repeat favorite. Their costumes and skills remind us how diverse Texas culture is. Many musical and dance influences show up in their captivating performances.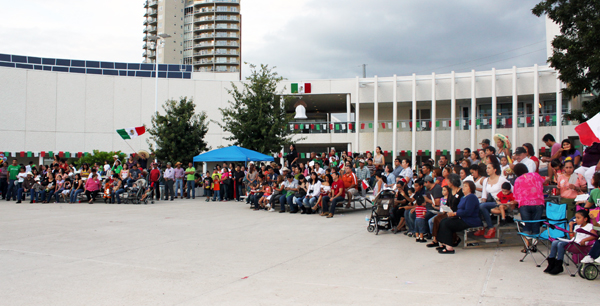 From southern Spain with its Moorish influence to the German immigrants of the 19th century, Tejano culture is a rich mixture of many traditions. 
The evening closed with Mariachi Nueva Generacion from Texas State University.  Adding to the festivities, were participating food booths that were set up to provide delicious Mexican dishes and cold drinks.
This is one the ESB-MACC's major mission – providing Tejanos, Mexican Americans and resident Mexicans a place of their own and a symbol of ethnic pride.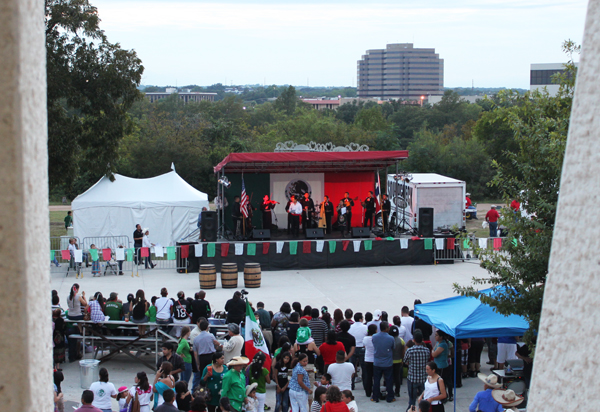 Every evening on September the 15th for the last five years, the ESB-MACC, The City of Austin, the Consul General of Mexico, and the Fiesta de Independencia Foundation proudly present our citizens an official Dies y Seis Celebration.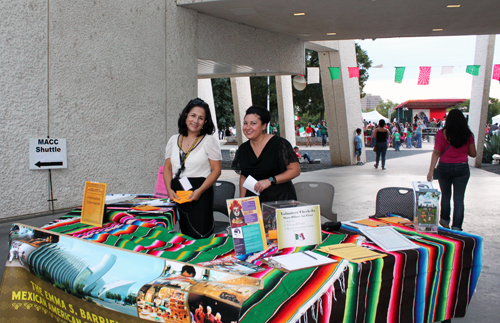 Our welcome table with all the ESB-MACC programming, classes and events.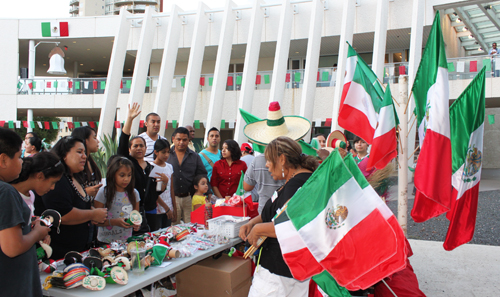 We take great pride in emulating the actual celebrations taking place all over Mexico on this evening. Like government officials all over Mexico, Austin's own Consul General of Mexico, Rosella Ojeda, graciously provides the traditional "El Grito" or "call for independence.
Delivered from the traditional "El Balcon de la Independencies", just like Hidalgo (the father of Mexican independence) decried freedom and "Viva Mexico" in 1810. We decorate our balcony, overlooking our own Zacalo (Mexican plaza) with a large bell to complete the authentic experience.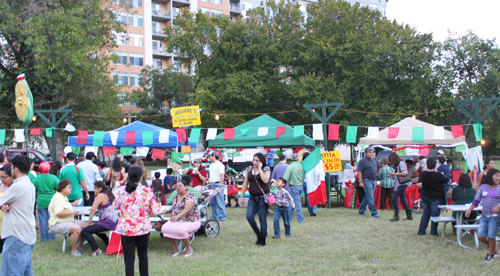 Our great food court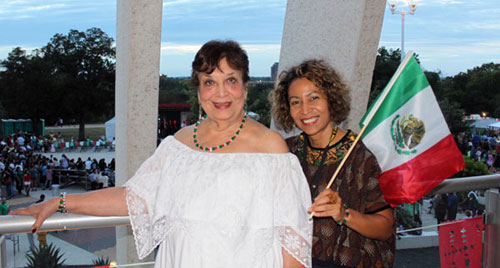 The City of Austin's Gloria Mata Pennington, and ESB-MACC Herlind Zamora.
We at the ESB-MACC want to thank the City of Austin's Gloria Mata Pennington for her decades of dedication and expertise in helping make our city a more inclusive and enjoyable place to live. Gloria's in depth knowledge of protocol has helped us all in piecing together the city's important & meaningful events. Equal gratitude was shown to Gus Garcia, our former mayor and tireless advocate for all of Austin's residents.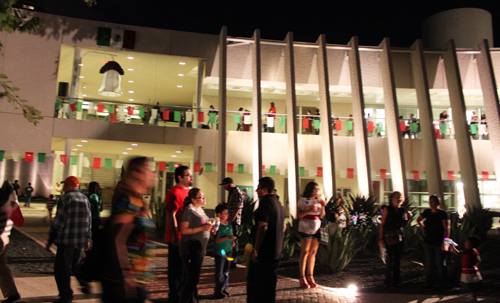 ESB-MACC is the perfect place for community get together.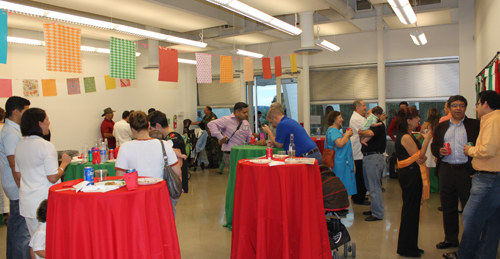 ESB-MACC VIP room for community guests and visitors from Mexico.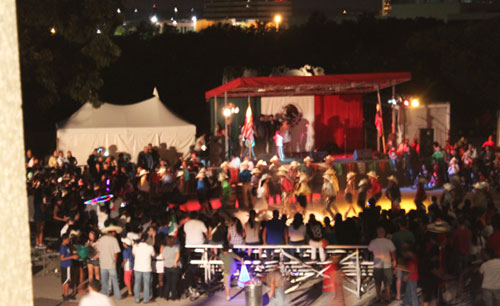 The Folklorico Dance Troop from South Texas College in McAllen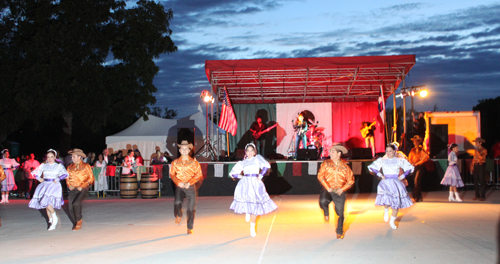 The Folklorico Dance Troop from South Texas College in McAllen performing Tejano Dances.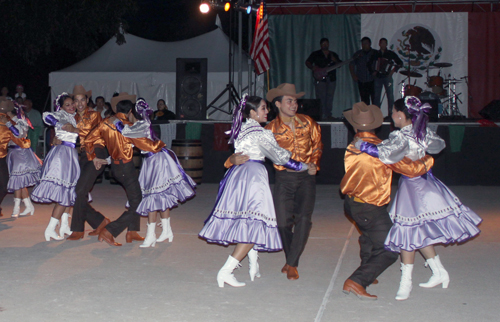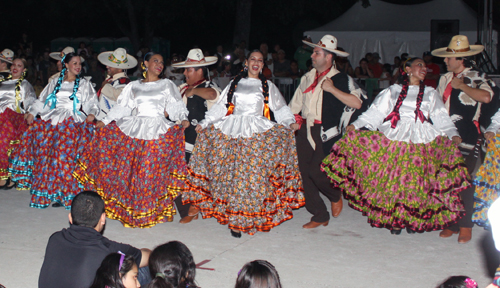 The Folklorico Dance Troop from South Texas College in McAllen performing Traditional Mexican dances.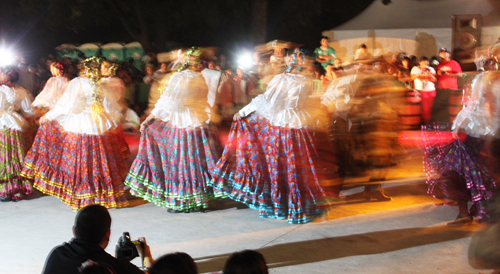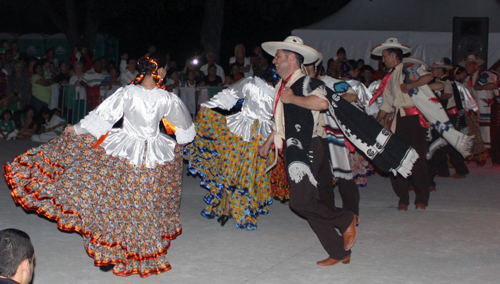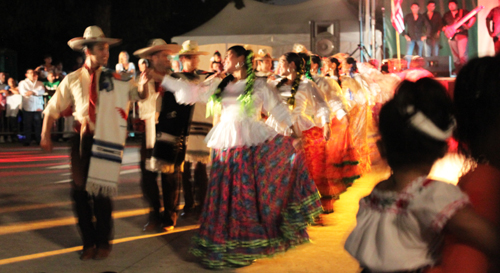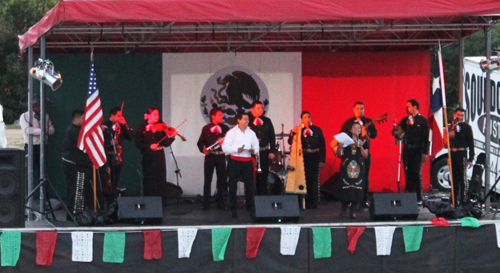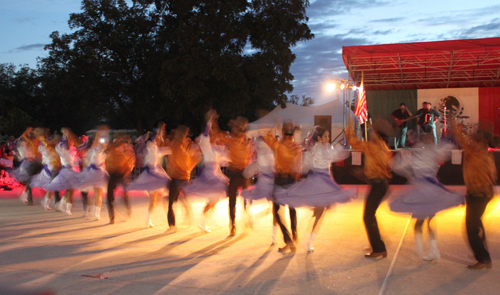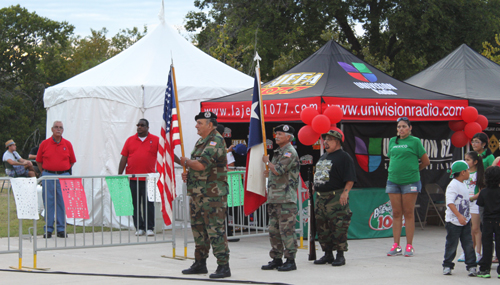 The US and Texan Flags were presented by Tejanos in Action Color Guard.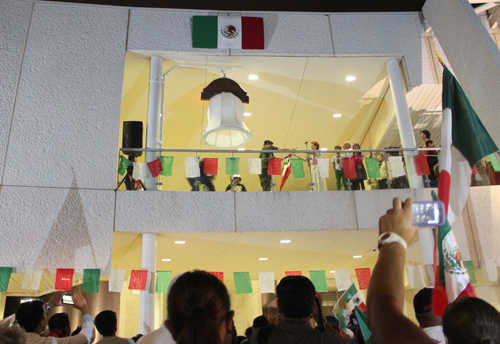 The Mexican flag was then presented to the Consul General by Tejanos in Action Color Guard.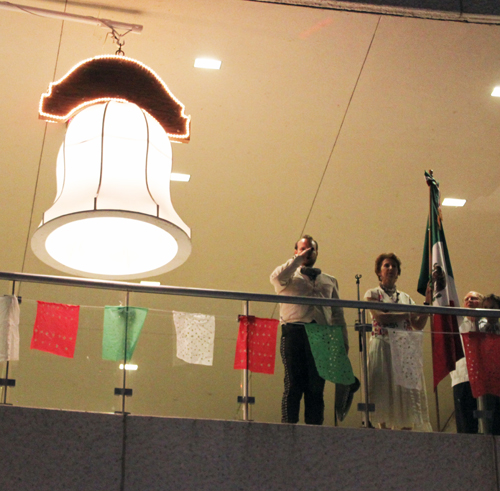 Ernesto Cadena Segovia, a well-respected singer, also from Saltillo, helped complete our authentic celebration with singing the Mexican National Anthem after the ringing of the our representational "campana"( independence bell). Gloria said "People tell me they have never heard the Mexican National Anthem sung any better than Ernesto did." Ernesto, his father, sister, niece and grandniece all made the celebration even more authentic.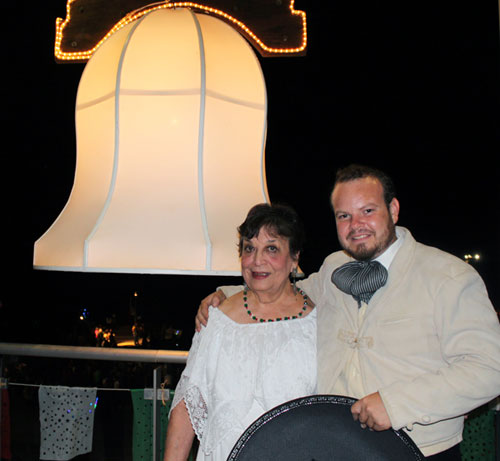 Gloris and our Guest from Saltillo, Ernesto Cadena Segovia who sang the Mexican National Anthem.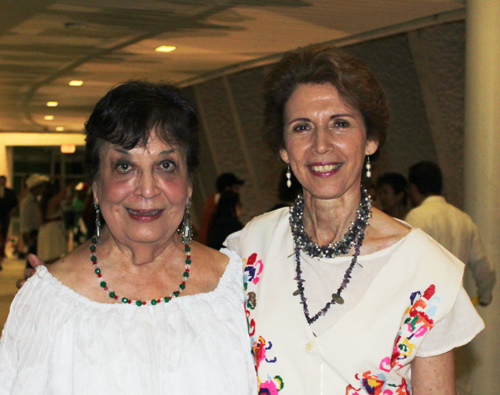 Gloria and Austin's Mexican Consul General Rosalba Ojeda.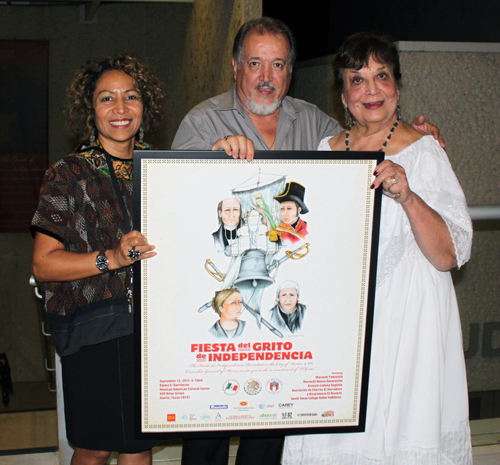 Adding to the evening's celebrations were honored guests from Austin's sister city, Saltillo, in Coahuila, Mexico. José Antonio Garciaguerra was in attendance. He is the noted Mexican sculptor whose exhibit currently graces our main gallery (and a permanent example of his work adorns the entry to our main auditorium.)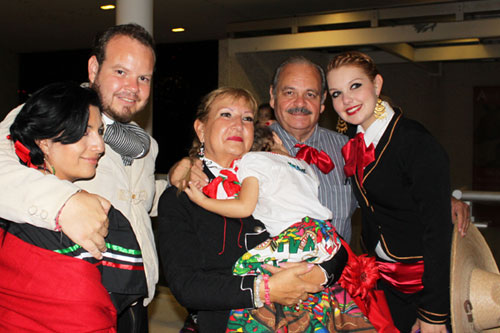 Ernesto Cadena Segovia and his; wife, father, sister, her daughter and grand daughter.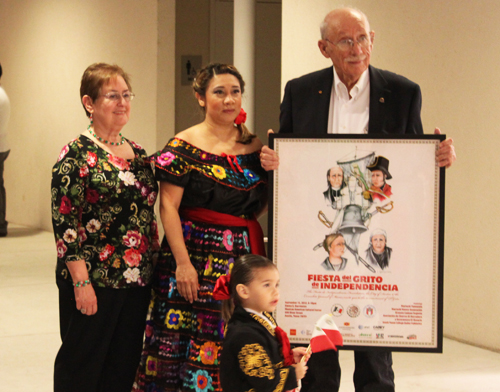 Gus Garcia, our former mayor his wife and friends.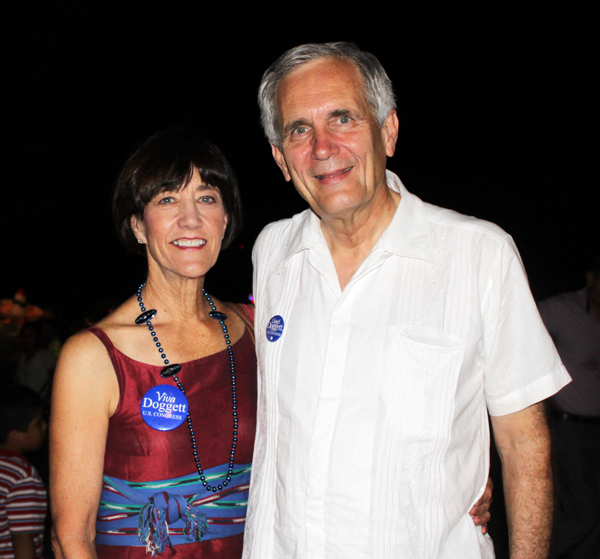 US Representative Lloyd Dogget dropped by our celebration to urge everyone to come out on election day and vote.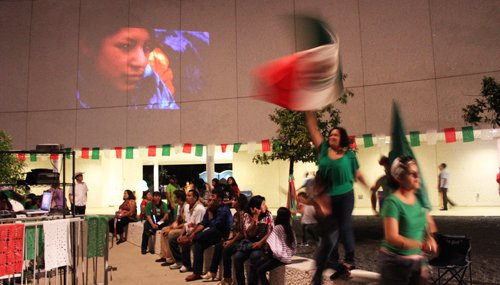 For added convenience, free shuttles ran every fifteen minutes making the evening even more enjoyable. Visitors could leave behind the headache of finding parking, and ride the shuttle.
About the Emma S. Barrientos - Mexican American Cultural Center
If you have not yet visited the Emma S. Barrientos - Mexican American Cultural Center, you are in for a treat.  Our magnificent facility was designed by world known architect Theodoro Gonzales de Leon and is a visually spectacular addition to our Parks and Recreation Department's cultural facilities.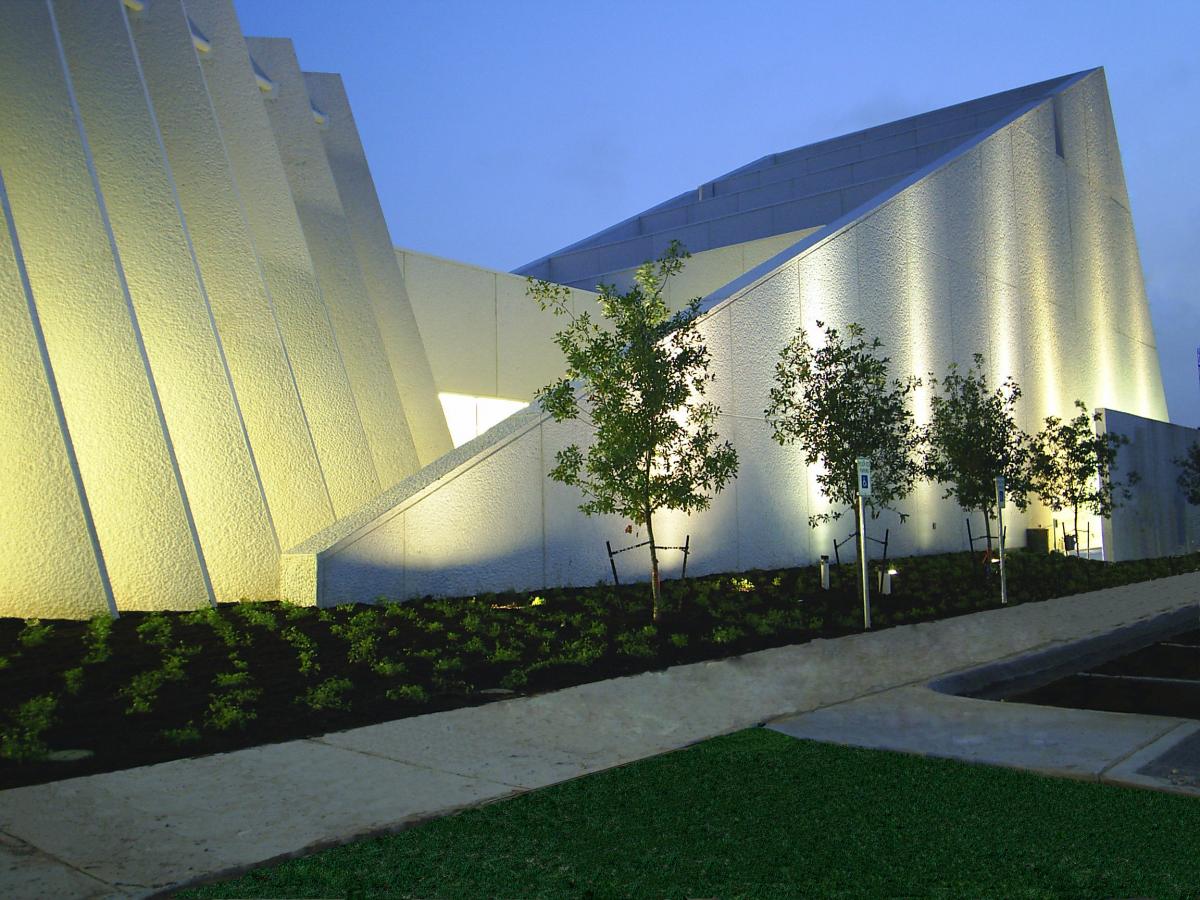 Keep up-to-date on our events through the City's events calendar and the ESB-MACC's own website: www.MACCAustin.org. 
Please don't hesitate to stop by and enjoy our art, theater, classes and family fun.