Emma Long Metropolitan Park is a large metropolitan park with a diverse user-base and a variety of amenities and recreational opportunities. Situated along Lake Austin, the park offers woodland trails, boating and water activities, camping, motorcycle course, archery range, and camping facilities. Phase 1 Improvements based on the Vision Plan has begun.
In Fall of 2016, the City of Austin Parks and Recreation Department (PARD) completed a robust community engagement phase which culminated in a comprehensive planning document.
Vision Plan

Phase 1 Implementation Project Scope
The scope includes both architectural and site improvements through a phased approach to construction of Phase I. The main portion of work will occur in the central bathhouse and plaza area. Additional work includes extension of walking trails through the central lawn, provisions for landscaping, new volleyball courts, group camping areas, additional reservable picnic area, nature-based discovery area, infrastructure for mobile food trucks, and associated code and accessibility improvements.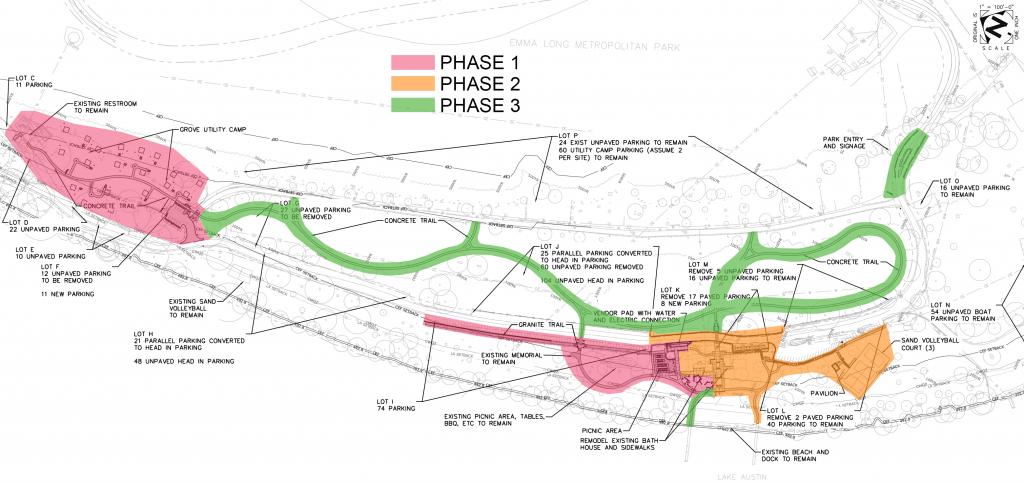 Project Schedule

Construction Start – September 14, 2020

Grove Area – October/November 2020

Bathhouse and Parking – November 2020/March 2021

Sidewalk – March/April 2021

Volleyball Court/Shelter – April/July 2021

Construction Completion – July 2021

Funding Source

Texas Parks & Wildlife Urban Outdoor Recreation Program Grant, 2012 and 2018 G.O. Bond funding, and Parkland Dedication.

Construction Updates

Notice Proceed

Issued for September 14, 2020

Environmental Mitigation

Installation of environmental mitigation measures
Approval of installation

1st Phase – Grove Campground Area

Begins first week of October
Sidewalk, parking and tent pads are mostly complete. 
Area north of restroom is under demolition.
Sidewalk connection to boat dock is complete.

2nd Phase

Restroom buildings are closed through July 2021.
Asbestos removed January 26, 2021.
Demolition of plaza area and restrooms begins first week of February.

 

3rd Phase

Layout and demolition of over 2000' lineal feet of sidewalk.
Over 1,000 lineal feet has been completed.

 

 

 

The final planning documents are viewable here:

Community Engagement

Community engagement for the planning phase of this project has closed, but will resume during future design phases. A summary of the meetings and materials to date is shown below:

Saturday, July 16, 2016 9:30-11:30 AM, at Emma Long Park 1600 City Park Rd.

Meeting Materials:

Park Vision Plan English Park Vision Plan Spanish Boat Ramp and Water Access Central Lawn, Swimming, and Day Use Secondary Lawn and Passive Shoreline Circulation and Camping Areas Public Involvement, Comparisons, and Staff Recommendations

 

Focus Group Meeting

January 12, 2016, 6:00-8:30 PM, at Shepherd of the Hills Christian Church

View the Focus Group Meeting Report

Saturday, November 14, 2015, 10:00 AM- 1:00 PM, at Emma Long Metropolitan Park

Meeting Materials:

Handout Station Boards Presentation Boards Meeting and Input Report

Proposed Concepts:

Preliminary Park Plan Boat Ramp and Water Access Central Lawn, Swimming and Day Use Circulation, Tent and RV Camping Use Secondary Lawn and Passive Shoreline City Park Road Traffic Improvements

Tuesday, April 5th, 2016 6:00-8:00 PM, at Canyon View Event Center - Austin Board of Realtors, 4800 Spicewood Springs

Meeting Materials:

Presentation: Public Involvement and Input Demographic, Outdoor Recreation and Camping Trends Meeting Station Boards
Project Contact Information
Scott Sinn, Landscape Architect II: email, phone 512-974-9474