You are here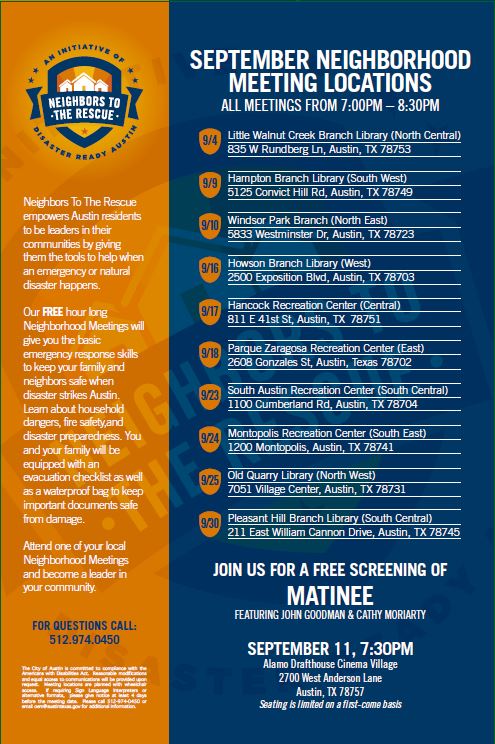 Neighbors to the Rescue empowers Austin residents to be leaders in their communities by giving them the tools to help when an emergency or natural disaster happens. Our free hour-long Neighborhood Meetings will give you the basic emergency response skills to keep your family and neighbors safe when disaster strikes Austin. Learn about household dangers, fire safety and disaster preparedness. You and your family will be equipped with an evacuation checklist as well as a waterproof bag to keep important documents safe from damage.
View a printable Neighbors to the Rescue Toolkit here.
Free Film Screening
Join us for a free screening of Matinee featuring John Goodman and Cathy Moriarty, Sept. 11, 7:30 p.m. at the Alamo Drafthouse Cinema Village, 2700 West Anderson Land, Austin, Texas 78757. Seating is limited on a first-come basis.
September Neighborhood Meeting Locations
All Meetings from 7 p.m. to 8:30 p.m.
9/4 - Little Walnut Creek Branch Library, 835 W. Rundberg Ln. Austin, Texas 78753
9/9 - Hampton Branch Library (South West) 5125 Convict Hill Rod. Austin, Texas 78749
9/10 - Windsor Park Branch (North East) 5833 Westminster Dr., Austin, Texas 78703
9/16 - Howson Branch Library (West) 2500 Exposition Blvd., Austin, Texas 78703
9/18 - Parque Zaragosa Recreation Center (East), 2608 Gonzales St., Austin, Texas 78702
9/23 - South Austin Recreation Center (south Central), 1100 Cumberland Rd., Austin, Texas 78704
9/24 - Montopolis Recreation Center (South East) 1200 Montopolis, Austin, Texas 78741
9/25- Old Quarry Library (North West) 7051 Village Center, Austin, Texas 78731
9/30- Pleasant Hill Branch Library (South Central) 211 East William Cannon Drive, Austin, Texas, 78745
Community Emergency Response Teams (CERT)
Community Emergency Response Teams (CERT) are everyday citizens ready to help their community in case of an emergency or natural disaster. By participating in our free 22-hour CERT trainings, you will learn how to be prepared for specific types of hazards, basic disaster response skills, and your role as a CERT volunteer.
To register, submit your online application here or print it and submit it by fax to 512-974-0499 or by mail to the Office of Homeland Security and Emergency Management: P.O Box 1088, Austin, TX 78767-1088. For questions, contact contact Linda Haynie via email or at 512-974-0471.
Fall 2013 CERT Training Schedule
Tuesdays 6:30 p.m.to 9:30 p.m. except for Saturday, October 19.
9/3 - Disaster Preparedness
9/10 - Fire Safety & Utility Controls
9/17 - Disaster Medical Operations Part 1
9/24 -  Disaster Medical Operations Part 2
10/1 - CERT Organization
10/8 - Disaster Psychology
10/15 -  Terrorism Primer
10/19 -  Light Search and Rescue Operations Course Review & Disaster Simulation
---