Austin's Economic Recovery
The City of Austin is committed to restoring our local economy in a manner that is safe, equitable, and prosperous for all. 
We are working diligently to help businesses and individuals recover from the financial hardships caused by the COVID-19 pandemic. By working together, we will overcome this unprecedented time in our city's history. 
Sign up to receive Austin economic recovery updates.
Latest City of Austin Grant Opportunities:
Latest Austin-Travis County Grant Opportunities:
---
Helping You Recover
Use the ConnectATX box to find COVID-19 services by ZIP code:
Recent Economic Recovery News
Updated July 7, 2020
 
City of Austin Announces New Grants for Non-Profit Organizations and Small Businesses 
The City of Austin Economic Development Department announced two grants to support and sustain local, small businesses as well as local non-profit organizations that are facing extreme hardships due to economic impacts of the COVID-19 pandemic: 
The Austin Small Business Relief Grant is a $16.5 million fund that will provide grants up to $40,000 to local, small businesses in Austin city limits, including sole proprietors.
The Austin Non-Profit Relief Grant is a $6.35 million fund that will provide grants up to $20,000 to Austin non-profit organizations serving in specific areas of need.
Visit ATXRecovers.com to review grant guidelines, eligibility requirements, and a checklist of application documentation.
The Better Business Bureau will provide consultation and case management services to grant applicants needing assistance.For eligibility questions and application assistance, contact the Better Business Bureau by phone at 512-318-2683.
New State and Local Orders Requiring Face Coverings and Limiting Outdoor Gatherings
Governor Greg Abbott issued Executive Order No. GA-29 on July 2, 2020 requiring all Texans to wear a face covering over the nose and mouth in public spaces in counties with 20 or more positive COVID-19 cases, with few exceptions.
The Governor also amended Executive Order No. GA-28 giving mayors and county judges the ability to impose restrictions on some outdoor gatherings over 10 people. Additionally, Governor Abbott's amendment prohibits groups larger than 10, with few exceptions, and requires maintaining six feet of social distancing from others.
Consistent with the Governor's Order, Mayor Steve Adler issued a new City of Austin Order on July 2, 2020 requiring everyone in city limits to wear some form of face covering that fits snugly over their nose and mouth. The Mayor's Order also prohibits indoor or outdoor gatherings of more than 10 people, unless the gathering is expressly permitted by the Governor's Order or a local Order.
Visit the City of Austin COVID-19 Information for Businesses and Industries webpage for helpful and up-to-date guidance for the most recent health and safety orders.
Gov. Abbott Closes Bars; Reduces Restaurant Capacity
Governor Abbott issued a new Executive Order on June 26, 2020. Key items in the Executive Order include: 
All bars and similar establishments that receive more than 51% of their gross receipts from the sale of alcoholic beverages are required to close at 12:00 PM today. These businesses may remain open for delivery and take-out, including for alcoholic beverages, as authorized by the Texas Alcoholic Beverage Commission. 
Restaurants may remain open for dine-in service, but at a capacity not to exceed 50% of total listed indoor occupancy, beginning Monday, June 29, 2020.
Rafting and tubing businesses must close.
Outdoor gatherings of 100 or more people must be approved by local governments, with certain exceptions.
Read the complete Executive Order here. 
The City of Austin advises all businesses to continue the following safety practices: 
Screening employees for symptoms of COVID-19 
Washing or sanitizing hands upon entry and between interactions 
Maintaining six feet of distance  
Wearing face coverings 
Disinfecting items and frequently touched surfaces 
Limiting groups to 10 individuals or fewer 
Providing service only to those seated 
Providing single use food and beverage items 
Accepting contactless payment 
Posting readily visible hygiene signs (see examples here)
If you have any questions, please email  EOCBusinessOutreach@austintexas.gov.  
Travis County Small Business Grant Accepting Pre-Applications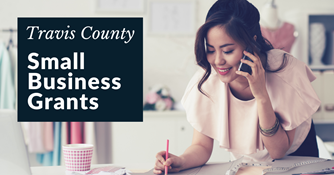 Travis County partnered with Business and Community Lenders (BCL) to launch the Travis County (TCTX) Thrive Small Business Program. This program offers grants up to $40,000 to qualifying businesses that have been financially impacted by the COVID-19 pandemic.
Applicants must complete a pre-application to determine if they are eligible for the program. If eligible, applicants will be invited to submit a full application. If awarded, the applicants who participate in TCTX Thrive Small Business Program will work with BCL's small business coaches to create a Business Continuity Plan and will receive no-cost business coaching throughout the program period.
Travis County is providing these grants through the Coronavirus Relief Fund via the federal Coronavirus Aid, Relief, and Economic Security Act. The Travis County Commissioners Court approved funding for this small business grant program due to the unprecedented impact of the COVID-19 pandemic. 
Justices of the Peace Announce Additional COVID-19 Measures
Due to health and safety concerns regarding the COVID-19 pandemic, Justice of the Peace courts will be operating with limited operations until further notice. Please visit each court's page for additional information.
Note:
All non-essential court proceedings will be rescheduled until after July 22, 2020
All evictions (commercial and residential) are rescheduled until July 22, 2020
No writs of possession shall be issued until July 29, 2020
Class C ticket appearances are rescheduled
No warrants for failing to appear to court for traffic tickets will be issued.