You are here
Wednesday, March 29, 2017 -

6:30pm

to

8:00pm
Next up in the Imagine Austin Speaker Series:
Join us for an intriguing evening with the founder and director of the Biophilic Cities Network, Tim Beatley, as we discuss how we can use nature to prioritize health and happiness in city design. 
Here in Austin, we love nature. You can see it in our parks, our creeks, and our love of trees. Special places, like Barton Springs and Zilker Park, bring us together and enrich our lives, but there's more to nature in the city than just parks and trails. A nature-ful city thinks outside the park by pulling nature out into the community, along our streets, and right to our front doors. Nature provides emotional, spiritual and health benefits to the residents of our city.
The concept of 'biophilia' contends that we have co-evolved with nature and that we have a deep need to affiliate with the natural world. In this talk, Tim Beatley will discuss the new planning and design agenda of biophilic urbanism and the need for cities to shift towards a more nature integrative approach. Drawing from his research findings and the Biophilic Cities Project, Beatley will survey globally emerging practices of biophilic urbanism and present some of the tools, techniques, and strategies available to advance this vision of nature in cities.
This event is sponsored by the City of Austin Development Services Department's Community Trees Division.  

Date: Wednesday, March 29th, 2017
Time: 7pm - 8:30pm; sign in 6:30pm

Please consider using alternate forms of transportation to get to this event. The Austin City Hall Council Chambers is accessible by a number of bus lines including the 801 and 803 MetroRapid buses. There is bike parking available along the street as well as in the parking garage below City Hall. Parking will be available in the City Hall parking garage with entrance only from southbound Guadalupe Street between Cesar Chavez St and 2nd Street.
To find a bus to the event, try CapMetro's Trip Planner.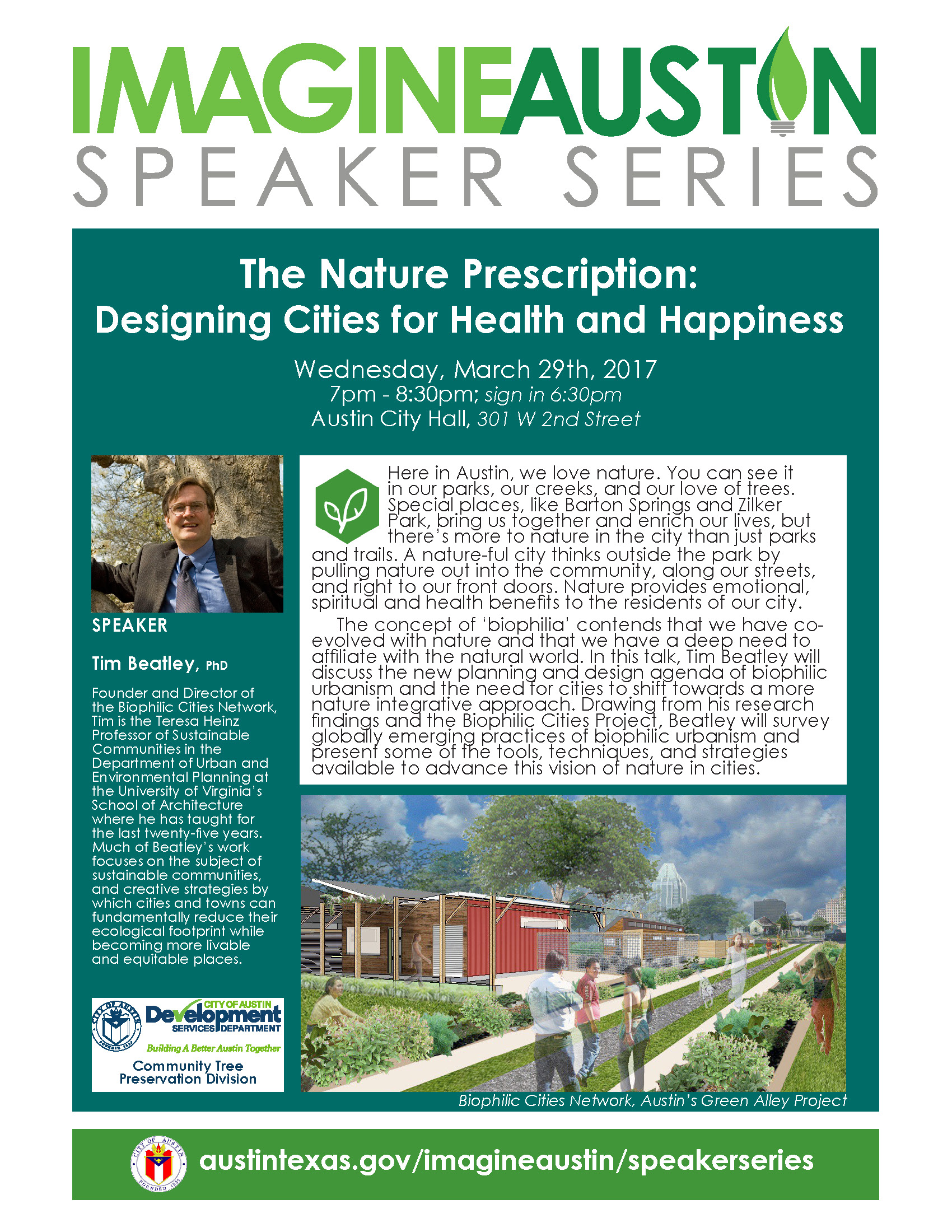 ---