The logs you see on the shoreline are made of "Coir" and have been placed with plantings for erosion control and lakeshore habitat.
Coir is the natural fiber found in ripe coconut husks, and it has been used for centuries to make ship ropes due to its durability and resistance to water damage. One of the modern uses for coir includes mats or logs of coir fiber bound by coir ropes for erosion control. Coir is anchored in areas with loose soils that need stabilization including stream banks, wetlands and construction sites. The advantage of using coir logs for erosion control (rather than rocks or bulkheads) is that the coir allows vegetation to grow within it as it slowly biodegrades becoming part of the matrix of the soil. When the coir has finally biodegraded (years later), the roots of the vegetation then provide the long-term stability of the soil which provides natural and beneficial integrity to the land and water.
Although appealing in its low cost, durability and ability to biodegrade, it was unclear if coir logs would be successful in stabilizing the shoreline of Lake Austin due to the intense wave energy from recreational boating. A pilot study to test this method in Lake Austin was initiated in Summer 2009. After 5 years of observation, it was determined that coir logs and plants can be successful (under certain circumstances) in stabilizing and restoring a shoreline to a more natural state. Most coir logs deteriorated slowly and the remaining fiber has roots and stems growing throughout. The pilot study provided valuable information regarding placement, location, timing and plant species.
The Watershed Protection Department has recently installed an additional ~2,000 feet of coir logs and plantings along shorelines managed by the City and County. The sites are currently greatly impacted by erosion and the effort may slow down erosion long enough to develop a resilient vegetation community benefiting both stability, habitat and water quality.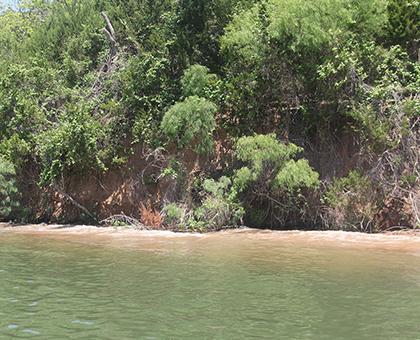 An eroding bank of Lake Austin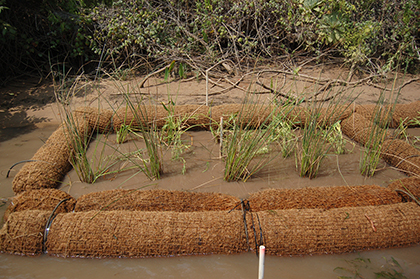 Newly placed coir logs and plantings along shoreline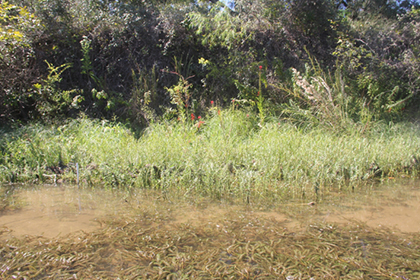 Coir logs and plantings 4 years after installment