In 2000, COA, TPWD, LCRA and Friends of Lake Austin finalized the Lake Austin Hydrilla management plan that integrates all control efforts appropriate for use in this situation.  Objectives are to return Lake Austin to a pre-hydrilla condition and to maintain a healthy lake ecosystem and fishery.  It integrates every appropriate control option, so that potential impacts from any one option are minimized while the possibility of success is increased.
Sterile grass carp have proven the most effective control, because they can move throughout the lake, eating plants in any water depth. Biennial winter drawdowns provide additional relief, but only in less than 12 ft of water.  From 2003 to 2011, over 30,000 grass carp were stocked, and hydrilla remained below 65 acres until late 2009, when drought-induced warmer water temperatures provided an advantage to the plants.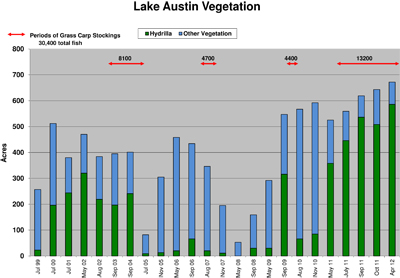 The graph above shows plant growth and fish stocking over time.