You are here
City of Austin
---
FOR IMMEDIATE RELEASE
Release Date:
Mar. 16, 2013
Contact: EMS Public Information 512-972-7205 Email
ATCEMS medics were busy for a third evening for Friday's SXSW Music Festival. Motorcycle medics and medics on "gators" and 6-wheelers converged on downtown Austin shortly after 3 p.m. The additional staffing was in anticipation of the very large crowds expected for the various venues that continued well into the early morning hours. Medics answered their last call for assistance shortly after 3 a.m. Saturday morning.
 
Call volume for Friday night's event was more than double from the Wednesday and Thursday events. EMS responded to 72 incidents in the downtown area during the 12-hour reporting period and transported 47 patients to area hospitals. There were no serious injuries noted. Incidents of note include several minor auto-pedestrian and bicycle injuries, vehicle crashes, alcohol related complaints and minor traumatic injuries.
EMS anticipates another busy night, resources including one additional ambulance will remain in the downtown Austin area on Saturday for the final evening of SXSW festivities.
See below map for incident locations.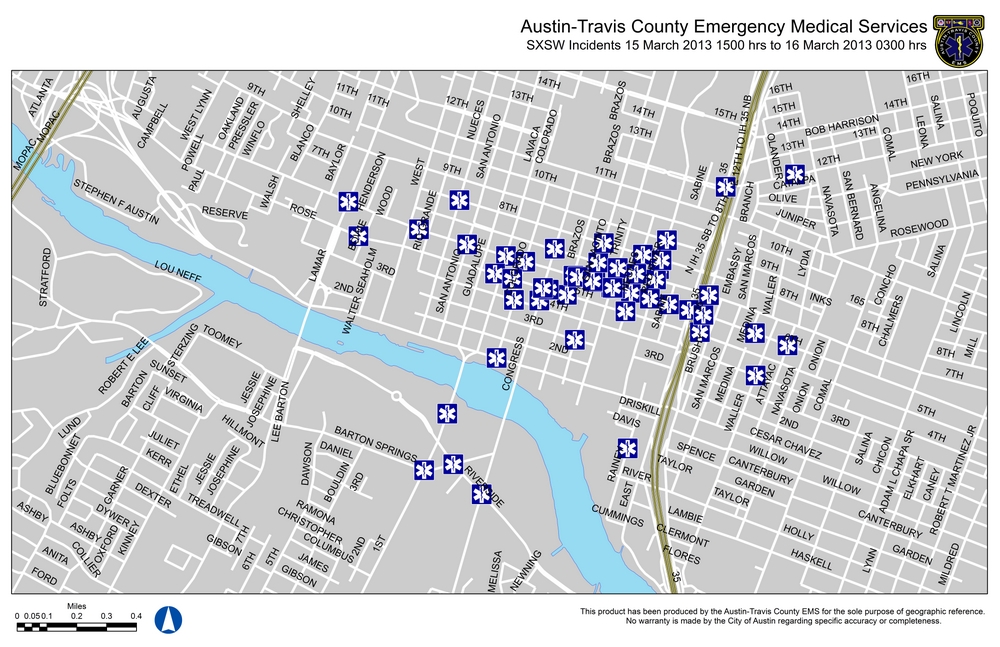 ---