You are here
City of Austin
---
FOR IMMEDIATE RELEASE
Release Date:
Mar. 17, 2013
Contact: EMS Public Information 512-972-7205 Email
EMS personnel were busy again Saturday for the final evening of the SXSW Music Festival in downtown Austin. One additional transport ambulance was added based on the previous nights' call volume. Medics on "gators", 6-wheelers and motorcycles arrived downtown Saturday shortly after 3 p.m. The first call for help came in at 3:25 p.m., a minor vehicle crash with a "fight in progress". Medics arrived and cleared quickly, there were no injuries.
 
Saturday's incidents included: minor vehicle crashes, auto-pedestrian incidents, auto vs pedicab, fight in progress, assaults and intoxicated patients. Medical-related complaints included reports of unconscious patients, chest pain, diabetic issues and a cardiac arrest.  
 
Total EMS call volume for the 12-hour reporting period was 88 incidents, slightly higher than Friday's total and considerably higher than Wednesday and Thursday night totals. Medics transported 39 patients to area hospitals, including University Medical Center Brackenridge, St. David's Hospital and St. David's South. Hospital emergency rooms also reported increased patient populations. Medics responded to their final call of the evening at 3:18 a.m., a head laceration. The EMS Command Post reported crowds quickly dispersed shortly after 3:00 a.m.
See below map for incident locations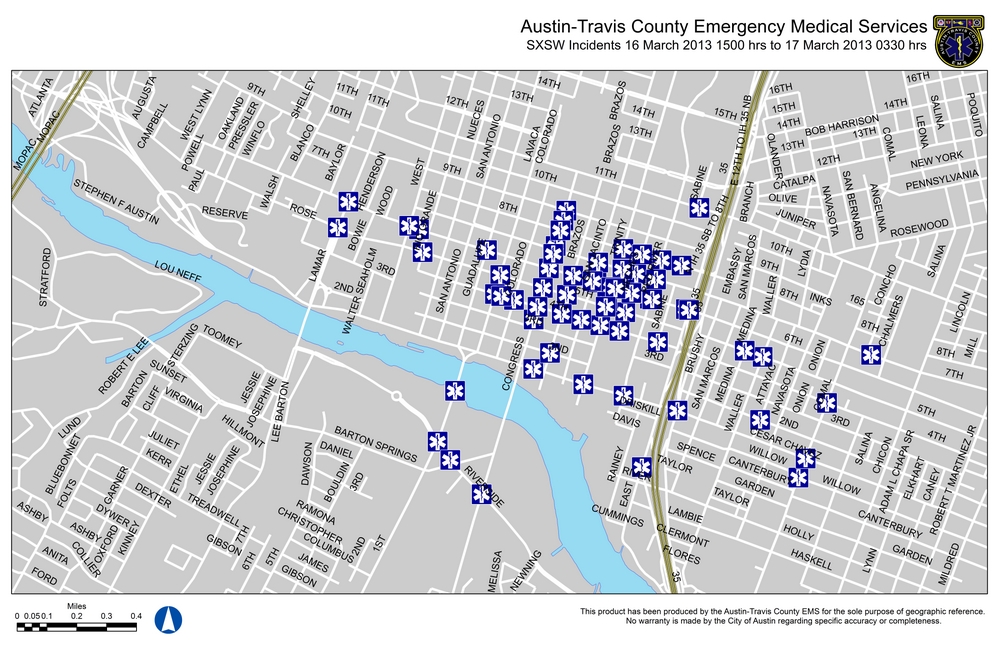 ---