You are here
City of Austin
---
FOR IMMEDIATE RELEASE
Release Date:
Feb. 08, 2016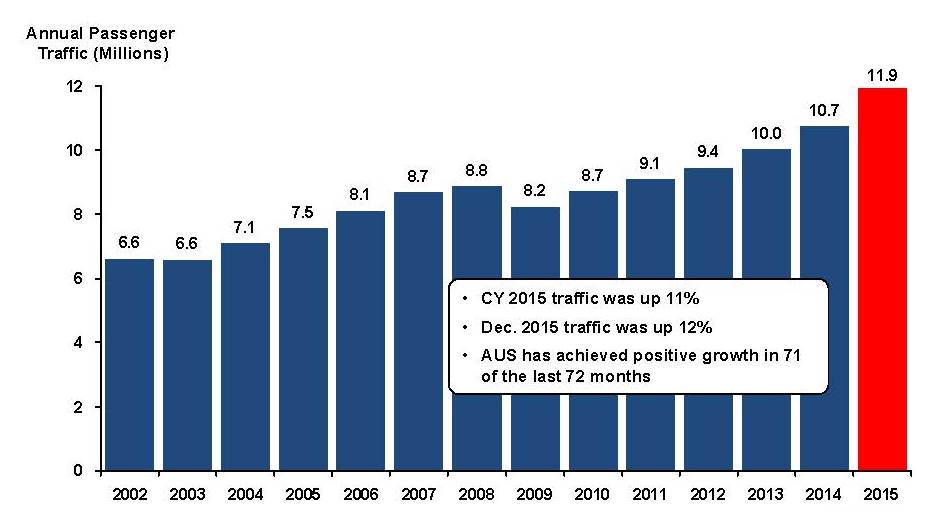 AUSTIN, TEXAS – One of the fastest growing airports in the country continues its growth spurt. For the fifth consecutive year, Austin-Bergstrom International Airport (AUS) has set a new record for annual traffic with 11.9 million passengers. 11,897,959 flew Austin in 2015, up 11%, or 1,179,105 passengers, from the previous record year of 10,718,854 in 2014. See Dec. 2015 and Jan-Dec. 2015 passenger and cargo stats here. In 2015, record airport crowds enjoyed:
65.5 tons of brisket, up 3.5 tons/7,000 lbs. or 5.5% over 2014
693,375 breakfast tacos, 71,065 or 11.5% more than 2014  
1,190 live music performances (23/week)
51,278 "Keep Austin Weird" t-shirts purchased, up 15,082 or 41.5% from 2014
For six years, 71 of the last 72 months, Austin-Bergstrom has experienced consistent passenger growth. The airport's single month passenger record was shattered four times in 2015. The latest and current record of 1,165,811 passengers in any single month was set in July. The busiest departure day in airport history took place on Oct. 26 as 23,164 passed through security the day after Austin's 2015 Formula 1 United States Grand Prix. The growing local economy in Austin relies on quality air service to foster business, government and leisure travel.
Highlighting the 2015 uptick in passenger traffic was the launch of eight new nonstop destinations and additional service to six existing nonstop routes. At a record pace, carriers serving AUS increased frequencies, (second daily nonstop to Seattle on Alaska Air, Newark on Southwest) and seats on existing routes (British Airways' London upsize to 777-200).   
Coming soon in 2016, new nonstop service to Frankfurt, Germany on new Austin carrier, Condor Airlines.
2015 new nonstops (airline-destination)
Air Canada – Toronto
American – Miami
Southwest – St. Louis, Orange County, Memphis
Allegiant – Orlando Sanford, Cincinnati, Memphis
Alaska – Portland
2015 additional service to existing nonstops (airline-destination)
Frontier – Atlanta, Chicago O'Hare, Las Vegas
Southwest – Seattle, Boston
Virgin America – Dallas Love
Along with more air service, the airport completed major expansion projects. The Terminal East Infill added approximately 56,700 square feet to the terminal and renovated approximately 17,000 square feet of the existing terminal. The project connected the east ticket lobby and east concourse around Gate 5, and added a new TSA (Transportation Security Administration) screening checkpoint for departing passengers (July 1); two new domestic bag carousels in Bag Claim (Sept. 9); and improved passenger flow through the airport. In December 2014, the lower level of the project was completed, providing a new Customs facility that is larger and capable of processing up to 600 arriving international passengers per hour.
On October 1, a two-and-a-half year project known as the CONRAC (Consolidated Rent-A-Car) Facility) opened. The facility is a new five-level, 1.6 million square foot complex that consolidates all rental car operations, including vehicle pick up and drop off, car storage, cleaning and fueling, into a single facility. Eleven car rental agencies with more than 300 employees operate at the facility. More than 3,000 rental car vehicles per day pass through the facility, with up to 5,000 rental car vehicles passing through on the facility's busiest days. Its opening is expected to reduce traffic on airport roadways and lower vehicle carbon dioxide emissions by 411.7 tons per year. Completion of the Rental Car Facility also created more public parking. About 800 covered spaces are available on the ground floor of the facility, with about 900 more coming soon on the top level of the garage, once occupied by rental operations.
The airport's airfield was also improved. A year-long project to extend the north and south ends of Taxiway A near the east runway was completed on July 9. The taxiway is now at full length, providing multiple access points to the airport's east runway and allowing air traffic control more options in handling high density traffic.
More changes are coming in 2016 as construction begins on a nine-gate terminal expansion and a new Hyatt Place Hotel. Two thousand new, covered parking spaces and a pet boarding service are expected to open in late 2016. 
Environmentally, the airport worked to support the City of Austin's commitment to waste reduction. Recycling opportunities available to passengers were increased with an additional 145 containers inside and outside of the terminal. Overall in 2015, 360 tons of recyclable materials were collected and diverted from area landfills, up 69 tons from 2014.
The airport of choice for Central Texas is Austin-Bergstrom International Airport (AUS). Austin-Bergstrom extends a thank you to its airport partners and its 11.9 million passengers in 2015. Thank you for flying AUS. Find all new Austin nonstop routes and more with the free interactive flight guide on www.abia.org. Connect with us on Twitter, @AUStinAirport, and Facebook, www.facebook.com/abia.
###
---