You are here
City of Austin
---
FOR IMMEDIATE RELEASE
Release Date:
Feb. 16, 2018
New twice-weekly non-stop flight will operate on Mondays and Fridays.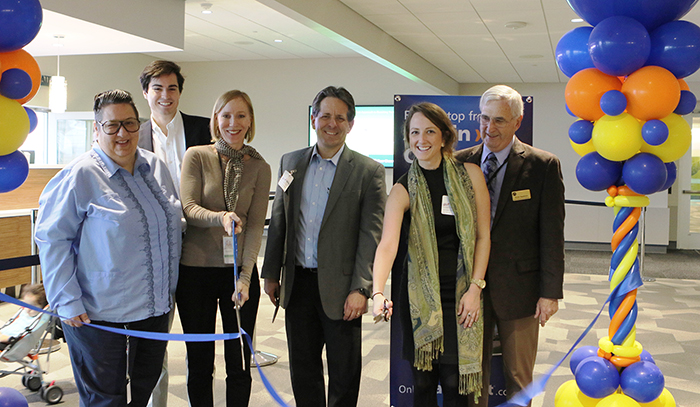 Cutting the ribbon on Allegiant's inaugural nonstop flight from Austin's South Terminal to Columbus Rickenbacker International Airport are from left: Kate Messer of Austin City Council Member Jimmy Flannigan's office, Bobby Dyke from Congressman Mike McCaul's office, Brooke Dorrien, South Terminal Finance Director; Visit Austin Board Member Mike McConnell; Sarah Holloway of Congressman Mike McCaul's office; and Ernie Saulmon, Austin Airport Advisory Commission Chairman.
AUSTIN, Texas – Allegiant Air started new nonstop service from Austin's South Terminal to Columbus, Ohio on Feb. 16, 2018.  Inaugural ceremonies included a live performance by Stephen Doster, a ribbon cutting, cake and remarks from airport officials.
Tickets are now available for purchase only at www.allegiantair.com. This twice-weekly flight will operate on Mondays and Fridays between Austin-Bergstrom International Airport's South Terminal (AUS) and Rickenbacker International Airport in Columbus, Ohio (LCK). Flights from Austin depart at 9:55 a.m. and arrive in Columbus at 1:28 p.m. Service from Columbus departs at 10:05 a.m. and arrives in Austin at 11:53 a.m.
"We're very excited to continue our growth in Austin," said Lukas Johnson, Allegiant senior vice president of commercial. "The demand to visit this destination is high and we are thrilled to offer Columbus-area travelers their only ultra low-cost nonstop option to experience the Live Music Capital of the World."
"The South Terminal's intimate and retro vibe will offer Allegiant passengers an airport experience as unique as Austin," said Jeff Pearse, CEO of LoneStar Airport Holdings, LLC, the developer and operator of the South Terminal. "We're delighted that Allegiant Air is adding more flights to the South Terminal at ABIA."
"We are pleased to have Allegiant provide us with another option for connecting Central Texas to the Midwest," said Jim Smith, executive director of Austin-Bergstrom International Airport.
The airport of choice for Central Texas is Austin-Bergstrom International Airport (AUS). New nonstop international flights include London Gatwick, United Kingdom (LGW) on Norwegian Air, www.norwegian.com/us, Punta Cana (PUJ), Dominican Republic on Vacation Express, www.vacationexpress.com,  Guadalajara, Mexico (GDL) on Volaris, www.volaris.com, and Mexico City, Mexico (MEX) on AeroMexico, www.aeromexico.com. New for SXSW 2018: Delta to Amsterdam (AMS), www.delta.com, and SAS to Stockholm (ARN) www.flysas.com/en/us/.   Find all nonstop routes with the free interactive flight guide on www.abia.org. Connect with us on Twitter, @AUStinAirport, Facebook, www.facebook.com/abia and on Instagram, @AUSairport.
###
---