City of Austin
FOR IMMEDIATE RELEASE
Release Date:

---
Last week, Austin-Bergstrom International Airport worked with local Austin artists to install new exhibits for travelers to enjoy.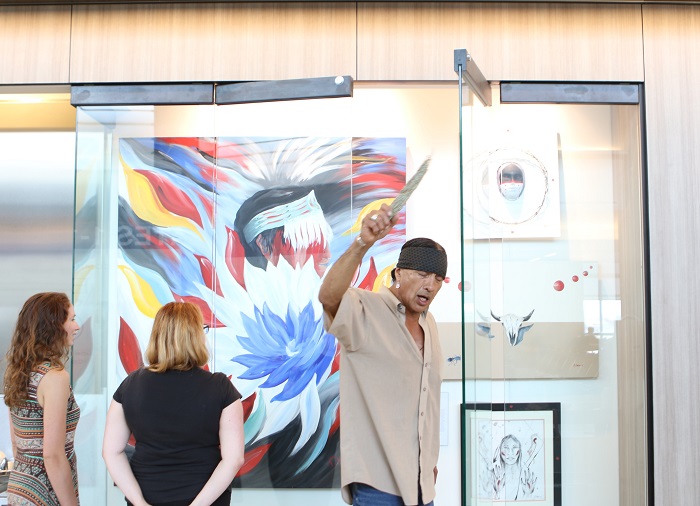 Ray Valdez holds up a bundle of sage as part of a ceremony during the installation of his artwork at Austin-Bergstrom International Airport. (Photo by Marisol Peters)
AUSTIN, Texas - Last week, Austin-Bergstrom International Airport worked with local Austin artists Ray "Bacasegua" Valdez and Deshawn Washington to install new exhibits for travelers to enjoy. 
As an abstract artist who works with a variety of media, Washington says he hopes his pieces can tell his story. According to him, he enjoys creating art and using it as a coping mechanism to help him overcome his hardships.  
The vibrancy of his extremely personal paintings help him show viewers his experience and life through art. Washington tells a story of the struggles of living as a disabled African-American in Austin through pieces like "Flower Rupture" and "Superiority Complex #9" that show both his inner turmoil and a reflection of growing up in East Austin.  
Valdez creates culturally-motivated pieces containing native people and objects. His work focuses on highlighting the traditional world of his tribe, the Texas Band of Yaqui Indians.  
One example of this is his piece "1st Nation People," which features a pulp mask painted with acrylic to look like a Yaqui ceremonial painted face. His largest piece, "Niyol," has a native figure in the midst of brilliant colors. Each individual stroke in this piece was carefully thought out; it took Valdez over 60 hours to create the painting. 
"To be able to tell my story, to get people to listen," Valdez said, when asked why he creates art. Valdez grew up creating things but never thought art would be his career path. His art classes helped open his eyes to the world of possibility that art allowed the creator.  
"I went within and had the confidence to just tell my story," he said. Valdez believes that art is not just about how it looks or the technique—it is who you are and where you came from that gives the art life. 
The airport of choice for Central Texas is Austin-Bergstrom International Airport (AUS). New nonstop international flights include Calgary, Canada (YYC) on WestJet www.westjet.com; Frankfurt, Germany (FRA) on Lufthansa www.lufthansa.com; London Gatwick, United Kingdom (LGW) on Norwegian Air, www.norwegian.com/us; and Mexico City, Mexico (MEX) on AeroMexico, www.aeromexico.com. Austin also welcomes new carrier Spirit Airlines,  www.spirit.com.  Find all nonstop routes with the free interactive flight guide on www.abia.org. Connect with us on Twitter @AUStinAirport, Facebook,  www.facebook.com/abia and on Instagram @AUSairport.
This release was written by PIO intern Marisol Peters.