You are here
City of Austin
---
FOR IMMEDIATE RELEASE
Release Date:
Mar. 15, 2017
Contact: Kasey Spain 512-978-0675 Email
Saturday, March 18 from 12–4 p.m.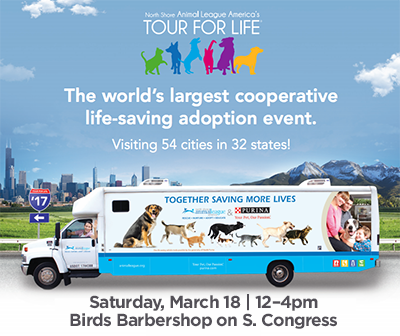 Austin Animal Center joins North Shore Animal League America's 2017 Tour For Life™ – the world's largest national cooperative life-saving mobile pet adoption event - sponsored by Purina®. Highlighted by adoptable dogs, cats, puppies and kittens, the event will also offer adoption fees waived for all approved adopters and Purina® giveaways.
The event in Austin will be held this Saturday, March 18 from 12–4pm at Birds Barbershop on South Congress.
From the beginning of March to the end of April, Tour For Life™ will travel throughout the United States from North to South and East to West in four "shelters on wheels" Mobile Pet Adoption Units helping shelter and rescue groups in 54 cities and towns in 32 states, over 20,000 miles to generate more awareness of their organizations and find homes for the adorable, adoptable animals in their care. To find out more about a Tour For Life stop near you, you can visit animalleague.org.
About Austin Animal Center
Austin Animal Center is the largest No Kill municipal animal shelter in the United States, providing shelter to more than 18,000 animals each year and animal protection services to all of Austin and Travis County. Last year, Austin Animal Center saved 96.4 percent of the pets that walked through their doors. AAC has numerous programs and partnerships designed to help pets in the shelter, in the community and in your home.
The Austin Animal Center, 7201 Levander Loop, is open from 11 a.m. to 7 p.m. daily.  For more information go to www.austinanimalcenter.org, call 3-1-1, or visit facebook.com/austinanimalcenter for daily pet updates.
About North Shore Animal League America
North Shore Animal League America—the world's largest no-kill rescue and adoption organization—has saved the lives of over 1 million dogs, cats, puppies and kittens at risk of euthanasia. Through our many innovative programs, we reach across the country to rescue animals from overcrowded shelters, unwanted litters, puppy mills, natural disasters and other emergencies and find them responsible, loving homes. As a leader in the no-kill movement, we are dedicated to promoting shelter pet adoptions; encouraging spay/neuter programs; reducing animal cruelty; ending euthanasia; and advancing the highest standards in animal welfare. Please join us in saving the lives of innocent animals by donating to support our lifesaving mission.
---